Winter wheat has high levels of gluten while softer spring wheat has fewer gluten-forming proteins. If your bread-making recipe calls for a specific type of flour, you should check the protein content.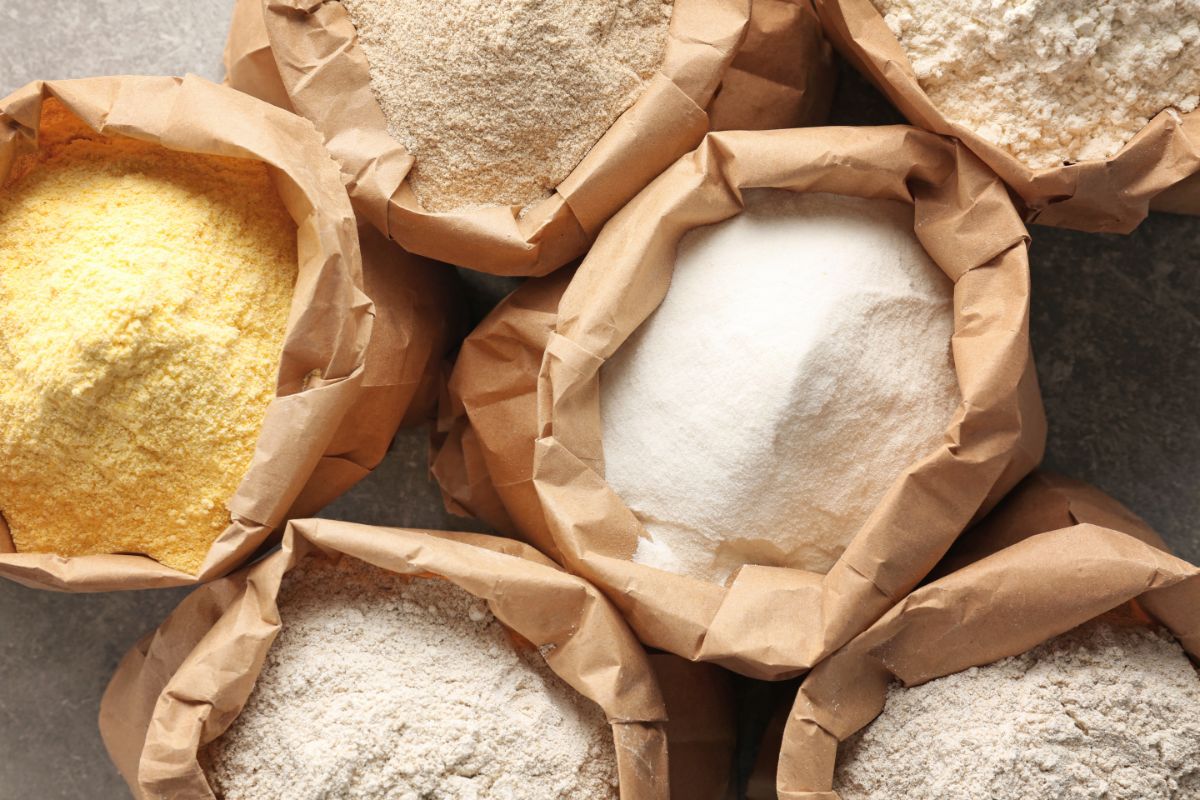 Flour with more gluten holds the bubbles released by the rising agents. From the baker's perspective, you can develop gluten by ensuring the water is evenly dispersed into the flour. Glutenin contributes to growth while gliadin allows the dough to flow like liquid.
Which type of flour has the highest gluten content? Bread flour has the highest gluten averaging 12-14% and works well in yeast products. Sometimes, it's conditioned with ascorbic acid to create a better texture. The proteins help the dough to recoil when kneading.
Unbleached flour is most suitable for making rustic loaves and sandwich bread. It also works well on chewy bread. Keep in mind that different companies list the protein content making it hard to pick the right flour.
When working with different brands, you may have to do some trial and error. You can use bread flour in place of other flours if you want to achieve the chewy characteristic. People with celiac disease should avoid this type of flour.
This article may contain affiliate links. As an Amazon Associate, I earn from qualifying purchases. Please take that into account.
BEST TOOLS FOR MAKING BREAD AT HOME (Links to Amazon below)
Basic baking equipment:
Extra (nice to have):
👉Learn how to make bread and pizza with this awesome book.

Types of flour and their gluten content
There're many types of flour with varying names. You should choose the right type to make your baking a breeze. Generally, the main differentiation in flour is the protein content.
Low protein wheat averages (5-10% protein) while high protein varieties consist of 10-14% protein. High gluten means more strength. Dough made of high protein is more elastic and has a chewable texture. As you bake bread, a firm structure is paramount. Here are the different types of baking flour.
All-purpose flour
This type of flour works with different recipes but is not the best for making bread. It contains gluten content of 8-11%. The percentage will depend on the type of wheat used to make the flour. Bleached flours have a higher percentage compared to their unbleached counterparts. The exact percentages will also depend on the brands.
Most all-purpose flour is white which means that the white grains have been stripped of the germ and bran during processing. This, in turn, gives the flour a longer shelf life. On the downside, the process robs the nutritive properties and the natural flavor of wheat.
The amount of protein corresponds with how the protein reacts when it gets into contact with water. Because all-purpose flour falls in mid-protein levels, it's the appropriate choice for muffins and cookies.
When baking, you should look for unbleached flour as it's not chemically treated. While all-purpose flour can be used in place of other varieties, it doesn't give the same texture. If you're having trouble with a local recipe, try to figure out the protein content and find your local equivalent.
Pastry flour
Pastry flour is designed to produce tender pastries than all-purpose flour. Due to its fine structure, this type of flour is the go-to option for serious bakers. Pastry flour has a protein content of around 7-8%.
You can swap it will all-purpose flour in recipes that require tenderness. If you want to use this type of flour to bake bread, you can make a substitute in ratio 1:1. For every cup of all-purpose flour, use one cup of bread flour.
Cake flour
Cake flour is fine-textured and has high starch content. It boasts of 5-8% gluten content and is chlorinated to improve texture. If you're baking bread with a high ratio of sugar to flour, cake flour can hold the rise.
When making bread, you want them to be tender and that's what you'll get from this flour. If you can't find cake flour, you can substitute it with all-purpose flour.
Whole wheat flour
Health-conscious bakers use whole grain over refined flours. They contain more gluten and make denser bread. Whole wheat comes in two varieties: white whole wheat and 100% whole wheat.
The latter is made from hulled red wheat grain which provides more fiber. On the other hand, white whole wheat comes from white spring heat and has a milder taste.
If your recipe calls for whole wheat flour, you should not substitute with whole white flour as it can make a big difference in your bread.
Note: white flour does not contain the same amount of gluten as whole wheat flour.
Self-rising flour
This is low-gluten flour with baking powder and salt already added. It's suitable for preparing quick bread without yeast.
What happens to bread without gluten?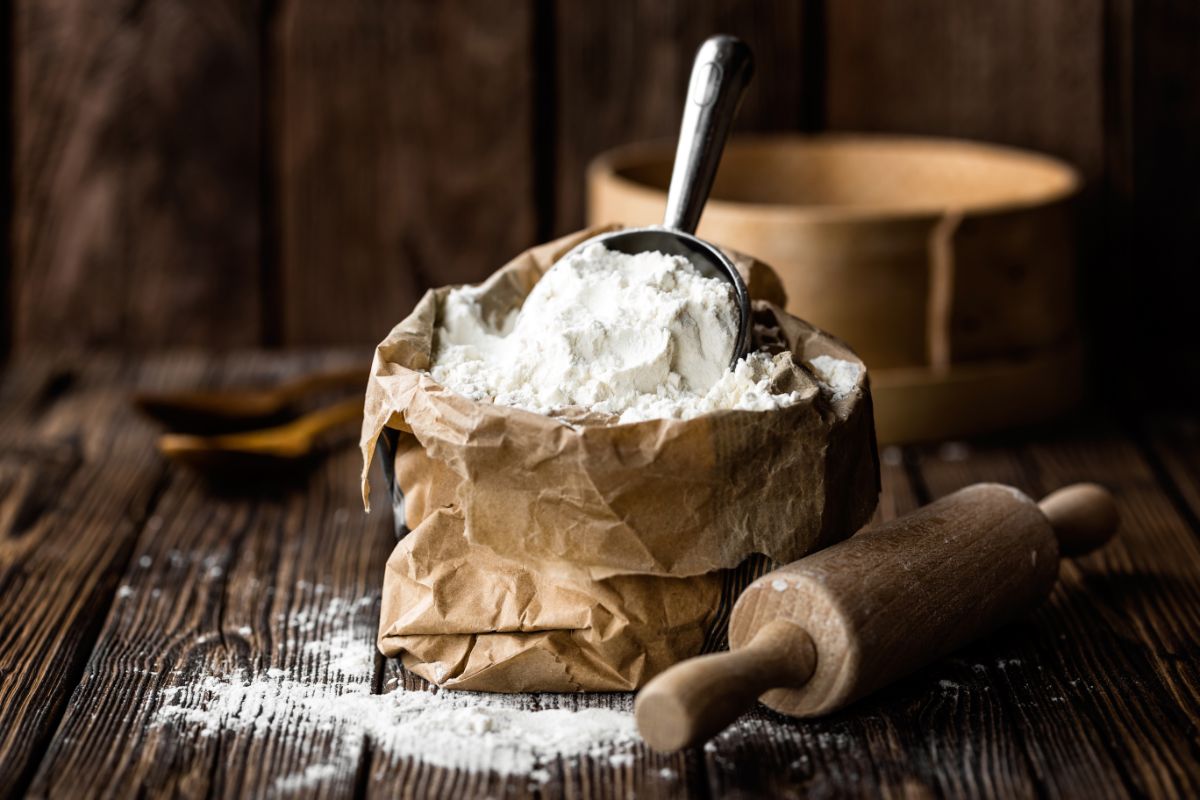 When there's no gluten in the loaf, it lacks the elastic structure that holds the loaf together. Secondly, it cannot trap gases released by the rising agents due to the dense characteristic. Thirdly, the bread has a crumby structure and stales quickly.
Apart from adding texture, gluten-free flour has additional flavor.
Flours with low gluten content
If you're allergic to gluten, some flours can be hard on the digestive system. Most gluten-free flours have a rich nutritional profile and unique health benefits. If you're looking for a low-carb diet, coconut flour should be on top of your list.
While coconut flour is challenging to work with, it can make simple sandwich bread. It's rich in fiber, healthy fats, and low carbs. Additionally, the flour doesn't spike blood sugar levels and carries a low glycemic load.
Another example of gluten-free flour is sprouted corn flour. This is the flour to use if you want to make cornbread. It's easier on the digestive enzymes, helps in weight loss, controls blood sugar, and contains healthy nutrients.
You can also use other types of flours like oat flour, rice flour, almond flour, sorghum flour, etc.
How to determine the amount of gluten in the flour
Since gluten is formed when the flour mixes with water, it's difficult to know the amount of gluten without making the dough. You should wash out the starch from the dough and weigh the remaining mass.
A simpler way is to read the information label on the flour bag. If the packet is 100 grams and the protein content is indicated as 12 grams, then the protein content is 12%. The higher the protein content, the more the gluten produced.
The bottom line
Gluten gives the bread the stretchy characteristic and is chewy. If you make bread every week, you should ensure you have the specific flours for the recipe at hand.
Although all flours are made from wheat, the protein content varies depending on how the flour is milled and the time of the year the wheat is harvested.
Flours with high protein generate high gluten while those with low protein generate less gluten.