A baking stone is an awesome tool that is used for baking the perfect pizza or bread with a crispy crust. What it really does is try to replicate a pizza oven in your home kitchen. You let the pizza or bread bake directly on top of the stone after preheating it in the oven. With a conductive surface that generates heat evenly, you are guaranteed to make the perfectly crusty pizza or bread every single time.
Most ovens are not evenly heated. They can come with cold and hot spots that prevent even baking. Using a baking stone mitigates this problem. However, if you are not careful, you can burn the bottom of the bread since this is the main contact point where heat is at its maximum.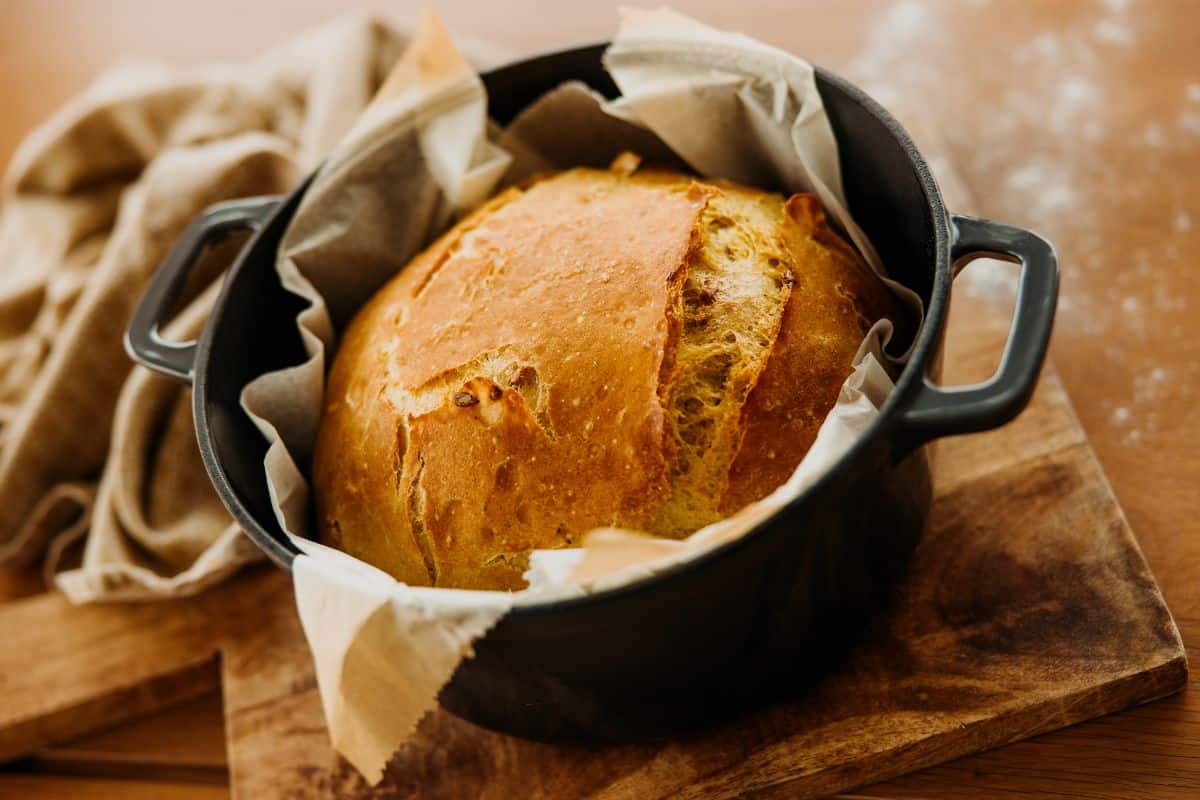 We understand that for the casual baker, there might not be a baking stone lying around your kitchen. When looking for an alternative to a baking stone, aim for something that conducts heat well and evenly.
Worry not because, in this article, we shall take a look at the best baking stone alternatives so you achieve your desired crispy crust. Some of these alternatives may even be already existing in your kitchen. Others are more like DIY solutions. Read on so you can be a step closer to a perfectly baked bread.
Best Baking Stone Alternatives

Insulating Fire Brick for Forge, Soft Insulated Fire Brick for Pizza Oven
Fire bricks, or refractory bricks, are perhaps some of the most ideal alternatives to baking stone. Made out of refractory ceramic material, firebricks can absorb high levels of heat which make them perfect for wood-fired ovens, furnaces, and fireplaces. As such, they are perfect to bake pizza on as well! Just make sure to get the unglazed ones.
DC Care's insulating fire bricks provide quality insulation support and can withstand temperatures of up to 2,700°F. Due to its composition, this type of ceramic brick has a good resistance against high heat and provides efficient heating.
DC Care's fine-grained insulating firebricks also provide structural support for the oven floors and walls. As baking stone alternatives, they provide a safe surface working with bread. They also produce an excellent steam effect that allows for crunchy and crispy crusts. The bricks don't fall apart easily even when frequently subjected to heat for long periods.
With low thermal conductivity and abrasion-resistance, these sturdy bricks are in it for the long haul. If you are concerned about safety as you bake your bread, you can just wrap them with aluminum foil, which also holds heat incredibly well.
Fire bricks can be big and heavy, although there are some thinner bricks to make things easier to handle. To create your baking stone alternative, all you need to do is to place the bricks together and support them with a baking pan. A handy tip is to assemble the bricks inside the cold oven, because moving them together can be quite tedious due to their weight! After that, preheat the bricks so you can use them just like a regular baking stone.

Wilton Easy Layers Sheet Cake Pan, 2-Piece Set
Baking on a cookie sheet or a flat baking pan is ideal for certain types of bread such as dinner rolls or other soft crust bread. Although you can certainly bake other types of bread on it, those that require higher temperatures are often better off with cast iron pots.
There are many types of cookie sheets although a commercial heavy aluminum cookie sheet has the advantage of heating up quickly and evenly. The good thing is, you may already have this item with you at home.
If you don't have this item in your kitchen just yet, this slim and stunning Wilton layered sheet cake is a good alternative to a baking stone. This sheet cake pan set makes it easy to bake a hearty amount of bread for serving many guests. With your purchase, included are two 9 x 13 x 0.75-inch high non-stick pans.
With a durable non-stick and scratch-resistant coating, the pans allow your food to easily slide or pop out, making cleanup almost effortless. It is also dishwasher-safe. For your quick reference, the dimensions are stamped on the handles.
If you are cooking pizza and need a flat surface, you can readily invert this baking sheet. Its surface will be hot enough to make a perfect crusty pizza. Taking it in and out of the oven will also be easier than if you didn't invert the sheet.

Frigidaire 11FFLZPN01 ReadyBakeware Bakeware
Baking pans come in different materials such as aluminum, ceramic, or cast iron. Ceramic or cast iron tends to maintain the heat better. If you already have a baking pan in your kitchen, you are in luck since it can double as a baking stone.
If you don't have one yet, this ready bakeware from Frigidaire is the perfect rectangle pan for baking cakes, casseroles, brownies, and more! You can create your favorite recipes with this 13″ rectangle pan. With a nonstick surface, it is also very easy to clean and is dishwasher-safe.
This high-performance bakeware is great for baking your favorite sweet and savory dishes. It is oven-safe for up to 450°F/232°C as enabled by its carbon steel design. Much like the flat pan or baking sheet above, you can invert it for when you need to bake your pizza just as quickly when using a baking stone.

Extra Large Pizza Steel Plate for Oven Cooking and Baking
Baking your bread on a slab of steel is ideal as it holds heat extremely well. Steel can withstand very high temperatures which allows bread to rise. Compared to the baking stone, steel heats up faster and maintains heat longer so baking time is reduced. If you are baking your bread in a home oven, it only makes sense to use a steel plate. Cleaning it is very simple as well. Although on the pricey side, it is definitely a reliable alternative to the baking stone.
Outshining even the best ceramic baking stones, this ultra-conductive steel material allows you to create delicious pizzas using your standard home oven! Fast cooking times are achieved due to the material's high heat transfer. You can even choose the metal plate's thickness to suit your needs since both 3/16″ and ⅜″ thicknesses are offered!
Each pizza plate is laser-cut from a single piece of metal for superior conductivity, finish, and durability. Offering ease of use and low maintenance, this steel plate also features a proprietary cleaning and preparation method.
You can finally enjoy tasty pizzas as if they were baked in a traditional brick wood-fired oven with this pizza steel plate.

Heavy Duty Pre-Seasoned 2 In 1 Cast Iron Double Dutch Oven Set
As an alternative to a baking stone, a Dutch oven is very easy to use for novice bakers. Because of its domed structure, your loaves will bake evenly with a nice crust. The use of a Dutch oven can even exceed a baking stone because the former offers excellent heat distribution. The bread receives an adequate amount of steaming because the pot functions like an incubator, heating the bread from all sides as opposed to using a baking stone which mainly heats from the bottom.
If you are tired of cooking using flimsy cookware, then this Dutch oven is perfect for you. It features a 5-quart solid cast iron material and comes with a lid that can double as a skillet. For secure transport and handling, sturdy and integrated side handles are featured on both the base and the lid.
You can bake your food in the oven or in the stove as this Dutch oven is oven-safe and features unparalleled heat retention and even cooking. It is flexible and can readily be used for oven-to-table presentations of soups and stews. Cleaning is also effortless.
Made of cast iron, this premium pre-seasoned 5-quart dutch oven offers you the flexibility to bake your bread and other dishes.

Pyrex Basics 3 Quart Glass Oblong Baking Dish
Believe it or not, Pyrex works incredibly well for baking bread. The best thing about it is that it is also relatively cheap and comes in different sizes. Because it is transparent, you can readily keep an eye on the bread you are cooking. Care must be taken not to place the hot glass on a very cold surface after baking to prevent it from breaking due to the sudden change in temperature.
Pyrex is such a reliable brand that you can find in almost all houses. This 3-quart oblong baking dish is made with clear glass. With convenient handles, the Pyrex glassware can be taken out of the oven or microwave and directly placed on the table. At 9 x 13 inches, it is versatile and is the perfect size for baking bread and dessert dishes.
Because of its clear and nonporous glass material, it is easy to clean Pyrex. As with most items here, it is necessary to preheat the oven in advance for optimum baking. Finally, it is safe for oven, microwave, freezer, and dishwasher use. For that low price and excellent function and flexibility, Pyrex can be a suitable alternative to the baking stone.

Emile Henry Made In France Bread Cloche
Much like a Dutch oven, a bread cloche consists of two parts, the base and the dome.
Any vessel with a lid helps to capture the steam inside. This will result in bread that has a crispy crust and a chewy inside. Compared to the Dutch oven, a bread cloche has a thin base and a deep lid. The inverse is true for a Dutch oven where the pot is deeper and the lid is shallower.
Having a thinner base makes the bread safer to load and score. In a Dutch oven, scoring can be quite difficult because getting the correct angle on your blade is not that easy. Loading bread into a bread cloche is easier as well.
Made of all-natural materials and manufactured using Emile Henry's proprietary flame technology, this bread cloche is perfectly sized for a round loaf. With a bell-shaped cover, you can proof your bread directly in the bread cloche.
The lid helps trap steam from the baking bread to achieve an environment similar to a steam-injected oven. The steam allows the bread to have a crunchy crust, too.
Finally, this bread cloche comes with a 10-year warranty and a recipe and instruction booklet so you can make that perfect bread in no time.

Unglazed Terracotta Tiles
Last on this list are terracotta stones, otherwise known as quarry tiles. Excellent alternative to baking stones, these tiles help you make the perfect loaf of bread or a crispy pizza. Just be sure that the tiles are unglazed so there are no toxic fumes. You can wrap them up with aluminum foil if you are concerned about safety.

Frequently Asked Questions
What are baking stones made of?
Most baking stones are made from a kind of fired-clay similar to a brick's component. They can withstand the high temperatures that make them ideal for bread baking. The stones are quite porous which absorb moisture and pave way for crispy crusts.
Can you use parchment paper on a baking stone?
It is best not to use parchment paper on your baking stone because they generally can't withstand high heat for prolonged periods of time. Make sure your oven is as hot as possible to get that perfect crusty pizza.
Is a baking stone the same as a pizza stone?
Baking stone is essentially a generic term for a portable cooking surface used to bake certain food items. When used for cooking pizza, it is often referred to as a pizza stone. Due to their capacity to retain high heat, baking stones yield well-baked bread and pizzas with a crispy crust.
Why did my pizza stick to the baking stone?
Pizza sticking to the baking stone could be due to your dough simply being too wet. Alternatively, there might be a hole in your dough that allowed some toppings to fall off, causing your pizza to stick. To mitigate this problem, it is best to lightly dust off the stone with some cornmeal or flour prior to baking.