For anyone who enjoys eating bread, having a bread cutting board is a great addition to your kitchen. A good-quality bread cutting board allows you to evenly portion bread in uniform sizes so you can make the perfect toast or sandwich every single time.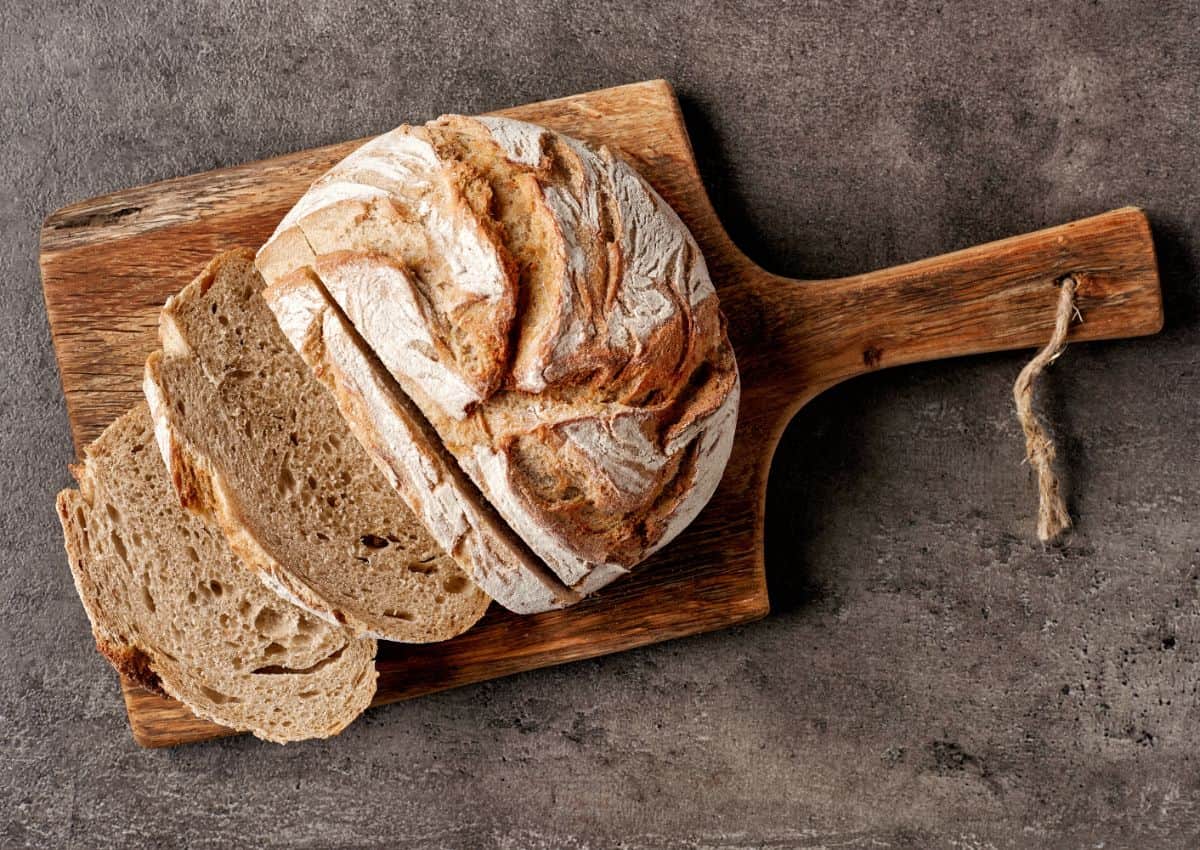 Additionally, having a separate cutting board used exclusively for bread is extremely hygienic. Your bread will not be contaminated with bacteria coming from slicing meat and other produce. Naturally, this prolongs the life of your bread.
Bread cutting boards are extremely useful and handy kitchen tools. Read along as we round up the best bread cutting board available on the market today. Find out what key features to look out for as you move towards that purchase.
Best Bread Cutting Board

Alessi "Sbriciola" Bread Cutting Board in Bamboo Wood
Beautifully designed by Anna and Gian Franco Gasparini, this thermoplastic resin bamboo bread cutting board is the perfect gift for any bread lover. With a dimension of 16 ½″ x 10 ¾″ x 1 ¾″, it is made of bamboo which in itself is a wildly sustainable product.
With large lengthwise slits where the bread crumbs pass through, underneath the bread cutting board are two separate compartments. The larger compartment catches the bread crumbs to make cleaning up easy. The smaller one can house a bread knife.
Not only is this bread cutting board extremely functional, but it also looks gorgeous and elegant as well. It is also dishwasher-safe. With a clean minimal look, the Alessi is a gorgeous sight that is bound to impress.

Ironwood Gourmet Nesting bread cutting board with Crumb Catcher
Do you love bread but hate the cleanup associated with slicing loaves? Well, look no further as this next item is perfect for you. This gorgeous bread cutting board is made from elegant Acacia hardwood with clear and rich contrasting patterns. Acacia is an ideal material because of its hardness and natural resistance to bacteria. With a convenient nesting tray, bread crumbs are easily caught and will not litter your table. Simply remove the nesting board and throw away the crumbs.
With a dimension of 10.25 x 14.75 x 1.5 inches, this item is not only a beautiful broad cutting board, it can double as a serving board, too. It can stand on its own as a key kitchen piece. After using it, simply wash it with warm soapy water and leave to dry. Make sure to oil it from time to time to maintain the natural luster of the wood and to prevent cracking.
Lastly, for the eco-conscious person in you, you can relax knowing that the Acacia hardwood used in all of Ironwood's bread cutting boards are sustainably-sourced.

Premium Bamboo Bread Slicer with Knife
Now you can have uniform slices of bread with this Premium Bamboo Bread Slicer. It is made of environmentally-friendly bamboo and is guaranteed to last a long time. Because the sides are grooved to guide your bread knife, you can choose from 3 different slice thicknesses.
It is perfect for slicing homemade bread, French bread, baguette, challah, pound cakes, and many other types of bread. It has impressive stability on the kitchen counter compared to the flimsy plastic boards. Due to the crumb catcher tray at the bottom, all the bread crumbs are caught, making cleaning easier.
Perhaps one of its best features, this bread slicer can be folded flat so that you can easily store it in full kitchen drawers. It is also lightweight and compact. As a bonus, it includes a long stainless-steel bread knife. If you are unhappy with your purchase, you can have it replaced or refunded with no questions asked! Now that is a great deal!

Premium Bamboo Foldable Bread Slicer
Not all bamboo products are created equal. For this bread cutting board, only the highest quality bamboo was used in the manufacturing. The bread is secured in place while the board's non-slip feet locks the item firmly on your countertop.
With this board, you can now cut bread in three different slice thicknesses without the risk of injuring your fingers. Its solid construction makes it ideal for daily use. Welcome additions are the knife rest and a storage bag that it comes with.
Storage is pretty simple as you can simply fold it and tuck it inside busy kitchen cabinets. Similar to the other products above, a built-in crumb catcher tray catches all the residue making cleaning easy. As a bonus, a bamboo butter spreader and guidebook are included to help you bake the perfect bread in no time.
The product is backed by a lifetime warranty. If you are unhappy with it, you can claim a 100% refund or a replacement.

Danesco Bamboo Bread Cutting Board with Crumb Catcher
Imagine the scenario. You are craving for the perfect sandwich and already have everything lined up. All you need to do is portion your bread.
When it came to slicing the perfect cut of the loaf, you just couldn't seem to get it right. Frustrated with not being able to slice your bread evenly? Your worries are now a thing of the past! You can finally achieve uniform slices with the Danesco Bamboo Bread Cutting Board.
This board features a crumb catcher to make cleanup easy. It is removable so you can easily wash it. With a size of 15″ x 9″, it is great for cutting all different sizes of bread including artisanal ones. That low price, and the fact that it can also double as a serving board, makes this cutting board even more attractive.
To care for the product, it is recommended to simply hand wash it.

Wood bread cutting board and Crumb Catcher
With a luxurious walnut looking appearance, this durable acacia bread cutting board is both elegant and functional. Aside from using it for its main purpose, you may also use it as an exquisite serving board during parties.
You can now cut bread slices evenly while the catch design allows the crumbs to fall through the slats and collect at the bottom tray. You just need to lift off the top and empty the tray to clean it.
With a design that screams a classic French style, it features clean lines and modern simplicity. It measures 12 inches long by 7 inches wide and 1 inch tall so that it can accommodate most bread and pastries. The material is free from harmful VOCs, too.
Designed by Villa Acacia, you can relax knowing that this bread cutting board is sustainably-sourced. In fact, a portion of the purchase goes to tree planting programs, how awesome is that?

Ivation Bread Cutting Board Server with 15" Stainless Steel Bread Knife
This gourmet looking board simplifies cutting and serving uniform slices of your favorite bread. It is made of a bamboo material that gets points for its sustainability and durability.
With a slotted surface, you can flawlessly portion bread in mere seconds. Like most bread cutting boards in this article, it also comes with a nesting system that features a crumb tray to make cleaning up easy. It also has integrated carry handles and a removable cutting board. You may simply remove the top, and dispose of the breadcrumbs.
As a bonus, it comes with a steel bread knife with a serrated blade and a comfortable handle. A dedicated knife slot is also built into the tray for a complete system. All those features and freebies at a low price? This is definitely a steal!

DBTech Bamboo Wood Compact Foldable Bread Slicer
Are you tired of not being able to slice bread evenly? Sure there are a host of bread cutting boards, but do they come with the ability to adjust the thickness of the slices?
This DBTech slicer comes with 3 groove sizes so you can choose from 1.2 cm, 1.0 cm, 0.8 cm thicknesses. It is made from 100% bamboo making it environmentally-friendly for the eco-conscious person in you. Its standing dimension is 12″ x 7 ½ x 6 ½ (high). If space is an issue for you, you will enjoy this unit as it is designed to be folded easily for convenient storage.
However, note that unlike the other models in this list, this particular bread cutting board does not come with a crumb tray. As such clean-up can be a tad trickier.

Simply Bamboo BICT Multi-Purpose Two-Tone Bamboo Bread Crumb Cutting Board
You can finally keep those pesky little bread crumbs off your table with this bread cutting board. Its removable slotted interior surface allows the crumbs to fall directly down to the interior tray to keep your countertops clean. In the collecting tray, you can have the crumbs for easy disposal or you can use the crumbs for breading!
Made from plantation-grown bamboo wood, this bread cutting board by Simply Bamboo measures 16″ (long) x 10″ (wide) x 1.25″ (thick) to accommodate a variety of bread sizes. Another interesting use of this product, it can also double as a cooling rack.
Just note that this item is not dishwasher-friendly. All you have to do is wipe it clean with mild soap and water. Dry thoroughly after. It is best not to keep bamboo soaked in water.

Large Bamboo Bread Cutting Board with Crumb Tray
This cutting board is made of 100% eco-friendly and 100% pure and natural bamboo. Due to the high-grade moisture and heat absorption properties of bamboo, this bread cutting board is perfect for all types of kitchen. It can also be used for serving.
Using premium natural bamboo, this bread cutting board is virtually unbreakable. Unlike other bamboo designs, there will be no tiny fibers incorporated into your food. Cleaning it is as simple as handwashing it with warm soapy water and wiping it dry right away. It is best to oil it once in a while to keep it looking good.
If you are in search of the perfect bread cutting board for your kitchen or to gift a loved one without breaking the bank, this is the best idea.

Best Bread Cutting Board Buying Guide
Material
Most bread cutting boards are made of wood or bamboo. Hardwood such as acacia offers higher durability and hardness. It features gorgeous staining and patterns. It is also less likely to warp.
Bamboo, on the other hand, is gaining popularity due to its impressive properties. It is lightweight and durable too. Unlike most hardwood, bamboo grows very fast and is most of the time sustainably-sourced.
However, nothing beats the durability of hardwood that is why it is guaranteed to last far longer. It does come with a considerable price tag though.
Design Features
Most bread cutting boards are made of wood or bamboo and feature slotted spaces that dictate the thickness of your cut. A cool feature is the ability to adjust the thickness of the cut because honestly, some people want thicker bread while others simply prefer thinner ones.
Some boards come with crumb trays to catch all those little crumbs that result from the cutting. Others are foldable to promote easy storage. A stable bread slicer is also incredibly important to facilitate hassle-free and safe slicing. Most bread cutting boards are rectangular in shape, making them double as ideal serving boards, too.
Size
Make sure to determine what bread you are eating frequently so you can select the perfect size of the bread cutting board for you. If storage space is limited, look to the bread cutting boards that can be folded so they can easily be tucked into your smaller cabinets.

Frequently Asked Questions
Should I put the bread cutting board in the dishwasher?
Most bread cutting boards are not dishwasher-safe. All you need to do is hand wash a bread cutting board with warm and soapy water. Thoroughly dry it after in order to preserve its life.
Can I use a normal chopping board to cut bread?
Absolutely! However, you risk cross-contamination of bacteria from other food sources. Additionally, it can also mean that the slices of your bread will not be uniform in thickness. It is always better to get a dedicated bread cutting board for the best results every single time.