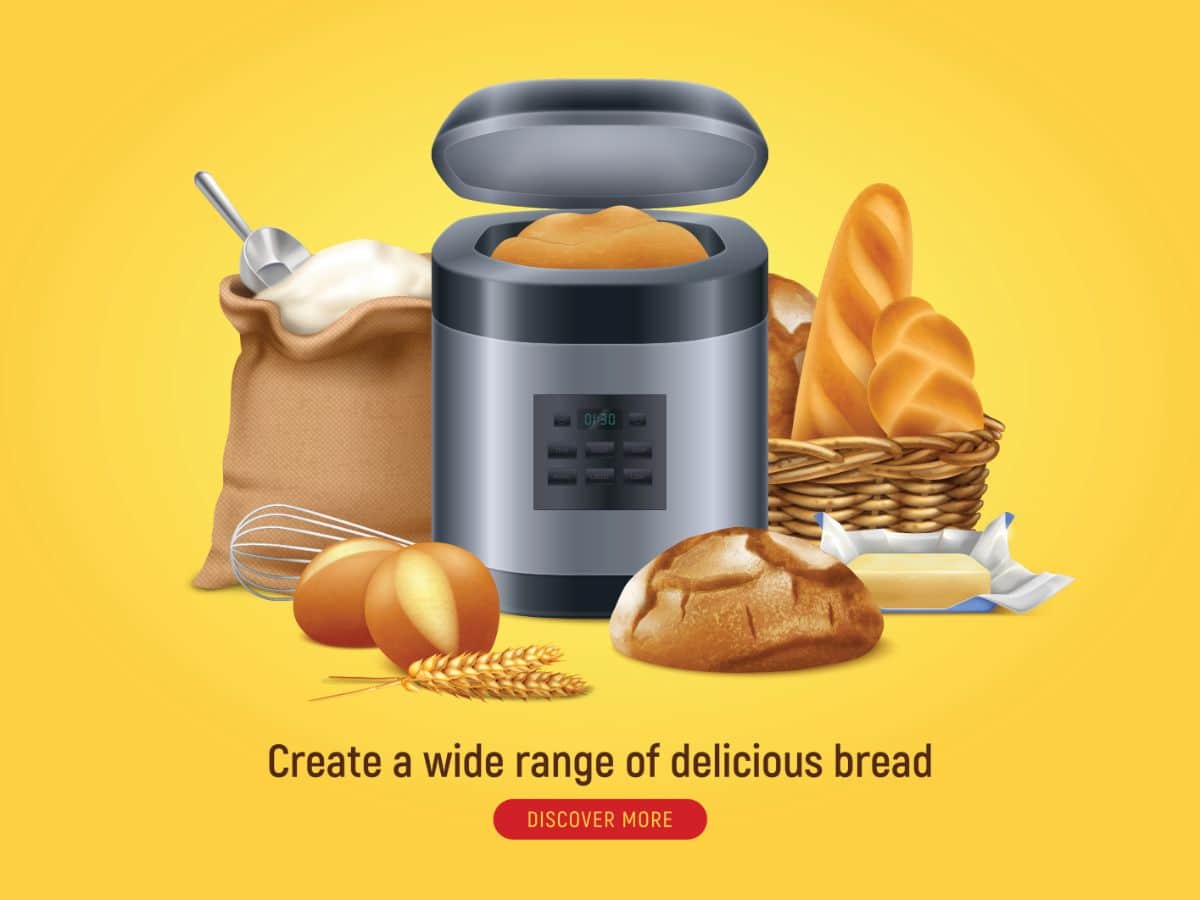 If you are looking for the best breadmaker to buy, there are various options you can choose from.
I found Cuisinart CBK-200 the best among the options in today's market. It is a fully-featured machine at a fair price with many features.
While some bread makers will make dough ideas for bagels or pizza, this bread maker will help you make an artisanal dough that uses low and long rising times to improve the texture and taste of the bread.
For specialty bread and rolls that should be shaped, they can be baked in the unit's conventional oven.
The unit uses various methods for baking bread and raising dough than some ovens, it also uses convection heat driven by fans.
It's to ensure even distribution of heat to help result in an evenly baked loaf.
It has also some features common to some other bread makers like a delay function to let you prepare your ingredients in advance if you like your loaf baked and an automatic switchover to sixty minutes keep warm mode.
Pause Function
The pause and stop button pauses the cycle for 15 minutes once pressed.
The bread maker will resume automatically the cycle of the bread program after 15 minutes. If you like to resume the cycle before 15 minutes are up, you can press the start button.
The pause function may come in handy if you like the dough to rise just several minutes longer before the cycle of baking starts.
You have to press and hold the button for pause for 3 seconds if you like to stop the bread program.
If you make mistakes with loaf selection, you don't need to unplug the unit and wait around for over 15 minutes to reset it.
You can use the start and stop button through choosing the right control panel settings and pressing the start button.
16 Menu Options
Cuisinart CBK-200 features 16 menu programs, yet it doesn't let you program your custom cycles.
The experienced bakers who use bread makers might miss having the power to tweak or reprogram particular settings including kneading or rising cycles.
Ordinary bakers might not mind using factory settings.
Its instruction manual offers a timetable for every program that takes into account the loaf size and crust color.
It also offers times for preheating, baking steps, rising, and kneading. It shows also particular times when the audible tones would sound to throw in fruit or to get rid of the paddle.
Features
Some of the features that you should know about Cuisinart CBK-200 are as follows:
Power Failure Backup
If the power goes off while the unit is busy, then this bread maker would keep the current cycle of bread making in its memory for up to fifteen minutes.
If power returns before the grace period are over, the unit will resume the process from memory.
However, it is important to note that unplugging it to cancel the menu program isn't the best way.
Mix-Ins Audible Tone
This bread maker has a series of audible signals that will remind you to add the mix-ins near the 2ndkneading cycle's end.
It's on by default on many bread programs except for quick, low-carb bread, last minute, and gluten-free loaf.
If you like to deactivate the signal, press the mix-ins buttons once before pressing the start button. Mix-in LED light would turn off to show that it's canceled.
Jam Cycle Audible Tone
During the jam-making menu program, there would be tones at 5 and 10 minutes mark to remind you to scrape the insides of the bread pan gently clean using a spatula.
Better Texture and Crusts
The unique convection feature of Cuisinart CBK-200 circulates the air for superior texture and crust color.
The options for crust color are limited to dark, light, and medium. It's set by default to medium crust color.
The sweetbread crusts tend to be browner because they have more fat and sugar compared to some bread types.
It'd be best to select a light crust color when baking sweet bread or else it could be too dark.
Loaf Size
Press the button for the loaf to choose the size for a loaf that matches your bread maker recipe. You can choose a size from 1lb, 1.5 lb to 2lbs.
The set default of the unit is a two-pound loaf size. The low carb menu and gluten-free options don't let you select a 1 lb loaf size.
You can't also set the size of the loaf on the program bake-only.
Delay Start Timer
It's essential not to use the perishable ingredients including dairy products or eggs if you like to bake bread with the use of the twelve-hour delay start timer.
Ingredients could start spoiling before the bread is done baking. If the recipe needs eggs or mild, you can substitute it using dry milk powder or a dried egg powder.
With this, you will be able to use the feature delay start timer.
Customer/User Impression
A customer said that she had the bread maker for a few months. It works flawlessly and the recipes are the best.
However, some users have complained about the noise. But, others said that it is not as noisy as washing machines and they can barely hear the operation.
It does make a little noise when it is kneading. Yet, it is not too noisy that you want to get rid of it.
Cuisinart CBK-200 is also the best for those who want to make bread and avoid some preservatives.
Conclusion
To wrap it up, I recommend you to get Cuisinart CBK-200 as its features are top notch. It is available at a fair price on Amazon.com.
Operating the unit is simple and those who have not used one before would surely find it easy to use.
The bread maker also provides lots of assistance and freedom to make the best bread. It's like getting warm and fresh bread from the stores.
So, treat your family and friends and let them enjoy a simple and tasty bread from this unit.