A dough scraper (aka bench scraper, bowl scraper) is a versatile tool that is a perfect accessory for any kitchen. It allows you to scrape dough mixture, mix it together and also cut it. The dynamic tool makes bread-making as easy as possible.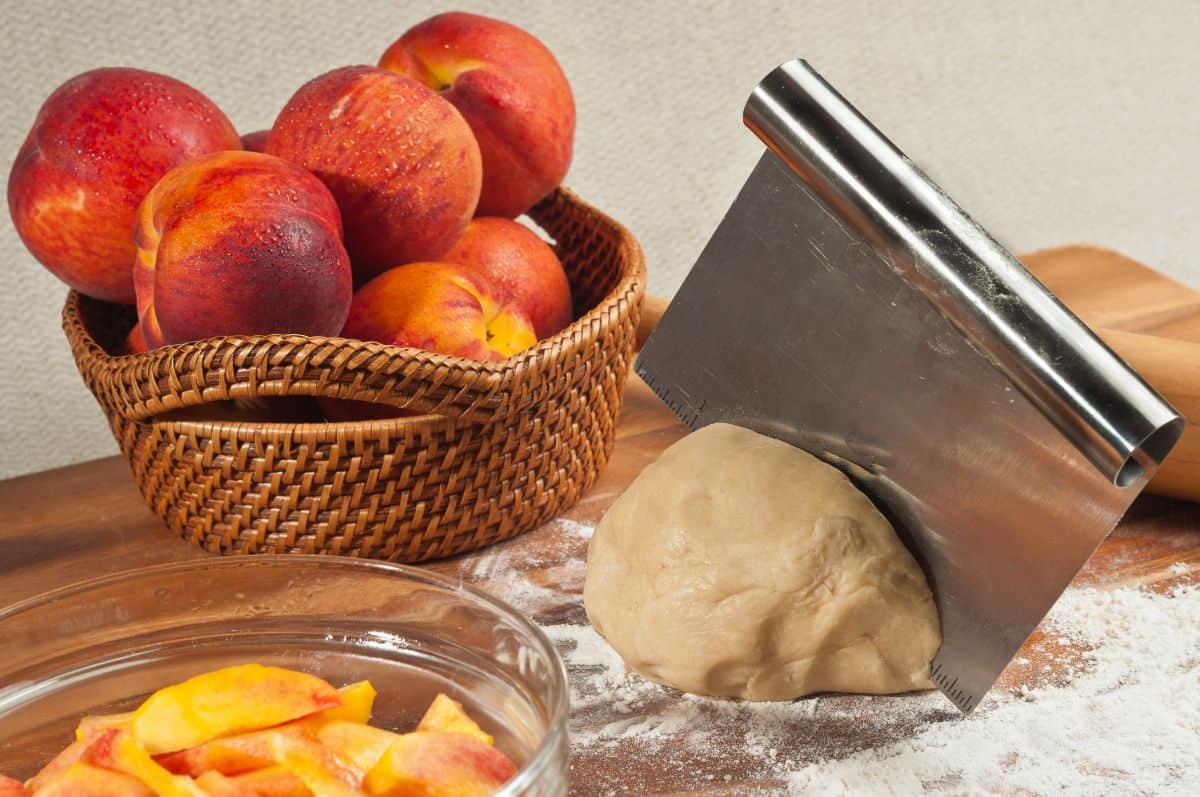 With many different types out there, however, it can be hard to know which one to get. We've made that as easy as possible by reviewing the top 10 models out there. We've also written a buying guide with some FAQs. Let's find the best dough scraper for you!

Best Dough Scraper

Lasenersm 2 Pieces Dough Scraper
Plastic dough scrapers don't get better than this. Added to their quality is also the fact you get two in a pack which gives you excellent value. They have a versatile design with one side being slightly curved and the other being more squared.
The plastic used has enough stiffness to work very well at cutting but with enough flexibility to make mixing very easy. You can use it safely in the knowledge that the plastic is safe to use and they are even dishwasher safe.
Their durability is impressive, especially for the price. They are also fairly easy to grip and can be used for a wide range of different tasks and not just bread-making. They tick all of the right boxes in what you'd expect from a budget dough scraper.

AmazonBasics Stainless Steel Bowl Scraper/Chopper
Not everyone wants to use a plastic scraper and this is a brilliant metal option from AmazonBasics. A great aspect of metal scrapers is that they usually have a much more comfortable handle and that's what you get here.
The rectangular shape is perfect for work surfaces. That stainless steel edge is ideal for scraping but will also make cuts easily. It's ideal for those looking for a more rigid scraping tool.
A useful feature here are the measurement markings of an inch long which is good for portion control. The unit is dishwasher-safe but even if you don't have a dishwasher, it's easy to clean. All these features are backed by a solid one-year warranty.

Spring Chef Stainless Steel Pastry Scraper/Bench Scraper
Spring Chef has been able to give excellent value here as they give you a rectangular dough cutter to go along with a more rounded scraper. It allows you to have a tool that will scrape off any type of surface, whether that is a bowl or a worktop.
The rectangular scraper is made from stainless steel and is great for cutting, especially with it having a measuring tool on there. The handle is also wide and allows you to have the highest levels of control.
Both of them are very well made and are built to last. You'll be saved from plenty of frustration and will always have the right tool for any task at hand. We thought they were great and the user reviews are a testament to just how good this product is.

Zulay Kitchen Store Premium Multi-purpose Stainless Steel Bench Scraper
Zulay Kitchen Store has been able to make a range of fantastic dough scrapers. They have three options, as you can either get a rectangle, round or square tool. We looked at the square version which worked perfectly.
Durability is high here with the stainless steel blade having a high level of strength and versatility. The squared design allows you to get deeper cuts on larger pieces of dough. You'll then be able to easily measure them out.
The fact that the blade is long also allows you to lift up and use it as a spatula. It means to can make anything with it. Once you're done then you'll appreciate how easy it is to clean and store away until net time.

MS WGO Pro Dough Pastry Scraper/Cutter/Chopper
This dough scraper has a unique design as it's made from one sheet of stainless steel which is curled at the top to make a handle. It looks great and most importantly feels very good in your hand. It can make it a little more difficult to clean but that is a minor issue.
You'll always find a use for this as it can cut a lot more than just bread. As well as inch markings, it also has centimeter markings, if that is easier for you. It allows you to cut with accuracy while also having all the other benefits of a scraper.
The 420 thickened stainless steel gives it extreme durability and it feels very solid in your hand. Every kitchen should have one due to its versatility as it can also be used with the likes of cakes, pizzas and cookies.

XoYoZo Dough Pastry Scraper Chopper/Stainless Steel Dough Scraper
Most metal scrapers that you see have a rectangular design but this is a little different with the curved sides. Those sides allow you to scrape the dough out of mixing bowls while the straight edge will work perfectly on flat surfaces.
Another noticeable aspect of this scraper is its tapered edge. That makes cutting extremely easy as it's not as blunt as most other models. There are measurement markings and measure equivalents to help make cooking easy.
The handle on this model is also unique. It's made from rubber which gives you an exceptional level of grip. That handle is also available in four different colors that will let you get something that perfectly suits your style.

Chef'n Pastrio 3-in-1 Bench Scraper Set
Metal or plastic? Curved or straight? If you can't make up your mind then this is going to be a fantastic option. The 3-in-1 set gives you it all and it all fits together for simple storage. You have a rectangular metal scraper, a rectangular plastic scraper and also a curved plastic scraper.
It covers you for all surfaces and all of them work perfectly. All of this comes at a fantastic price and you hardly have to pay a premium for getting three different tools.
The materials used are high-quality with BPA plastic and stainless steel used. Durability is also high with cleaning not a problem either. Whether you're cutting, mixing or scraping, this tool will cut down on time and have the right material for the right surface.

Dexter-Russell 6″ x 3″ White Dough Cutter/Scraper
If you're not going to be doing much bowl mixing then this may be ideal. It has a sharp rectangular shape with thinner edges that will help to lift off any material from a flat surface or cut into your dough perfectly.
The stainless steel used is exceptionally high quality and it will stand the test of time. The handle is also excellent and is made from polypropylene. This also adds up to a scraper that is simple to wipe clean.
Some may find the edges to be a little too sharp and it's important to note that requires more careful handling than many other options. That feature, however, is what many people love the most as it gets the job done very quickly.

Anmarko Store Stainless Steel Metal Griddle Scraper
Anmarko is another company that has been able to make an excellent dough scraper. This has the usual look with the large stainless steel blade with a comfortable handle. That handle is rubberized which helps to give you a brilliant grip.
The edges of the dough scraper are tapered which allows you to make easy cuts, as well as it being a great scraper and mixer. To help with those cuts, the device has measurement markings along the side to go with the usual markings across the bottom.
To help you out, there is also a large measure equivalents guide so you can't go wrong. It has all the qualities you'd expect and it's also well packaged. It's highly rated by almost all of those who have used it and it's easy to see why.

Winware Stainless Steel Dough Scraper
Looking for a more traditional and rustic look? If so, this would be perfect. The wooden handle on the top of the scraper looks fantastic. It's also sturdy and will feel great in your hands as you scrape away that excess or cut into your dough.
It's the perfect option for those who care about how their kitchen tool, gadgets and utensils look. Importantly, it works perfectly and has the dimensions required that give it plenty of versatility with any type of task.
Despite the wooden handle, it is still dishwasher safe and very easy to clean. Many people prefer using this to plastic scrapers and appreciate the weight, quality and control you get from this model.
Best Dough Scraper – Buying Guide
Material
The biggest decision you'll have to make is whether you get a metal or plastic scraper. Metal scrapers are better for cutting and can often be easier to clean. Their durability is usually very high and they are perfect for scraping flat surfaces. They are, however, much more like to leave scratches.
Plastic scrapers have a high level of versatility and are best on non-stick, delicate or curved surfaces. They can be a little harder to grip and also aren't good for cutting. Both have their advantages which is why you'll see many people with both types for different situations.
Shape
Most scrapers are rectangular as this gives them the best cutting profile and makes scraping off flat surfaces extremely easy. If you are going to be using your scraper in a mixing bowl then it can be a better idea to get a curved scraper. As with the material, sometimes it's better to get both options so you always have the perfect tool for the job.
Handle
The importance of the handle will depend on what you plan on doing with the scraper. If you're cutting then you want a comfortable handle that you'll be able to force down. Having a high level of grip can also prevent you from having accidents. The handles on metal scrapers are usually much more comfortable than plastic ones.
Cleaning
You also want to think about how you're going to be cleaning your scraper. If there are any grooves then this can make your life more difficult. Most have a very simple design but getting that dough off can still be tricky. If you have a dishwasher, then make sure it's safe to throw in there.
Measurement marks
When cutting your dough into portions you want to be able to get the right sizes. You can, of course, use a ruler or your naked eye to do this. Measurements markings on the blade can make this easier and faster. These measurement marks are usually only found on metal scrapers.

Frequently Asked Questions
What is the best dough scraper?
The answer to this question depends on what you need your scraper for and how you use it. It could be that a curved plastic scraper is best for you or perhaps a rectangular metal one. All the scrapers we looked at here have impressive qualities so choose the one that best fits your needs.
What can you use instead of a dough scraper?
If you're in a bind then there are a few other utensils you could use. The likes of a cake sever or a chef's knife can be used for scraping. With how inexpensive these tools are, it makes sense to simply get a specialized dough scraper.
What is a dough scraper used for?
The clue is in the name as a dough scraper will allow you to scrape up any of that sticky dough from a work surface or mixing bowl. On top of that, they are also used for cutting dough into the correct portions and can also aid in the mixing.
Should I get a plastic or metal dough scraper?
This is will often come down to personal preference. If you're working on hard surfaces then a metal option is often preferable. With curved or more delicate surfaces, a plastic dough scraper may be more preferred. Plenty of people get both.