The love of a good loaf of bread is something that is deeply inherent in our genes. After all, our ancestors from centuries ago shared this same love. Soft to the mouth, aromatic to the nose, the sight and smell of a freshly baked loaf of bread is something that can stimulate all the senses and cause mouths to water. And best of all, bread makes a fantastic compliment to any sort of meal, from breakfast to dinner.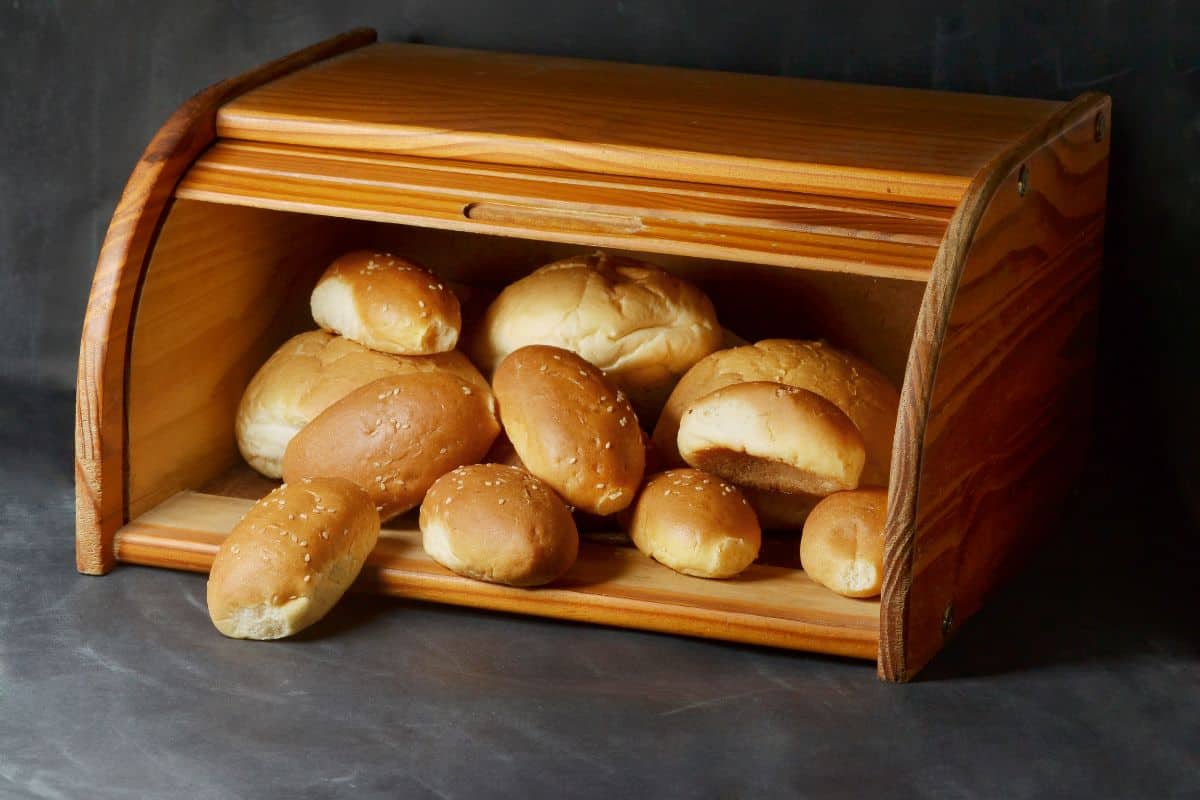 But though bread is wonderful as food, it presents a challenge of its own: keeping it soft and fresh over time. The moment a piece of bread is taken out of the oven is the moment it becomes exposed to moisture in the air and other uninvited nibblers (like pesky ants). This is where a good bread box comes in. Designed to protect your bread from mold and any stray visitors, a bread box will keep your bread fresh and tasty for days on end.
So, if you're a lover of bread who doesn't own a bread box yet, we highly recommend you read on below and take your pick.
Best Bread Box

Home-it 268 Bread box, one, Grey
Combining a stylish stainless-steel finish along with fantastic capacity, the Home-it Bread Box provides a comfortable second home for your beloved baked goods. With its generously sized compartment dimensions of 16 x 10 x 7 inches, even the largest of loaves you might pick up from your bakery will be stored properly here.
Opening and closing the box is a breeze as well thanks to its swing-down door mechanism that allows for smooth opening and closing. All around you'll also find that it comes with a protective layer of plastic that'll ward off the unwanted scratch, keeping this bread box looking pleasing to the eye.

Metal Bread Box – Countertop Space-Saving, Extra Large
Another fairly large bread box that comes in either white or black is Claimed Corner's Metal Bread Box that'll be sure to tell anyone passing by that what's inside is bread due to its overt exterior logo.
It's a cute-looking box that'll mesh well with just about any kitchen aesthetic, but it still performs extremely well as a bread box. With its lid cap design, once sealed, your pieces of bread will be kept dry and far away from any moisture while humidity levels will be kept at ideal levels. Because it's made out of metal, it is fairly sturdy and will easily withstand scratches and knocks.
And when it comes to storing bread in its 13.5 x 9.5 x 7.5 inch storage, you'll be able to stuff up to two large loaves of bread without hassle.

Natural Bamboo Roll Top Bread Box Kitchen Food Storage
A little more unique looking, the RoyalHouse Bamboo Bread Box offers an attractive product crafted out of unadulterated bamboo that offers both a woody appearance and an eco-friendly product.
With its slide top mechanism, it functions practically like a sliding wardrobe that's meant to hold loaves. Inside, with its 15.12 x 11 x 6.8 inch dimensions, up to two loaves will easily fit. Going back to its build, because it is made out of bamboo, not only is it sturdier than wood but it also comes with natural antibacterial properties that'll further prolong the shelf life of your loaves.
Best of all, bamboo doesn't lose its color over time from washing, so it'll look great throughout the years. Just one caveat to note: assembly is required here! Don't worry though, as long as you follow its detailed instructions, your bamboo bread box will be up and running within mere moments.

LAURA'S GREEN KITCHEN Large Double Layer Bread Box
Another fantastic bamboo-based bread box for those looking for something larger is Laura's Green Kitchen Bread Box. Carefully designed to contain just the right amount of moisture to prevent both your loaves from mold exposure and from stalking too quickly, this bamboo construct is perfect for keeping humidity levels at their most optimal point.
Size is also the name of the game here, with the box easily capable of holding over two loaves of bread in its multi-level design that'll still fit in the smallest of kitchens. Best of all, it's a beautiful product aesthetically speaking that looks charming and elegant to the eye yet still manages to be extremely durable.
Closing and opening the box is a breeze as well due to tis secure magnetic lock and acrylic glass window that allows you to check on your bread at any time. So, if you're in the market for a large yet rustic-looking bread box, this item should be on your radar without a doubt.

Bamboo Bread Box, Finew 2 Layer Rolltop Bread Bin for Kitchen
Another large capacity bread box that features a multi-level system is Finew's Bamboo Bread Box. With a unique high-foot design that specifically keeps your loaves of bread far away from any moisture or water on your kitchen top, this bread box stands high above any surface thanks to its four feet that prop it up 1 cm high.
You'll also find that its boards are entirely removable and when not in use, can be used for a variety of other uses such as doubling as a cutting board. On its build, it is formed out of thick bamboo boards that are 1.5 cm thick so problems like dents and deformations won't ever be an issue for you. The bamboo used is purely natural and is coated with non-toxic soy oil which ensures both environmental protection and the longevity of your loaves of bread.
Speaking of which, you'll be able to store up to six pieces of baked goods through its 15 x 9.6 x 14.5 inch dimensions, more than enough for even the biggest of households!

Oggi Stainless Steel Roll Top Bread Box with Tempered Glass Lid
Returning to bread boxes with metallic builds, Oggi's Bread Box offers a smart solution to all your bread storage needs. Forged and assembled with high-grade stainless steel, this bread box is above all else, a durable piece of work that'll last for years if taken care of right.
It also features an interesting toll top lid that comes with tempered glass. Along its bottom you'll also find several rubber feet that'll prevent the box from causing scratches all over your kitchen top.
With its dimensions of 15.25 x 8.5 x 9.5 inches while it isn't the largest in our list, it'll more than do for the average loaf of bread or any other baked goods.

HausRoland Bread Box
Simple to use and clean, this steel bread box features a dimension of 13 x 9.25 x 7 inches that'll keep your bread safe from moisture and critters. Coming as a set of four that includes a cutting board lid made out of bamboo, you truly get your full money's worth here.
And if you ever feel the need to properly blend the box with your kitchen decor, you'll be pleased to know that it comes in a range of different colors.

HILFA Stainless Steel Bread Box with Roll Up Lid
Coming in either matte black or bushed silver depending on your color preferences, the HILFA Bread Box brings a modern aesthetic to any kitchen. It's extremely compact yet functional and will protect up to two loaves of bread within it.
Opening it reveals a neat roll lid mechanism that doesn't require additional space to open and close while its built-in back vent provides just the right amount of airflow for your baked goods. In terms of its durability, note that it is entirely rust-proof thanks to its premium material which means you don't have to worry about water spillages or anything similar.
The top is also flat so if you want to place something on it (like a book or tray), you'll be able to do so while keeping your kitchen organized.

Brabantia Fall Front Bread Box – Matte Steel Fingerprint Proof with Black Sides
If you're the type of person who gets annoyed not just with scratches and dents but fingerprints, the Brabantia Bread Box has got you covered. Designed with a modern look in mind, this bread box will make a fantastic addition to any kitchen.
It also features a flat top that'll allow you to keep things on top of it, but the main feature of the bread box comes with its stainless steel finish. Such a build not just wards away scratches but keeps fingerprints far away thanks to its fingerprint proofing. Of course, it goes without saying that this box is particularly tough. And within its generous interior, you'll never find much need for additional space.
There's more than enough room for up to two large loaves which will keep any family happy and fed.

mDesign Metal Bread Box Bin with Hinged Lid
With simplicity at its core, this cute bread box will keep your baked goods fresh and ready to eat within its hinged top which makes closing and opening easy thanks to its in-built handle. Its sleek and beautiful construction will ensure it blends in any kitchen and with its rubber feet, you don't have to worry about it either skidding or causing kitchen top scratches.

A Buyer's Guide to Bread Boxes
Sealing:  A solid bread box is one that seals properly. If it doesn't, moisture can creep in along with even ants. While all options on our list will seal extremely well irrespective of method (e.g. cutting board or roll-ups), should you decide to look beyond our list, always double-check on this factor before making any purchase.
Size: Size certainly matters when it comes to getting a box for yourself. Before making a buy, assess how much bread your household consumes on an average week. You wouldn't want to have too little space after all and be forced to eat your goods sooner than later!
Material: The material your bread box is made out of plays directly into how well it'll store your bread. Two of the most common materials are wood and metal. Wood is great if you're looking for a charming, antique aesthetic that also keeps your baked goods cool and ready to eat. The downside is that depending on its build, wood can soak up surrounding odors. Metal is another great option that offers strong protection not just for your bread but for the box itself against rust and dents. The only con is that it tends to get smudged easily so if this annoys you, we suggest getting a finger-proof metal bread box.

Frequently Asked Questions
Can't I just store my bread in my fridge?
You certainly can and your bread won't turn moldy at all even as the days go by! But here's the thing. Using a fridge does keep your bread mold-free but it certainly won't keep it fresh. Even storing it for mere hours takes away its freshness entirely, leaving you with a sad lump of stale bread that might be edible but certainly won't be as tasty as it would be if you had used a bread box.
How long does it take for bread to turn bad?
It really depends on the type of bread you have. For instance, bread made out of sourdough tends to have a longer shelf life as its natural acidity tends to discourage bacterial growth. Normal loaves of bread will obviously, last for shorter periods of time. Regardless, if you properly use a bread box, you can expect your baked goods to last for roughly a solid week – give or take.
Can I eat stale bread?
Yes! So long as there is no mold, stale bread is still fully edible. It just won't be a pleasure eating it on its own. We suggest using it for other recipes such as making croutons or even using it to make bread bowls for soup.