If you want bread to look beautiful or control the way it expands, you need the best bread lame. They will allow you to create designs into your artisan bread and help to give you great-tasting pieces of art. While all that requires practice, it starts with getting a great bread lame.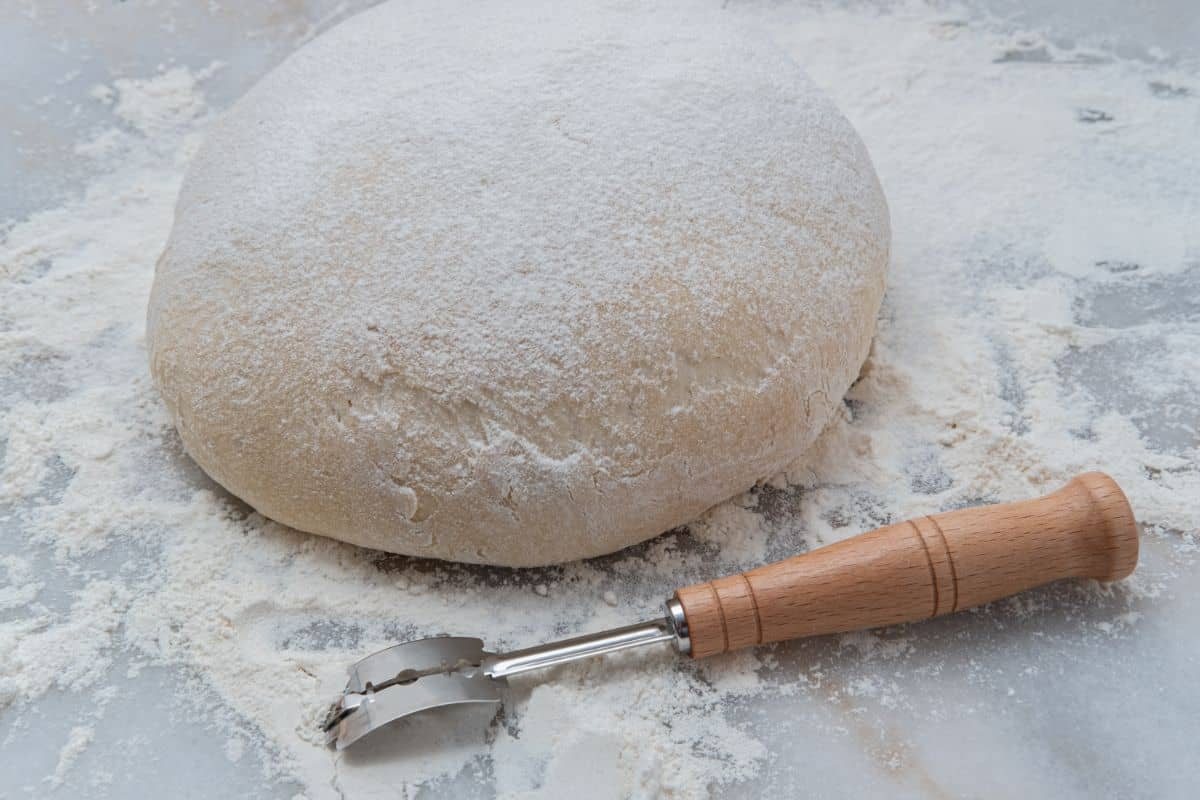 A problem can come from there being many different options to choose from with different styles of lame and different shapes of blade. That's where we can help as we've reviewed the top 10 models out there and developed a buying guide just for you. Let's get started!
Best Bread Lame

Baker of Seville Bread Lame
Wondering about whether you should get a straight or curved blade, well this can be both! It's very easy to switch from one to the other and it's also simple to change the blades too. The design of this lame is very simple but works perfectly.
As soon as you get the blade in your hand you'll be able to feel the quality throughout. It's made from stainless steel and the weight of it will allow for precise cuts. That's aided by the screw allowing the blade to be firmly in place.
It's not the most attractive looking lame but not many people will care about that. It's very easy to clean with it being dishwasher safe and it also has a protective case for when it's not in use. The results speak for themselves you'll enjoy being able to create wonderful designs on your bread.

Bread Bakers Lame Slashing Tool
If you're looking for a bread lame with a little more style then this is going to be a great option. It features a beautifully crafted wooden handle that not only has that traditional look but also feels great in your hand.
The way it feels gives you confidence in being able to make those precise cuts. The styling of this lame doesn't just end with the handle. It also comes with a fantastic wooden box and a blade cover to give you simple storage and a high level of safety.
The blades are curved to give you that lip that most people are looking for. The blades are easily replaced and you get 10 extras here that are going to keep you going for a while.

Saint Germain Premium Hand Crafted Bread Lame
Saint Germain is another company that has been able to make a beautiful bread lame. It has a wooden handle that is a bit lighter in color than some of its rivals. That handle feels great and will give you plenty of grip to make those intricate cuts.
The grooves of that handle may be able to give you some grip but they can also be crevices for flour and dough to get trapped in, which can be a bit annoying. Apart from that, it's a great lame and one that comes with a good leather case for protection.
A strong guarantee is given on this lame but it's not something you'll have to worry about as you'll be more than happy with it. The curved blade works very well and will stay solidly in the housing.

YMHB Premium Hand Crafted Bread Lame
If you want to be able to make beautiful designs and deep undercuts into the bread then you'll need a curved blade and that's exactly what you get here. You'll see much better results than you'd get with a knife or another type of blade.
Precision is also important and that can be aided by the right weight. You want it to be light enough to easily use but heavy enough that you're able to have plenty of hand stability. We think this model from YMHB is one that finds a great balance.
There are five blades included in this pack and you also get a leather cover for when it's not in use. It has all the qualities that you'd want to see in a bread lame with a build quality that will see this last for a long time.

Breadsmart Artisan Bread Making Kit
If you wanted to have more than just a bread lame then this would be the perfect set. It comes with a lame that has both a curved and straight blade, a stainless steel whisk and also a bench scraper. It gives you everything you need to make artisan bread.
It's a wonderful little set and it all comes in a nice plastic container. You have four different color options available and they all look great. It makes a perfect gift for someone else or just a beautiful present for you.
The lame itself is fantastic as you have a blade at each end. One is straight and the other is curved, allowing you to switch seamlessly between the two. The 10 replacement blades it comes with will also last a very long time.

SIMOX Premium Bread Lame
This is perfect for those looking for a scalpel type of lame with a straight blade. It allows you to score bread very quickly without the drag you'd get from a kitchen knife. The blades are highly secure and allow you to get the right amount of pressure.
The wooden handle has a beautiful feel with a curve that sits perfectly in your hand. That allows you to score your bread with the highest levels of control. There is also a hang hole on the end to give you another storage option.
Quality throughout this bread lame is excellent and it is built to last. It comes with 10 replacements blades which are easy to change. The plastic cover isn't the highest quality but it does keep that blade protected.

VIROTEE UFO Bread Lame
All of the bread lames that we've looked at so far have a fairly standard shape but this one is quite unique. It comes in a circular design which makes it highly portable and easy to carry or place into your pocket.
The smaller shape allows you to get a very close level of control over what you're doing and allows for precise cutting. It's made from American black walnut and looks brilliant. It will last for a long time and comes with five replacement blades.
The design might not be for everyone and it does limit the amount of pressure you can put down on to it. Many people will love it and it comes with a protective leather case that keeps it safe and stored away.

NINI'S Premium Hand Crafted Bread Lame
This is a more traditional bread lame and one that comes with everything that you'd expect. The quality here is excellent with the oak handle and the stick which is made out of stainless steel. All of this comes at an affordable price.
Importantly, the lame is going to be able to hold the blade firmly in place and allow you to get the required pressure on your dough. Those blades are curved and there are five replacements that come with it.
The leather cover that comes with it is high quality and makes it easy to store away. It comes with an impressive guarantee and you'll be able to get a full refund if you're not happy with your bread lame.

Aeaker Hand Crafted Bread Lame
Here we see another highly rated bread lame and one that isn't going to let you down. It has an elegant look with a smooth handle that will be very easy to clean but doesn't have the highest level of grip.
Blade replacement is very simple and you'll be able to clip on a new one in no time at all. Those blades will stay firmly on the stick and allow you to get the results you're looking for. You'll have no problems with the level of performance you get here.
It comes with a storage box and five razor blades to add to the great value you get here. It has a dynamic level of performance and allows you to get the bread results you're looking for.

Bextcok Bread Bakers Lame Slashing Tool
This bread lame looks expensive but it's another that comes at a great price. The handle is very well shaped and will fit perfectly in your hand. It allows you to put plenty of pressure on the blade to get those deeper cuts.
That pressure can be applied due to the hardened metal stick and stainless steel blades. That adds to the versatility and you'll equally be able to make intricate cuts along with those simple ones.
It comes in a great and stylish case but also has a leather cover for the highest levels of storage and safety. A 100% money-back guarantee is offered which shows you how much faith they have in their bread lame.
Best Bread Lame – Buying Guide
Type
There are two main types of lame that you see and they are a scalpel type blade and those with a longer handle and the ability to hold a curved blade. The scalpel style is brilliant for simple straight cuts but for the more intricate cuts, you'd need to get a regular bread lame.
Shape of blade
The blade used on here will either be straight or curved. Much as with the type, straight blades are for simpler scoring and the curved blades will be able to make undercuts for a more pronounced expansion. There are some bread lames out there that allow you to have both types.  
Handle
The handle plays an important role in comfort and grip. Some prefer to have a solid steel handle but others like the feel of a wooden handle. Grooves in the handle can further aid for level of grip but these grooves can make the bread lame harder to clean.
Safety and storage
Most of these bread lames will come with either a cover or a box, with some of them coming with both. It would be tiresome to have to take the blade off after each use and this helps to make them safe. Whether you use a case or a cover will come down to personal preference and your storage space.
Replacement blades
All blades will need replacement after time. It's a good idea to not only check how many replacements come with the lame but also make sure you can buy cheap replacements once they run out.

Frequently Asked Questions
What is the best bread lame?
All the models that we've looked at here could lay claim to being the best bread lame in one way or another. The best one for you depends on what you're looking for. All these are high-class models and therefore get the one which most closely matches your needs.
Do I really need a bread lame?
Some use bread lames to make their creations look pretty while for others, it's essential. You can't make a great looking baguette without a lame, for example. You can also use other tools to score your bread but you'll never get quite the same results.
Why is a bread lame curved?
There are two main reasons to get a curved blade. Firstly, they allow you to create more intricate patterns and make following the curve of the bread easy. Secondly, that curve helps you to create a deep undercut for an even more pronounced cut which you often see with French breads.
What is a bread lame used for?
As the dough expands, it can often crack. Scoring of the dough will allow you to control how it expands in a way that creates a better look and texture. Some people will use a bread lame to simply make their blooms look better. It can also help to increase the surface area of the crust which can also improve its flavor.
What can I use instead of bread lame?
The obvious alternative is a knife that can do a decent job for simple scoring but usually lacks the control, sharpness and shape required for anything beyond that. A retractable utility knife is another option but also has control and shape issues. Bread lames are fairly inexpensive and it's often the best idea just to get one.