Having a fantastic loaf of bread to dig into is one thing. It's another thing entirely to cut it up properly through its hard and dense crust. Surely anyone who has tried cutting their bread has ended up with a lopsided slice every now and then.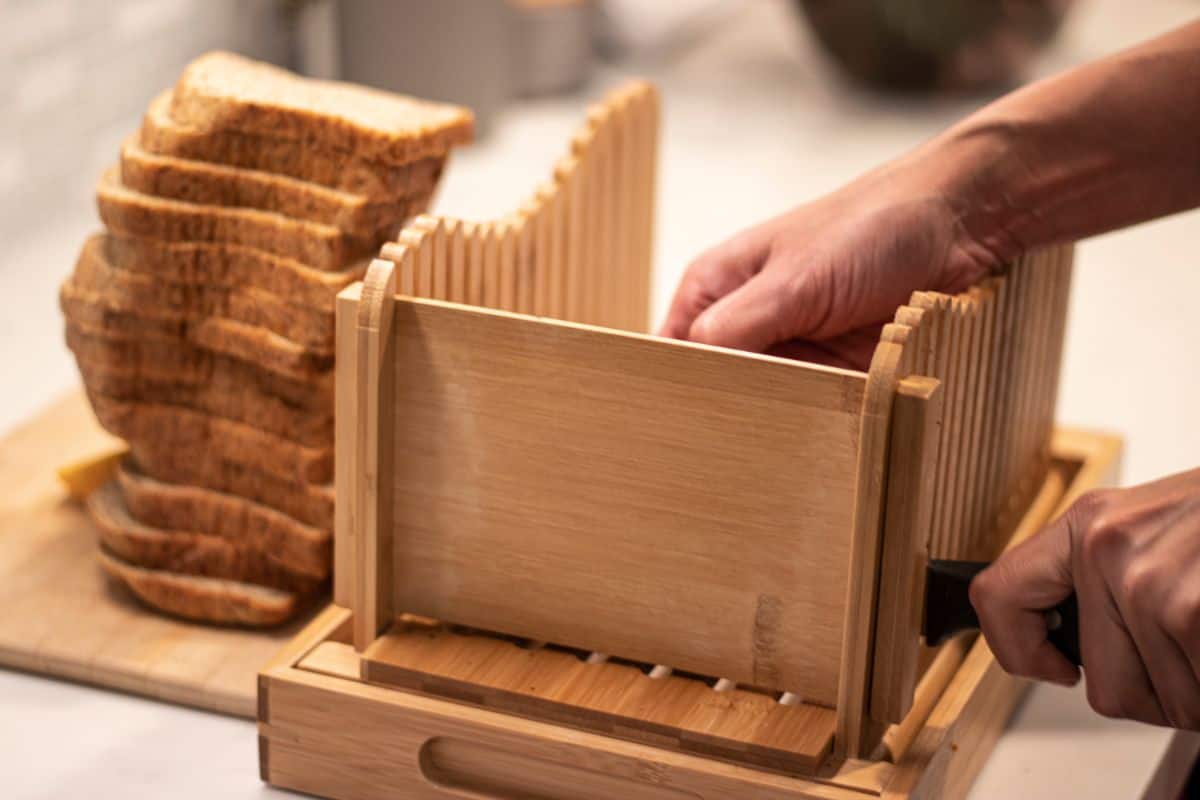 To get rid of the uncertainty and challenges of properly cutting a loaf with a bread knife, bread slicers are designed to do most of the work for you. Just place your loaf onto the slicer and bring down your knife along its sockets and voila! You'll end up with a set of neatly and uniformly cut slices.
Unfortunately, there are a wide variety of slicers that vary wildly in quality and function. So, to help you navigate your way through this often confusing market, we've collected and reviewed some of the best bread slicers out there. Read on and take your pick.
Best Bread Slicers

Kitchen Seven Bamboo Bread Slicer with Crumb Tray
One of the best-looking bread slicers out there that is guaranteed to provide you with evenly cut loaves every time is Kitchen Seven's Bamboo Bread Slicer. Elegantly crafted with bamboo that is both durable and totally water-resistant (as well as eco-friendly), this sturdy bread cuter will guide your bread knife effortlessly. Simply place your loaf on its tray and then proceed to cut down through this rounded rod tops.
Below, you'll find a crumb tray that can also be used as a serving tray that'll collect messy crumbs as well as four silicone stickers that'll both prevent scratches on your counter while providing a steady foundation for your slicing. 

PURENJOY Bamboo Bread Slicers for Homemade Bread
Another similarly designed product albeit slightly lower on the rung of price is PURENJOY's Bread Slicer that'll accommodate any type of baked good. Through its 5.1 x 6.3 inch dimensions, it'll easily allow any user to neatly slice as many slices as they want.
Once done, you'll even be able to do away with the crumbs from its crumb holder that'll make cleaning a breeze. The best thing we think about this is how you can set the slicer to three different slice options all differing in size based on your preferences.
From bagels to cake to standard loaves of bread, everything can be sliced here. Plus, being built out of bamboo means it is water-resistant, aesthetic to the eye, and will last for the long years to come.

Premium Bamboo Foldable Bread Slicer
Constructed out of high-quality bamboo, Kitchen Natural's Bread Slicer is built to last even under the heaviest usage. It also conveniently folds onto itself which makes storage a non-issue.
Better yet, you'll even be able to slice your bread based on your desired thickness without breaking a sweat. And of course, if that wasn't enough, it also comes with a removable crumb catcher that'll give you some peace of mind when it comes to cleaning up later.
Going back to its durability, it even comes with a full product guarantee coupled with how the manufacturers promise to return you your full money's worth if you find yourself unhappy with the product at any time.

XIYUAN Bread Slicer
Sitting comfortably as one of the most affordable options we've seen in the market, this slicer still offers everything you might need from a bread slicer. Made out of plastic, this foldable and adjustable tool will make a great addition to any kitchen. Just grab your loaf of your desire and push it into the slicer.
You'll have to constantly push the loaf deeper as you slice as it is a manual slicer but don't worry, it's safe to the fingers and is highly intuitive to use.
Before we forget, just because it's made out of plastic doesn't mean it detracts from the quality of the product. It is totally non-toxic and made out of ABS resin that is suitable for all sorts of food.

POLARHAWK Bread Slicer,Adjustable Bread/Roast/Loaf Slicer Cutter
Another wonderful slicer for those looking for a plastic-built product is POLARHAWK's Slicer. Built out of eco-friendly ABS resin plastic, you'll be surprised to find out how it'll easily survive the coldest and hottest of temperatures.
Again, this is a manual slicer so you'll need to continually push your bread into its opening, but this should be an effortless process. It even lets you pick your desired thickness and to help you make more steady cuts, you can use its rubber paddings that are included free of charge. Once done, simply fold it up and chuck it away into your cupboard.

ZTWOOZ Bread Slicers for Homemade Bread, Bread Slicer, Bagel
No products found.
No products found.
Now if the idea of having a plastic bread slicer appeals to you but you don't want to constantly deal with moving your loaf around, this slicer should be a great fit for you. Extremely light to carry and far more cost-effective than other slicers made out of bamboo, this easy to use slicer promises a fantastic cutting experience.
Load up the bread and just follow the slicer's openings – you won't have to keep moving your loaf around. At its already-generous price point it even comes with a built-in crumb catching tray that'll help you clean up. Lastly, it being white in color is actually a benefit. Stains will be easily spotted which means you'll at least know when and where to clean! 

BlackHillsbyDesign Better Bread Slicer (Poplar – Multiple Width)
As one of the more premium products on our list, the BlackHillsbyDesign Bread Slicer offers a great product for those looking for something made out of the sturdiest wood possible.
Carefully crafted by artisans out of poplar wood, this slicer with its dimensions of 3.6 x 4.8 x 6.2 inches will accommodate any standard loaf. It also features rounded tops that'll make it easier for your knife to be inserted and to begin slicing. Now on its build, because it is made out of real wood instead of pressed bamboo, this is a product that'll feel good and last for a very long time with proper care.
Just one thing to note: this thing is heavy, standing at around 5 pounds but remember, you're paying for quality here!

Chefman Die-Cast Electric
If the idea of a slicer appeals to you but you'd rather have a slicer that can slice just about anything beyond bread as well, you should definitely consider an electric slicer.
Chefman's Slicer in this regard offers a fantastic option at a relatively low entry price point that'll let you slice through not just bread, but the toughest pieces of meat as well. At just 9 x 12 inches, this thing is absolutely compact and will fit easily in any kitchen. The actual stainless-steel plate is powerful too and is completely removable, making clean-up a breeze.
If you're concerned about safety, note that it features non-slip feet along with a guard for your blade so don't feel intimidated by it!

Techwood Store Meat Slicer
Another powerful option that'll slice not just bread, but entire chunks of cured meat is Techwood's fantastic Meat Slicer. With its 6.7 inch steel blade, this slicer will provide extremely precise and uniform cuts for anything your kitchen might ever want to prepare.
Such accuracy is made possible because of its sliding tray that'll keep things neat and tidy. This of course is complimented by its nonslip feet that'll keep things stable. You'll even be able to decide on the thickness of your cuts with its adjustable thickness knob that allows cuts from 0 all the way to 20mm.
It is super easy to use as well as it comes with a manual should you find it too confusing at any point.

Westmark Germany Multipurpose Stainless Steel Cheese and Food Slicer
Made out of the best German engineering possible, the Westmark Slicer makes a great addition to anyone looking to slice their bread not with a knife, but rather with an attached lever-knife system. With its sharp stainless steel blade and comfortable handle, slicing bread will be effortless here. Plus, you'll even be able to adjust the thickness of each and every slice. Simply load up your bread in the right position and bring down the slicer, which should feel secure in your hands due to its rubber feet on the bottom and grip on the blade. Best of all, this thing will cut through just about anything else as well including vegetables and meats.
A Buyer's Guide to Bread Slicers
Material
Most slicers come built with either plastic or wood. You can't go wrong with either choice but note that each has its own caveats. Plastic in general is good because cleaning it is easy and it tends to be much lighter, making moving it around easy. A lot of plastic slicers are also foldable which helps with storing it later. Wood on the other hand offers a beautiful look and is extremely durable.
The downside is that it tends to get scratched easier and can be heavier depending on the product you pick. Further, it has the tendency to absorb the aromas of whatever you slice on it over time.
Size
Ensure that you pick a slicer that is able to accommodate the types of bread you purchase (or bake on yourself). It not being able to fit into your slicer is certainly a cause for concern as you won't even be able to use it! That being said, this really is a non-issue most of the time as most slicers can handle a vast variety of loaves. Just be sure to consider this though if you eat bread that is large in size like entire boules of sourdough.
Uses
If you're set on getting a slicer dedicated only and only for bread slicing, you don't need to worry about this point. But if you plan on slicing other things like meats and vegetables, ensure you get a slicer that can do this. The electric slicers on our list among a few others will deliver this function but if you decide to get something that's not covered on our list, always keep this point in mind before buying anything.

Frequently Asked Questions (FAQs)
Do I really need a slicer? Can't I just use a knife by itself?
You can absolutely slice bread with just a bread knife but let's be honest, most of us don't have the most stable or precise hands which can be making slicing a testing experience. Having a slicer with its slots will always give you the opportunity to always make good, uniform cuts at any thickness you desire. Whereas just using a knife makes things trickier as you'll always need to be on your toes.
How to I properly wash and maintain my slicer?
This depends entirely on what material your slicer is made out of. Plastic slicers are the easiest to clean – just grab a piece of wet rag and wipe away. You can even put them in your dishwasher if you're feeling a little lazy.
When it comes to wood, a little more care is required. You absolutely cannot use a dishwasher and will always need to handwash it, preferably with a wet piece of cloth. And once washed, ensure you dry it as soon as possible as wood risks falling prey to mold if left damp for too long.
What knife is best for my manual bread slicer?
Without a doubt, a serrated bread knife is the best thing you can get for your slicing. It'll cut through any baked good with ease due to its design. If you used a normal knife, its lack of serrated textures will cause your bread to messily tear while cutting but with a bread knife, this won't ever happen to you.