Baking bread is an art form; there are so many ways to approach it, and there are so many tools to do it nowadays. However, we should also say that the better the tools, the easier the entire process becomes, so if you are on the market searching for the best oven for baking bread, you've certainly come to the right place.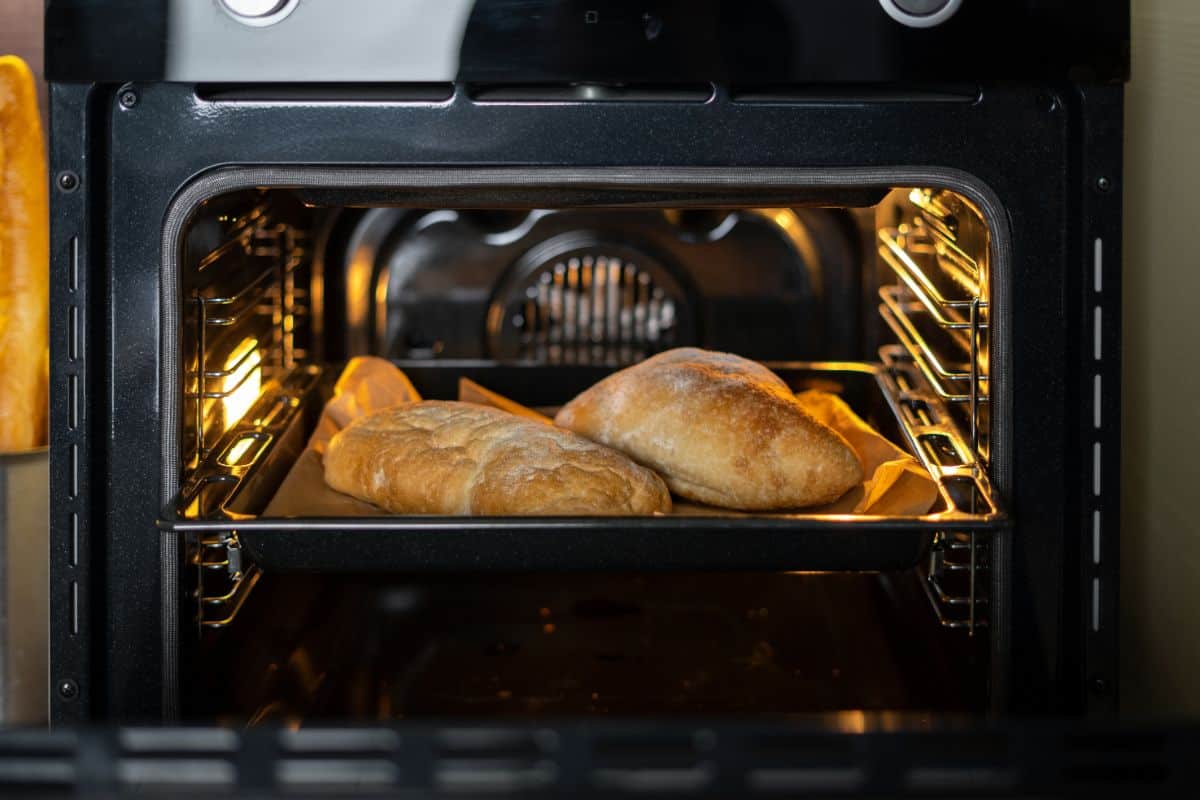 Best Oven for Baking Bread

Balmuda Steam Oven Toaster
Let's open up our review of the best ovens for baking bread with Balmuda's Steam Oven Toaster. Essentially, this is the best-performing model that we highly recommend if you don't mind paying top dollar for it. Although expensive, the features it comes supplied with are vastly superior in terms of reliability and versatility.
Speaking of which, the first notable feature of Balmuda's oven is the impeccable-quality heating element. It's as safe as it can be, and it boasts rapid heat-up time, allowing you to wrap up the baking process much faster than usual.
Furthermore, it offers seven different cooking modes, including toast, bread, pizza, pastry, 350 F, 400 F, and 450 F, as well as a 15-minute adjustable timer (in one-minute increments). Atop of its well-roundedness and power, it also features a highly durable, yet compact design that makes it perfect for any kind of kitchen design. Obviously, the only flaw is that it is pricey.
Pros:
Superior heating element
Multitude of cooking and baking modes
Accurate temperature regulation
Adjustable built-in timer feature
Compact and highly durable
Cons:

KitchenAid KCO255BM Dual Convection Countertop Toaster Oven
Next up is KitchenAid's KCO255BM dual-convection toaster oven. This is essentially a digital oven that offers simplified onboard controls that are remarkably easy to use. It's perfect for people who want an all-in-one toasting and baking tool, but who are at the same time not dissuaded by its hefty price tag.
The dimensions of KitchenAid's KCO255BM measure 16.5 inches by 18.5 inches by 13 inches, and it's a bit heavier than average with 34.7 pounds of weight. However, the extra weight is justified by extra durability; this oven is made of incredibly sturdy metal material that is almost completely impervious to physical damage.
As far as the built-in features go, KitchenAid's KCO255BM features toast, bagel, pizza, cookies, bake, broil, roast, convection bake, meat probe, keep warm, and reheat functions, as well as a programmable timer and temperature functions.
Pros:
Built to last
Twelve baking, toasting, and roasting modes
Remarkably easy to use due to simplified interface
Built-in temperature and timer functions
Cons:

Oster French Convection Countertop and Toaster Oven
Oster's French convection countertop and toaster oven is a beautiful-looking, large-sized oven that is perfect for toasting, baking, and broiling of pretty much every type of food, especially bread and pastry-based goodies.
It rocks a digital display that shows the current temperature and remaining time on the timer, both of which are easily adjustable via the interface. Some of the main operating modes of Oster's French convection oven are the Toast, Broil, Bake, Warm, Defrost, Dehydrate, Pizza, and Turbo Convection.
Right below the selectable modes you will see the timer and temperature arrows, the stop/cancel function, the start function, and the 'clock', which shifts between the timer and the actual clock features.
Pros:
Can fit even the largest breads and pizzas
Manufactured from premium quality stainless steel material
Features two racks for optimal cooking flexibility
Eight selectable modes and adjustable timer
Cons:
Takes up quite a bit of counter space

Panasonic FlashXpress Compact Toaster Oven
Panasonic is one of the world's most renowned brands as far as technology is of concern, and if you're looking for a reliable compact oven for baking bread, we strongly recommend you check out the Flash Xpress.
Its dimensions measure 12 inches by 13 inches by 10.25 inches, and it's one of the lightest ovens on the market, weighing only 7.49 pounds.
Even though it's pretty small, it features a huge array of highly versatile features, such as detailed Shade control panel, as well as a plethora of baking options, including toast, waffle, bread roll, frozen, reheat, pizza, quick, and hash brown. It also features simplified temperature controls and a 15-minute adjustable timer.
Pros:
Ultra-small, compact, and lightweight
Made of highly robust materials
Numerous de-freezing, reheating, baking, and broiling modes
Versatile Shade control panel
Cons:

Elite Gourmet ETO-4510M Double French Door Countertop
Elite Gourmet's ETO 4510M is next on the menu, and this is a large, durable, and versatile French-door countertop oven that is easily one of the finest mid-range models available on the market.
It sports four fine-tune knobs that govern temperature, adjustable timer, and selectable modes, as well as three trays for simultaneous cooking of multiple dishes. Best of all, you can even set different temperatures to different trays, allowing you to broil, bake, and toast at the same time.
Pros:
Made of top-quality stainless steel
Two separate racks that can be used independently in terms of temperature and active mode
Built-in timer and temperature controls
Cons:
Letters that read different modes and functions on the machine are tiny

Cuisinart TOA 60CS Convection Toaster Oven
The last mid-range oven for baking bread in our review is Cuisinart's TOA 60CS convection oven. Basically, this model is as closest to the traditional oven as possible; it features nostalgic mode-select knobs, an oversized tray, and heat-resistant see-through doors that you can use to observe the process.
It also packs1800 watts of strength and a top-quality 60-minute selectable timer feature. It's perfect for baking, broiling, and toasting of various foods, but its versatility pales in comparison to some of our previous picks.
Pros:
Small, but highly durable
1800 watts of strength
Seven selectable functions
Built-in 60-minute adjustable timer
Cons:
Not the most versatile oven

La Gourmet Toaster Oven
We're entering the budget price range with La Gourmet's Toaster Oven. Essentially, this is a 1400 watt oven that can toast, bake, grill, and broil your food in the simplest fashion possible.
It features a single rack that can be organized in three different positions, a 4-piece heating element, and convenient tray handles. Among its adjustable features, we include the temperature control knob (up to 450 F), the heating position, and the 60-min selectable timer. Although it has a very small footprint, its interior is pretty tiny as well.
Pros:
1400 watts of strength
Three rack positions
4-piece heating element
Made of high-quality stainless steel
Built-in 60-minute adjustable timer
Cons:
Rather small baking compartment

Mueller Toaster Oven
As far as budget bread-baking ovens go, Mueller's toaster oven is basically a bargain you don't want to miss out on. It's an incredibly light stainless-steel oven that packs a decently big adjustable baking tray, fine-tune timer and temperature knobs, and three selectable modes (bake, broil, and toast).
Some of the most notable benefits you'd get by opting for this model include the impeccable quality of its construction, superb utility features (such as the 30-minute timer), and obviously portability that does not impede upon its overall performance.
Pros:
Portable and durable
Three selectable modes
Fine-tune temperature knobs
Two-position rack
Cons:
The timer's increments are too large

Black+Decker TO3250XSB Extra Wide Convection Countertop Toaster Oven
Black+Decker's TO3250XSB extra-wide toaster oven is a decently-sized, decently light stainless steel oven packed with simple, yet highly functional and exceptionally versatile features. Even though it's a budget oven model, its performance is on par with mid-range ovens to say the very least.
First and foremost, the dimensions of TO3250XSB measure 14.5 inches by 22 inches by 11.5 inches, and it weighs approximately 17.5 pounds. Although it's just slightly heavier than an average oven, its stainless steel construction compensates for it with incredible durability.
This oven rocks a toast timer knob feature, a 60-minute individual timer, and a mode select wheel, which features convection bake, warm, broil, toist, and temperature settings from 250 to 450 degrees Fahrenheit.
Another very cool feature that TO3250XSB comes supplied with is the removable crumb tray that substantially simplifies the cleaning process after using the oven. Its main downside is the clunky design of the mode-select wheel, as you won't be able to specify the temperature while choosing a mode (you can only select one).
Pros:
Exceptionally affordable
Made of top-shelf stainless steel material
Two independent timers (regular and toast timer)
Crumb tray as complementary features
Cons:
The mode-select button could have been designed in a better way

Dash DMTO 100GBAQ04 Mini Toaster Oven
Our last pick is the first and only mini-oven by Dash labeled as DMTO 100GBAQ04. Essentially, this is a 'pocket' portable oven that is ideal for traveling and for single bachelors; its petite size means that it takes up the least bit of counter space possible, and furthermore it's remarkably simple to clean.
The dimensions of this oven measure 9.4 inches by 8.9 inches by 8.9 inches, which means that it can easily fit in a backpack or a standard sized bag. It's obviously lighter than average, as it weighs approximately 4.59 pounds. It offers 550 watts of strength and features a small 15-minute timer.
Pros:
Ultra-small footprint
Comes with a programmable 15-min timer
550 watts of strength
Perfect for traveling
Cons:
Best oven for baking bread Buying Guide
Ideally you should look for convection ovens if you intend to bake mainly bread. Convection ovens are versatile enough to be used for baking brownies, cakes, and cookies, and most models typically feature a set of selectable modes that can be used for roasting, broiling, and such.
With this in mind, the first question you need to answer is 'will I bake anything aside from bread in this oven?'
If you already have kitchen appliances such as toasters (and typically order cakes when you get a sweet tooth), a convection oven might be everything you need.
The next issue is the size of the oven. Bigger ovens are generally able to fit more racks and are obviously more versatile, but these benefits are not so impactful if you're already pretty low on counter space. If your kitchen is pretty cramped and you can't spare any more room for bigger appliances, going with compact, small-sized ovens might be a good idea.
Last, but certainly not least, search for an oven model that features at least a handful of utility features; a programmable timer is an excellent feature that will save you a lot of time, but even the regular 'clock' could do the job. More expensive models feature multiple racks, adjustable temperature levels, superior heating elements, removable crumb trays, and a variety of other features that entry-level and budget ovens typically do not have.
Frequently asked questions
What kind of oven should I use to bake bread?
A convection oven is the type of oven that is generally best suited for baking bread and similar types of baked goods. They're very quick, they are often not huge, and most models are versatile enough to accommodate different cooking approaches (broiling, roasting, etc.)
Do I need a multi-rack oven?
If you intend to bake cookies or brownies you'll probably need a multi-rack. Bread is generally easy to bake in single-rack ovens as it gets evenly heated while also being at a safe distance from the heating elements; in a multi-rack, bread is typically baked at the lowest position.
Can 'standard' ovens be used for baking bread?
Of course, they can, this was the original way of baking bread until convection ovens were even invented. Obviously, 'standard' ovens are generally a bit slower and drastically less versatile than convection ovens, but they can still be used to bake tasty, good-textured bread.