Cooling racks are necessities if you wish to avoid your baked goodies getting spongy and mushy; luckily, quality cookware is available at a very approachable price, but since there are dozens of manufacturers, brands, and models, sometimes it's hard to pick the right one.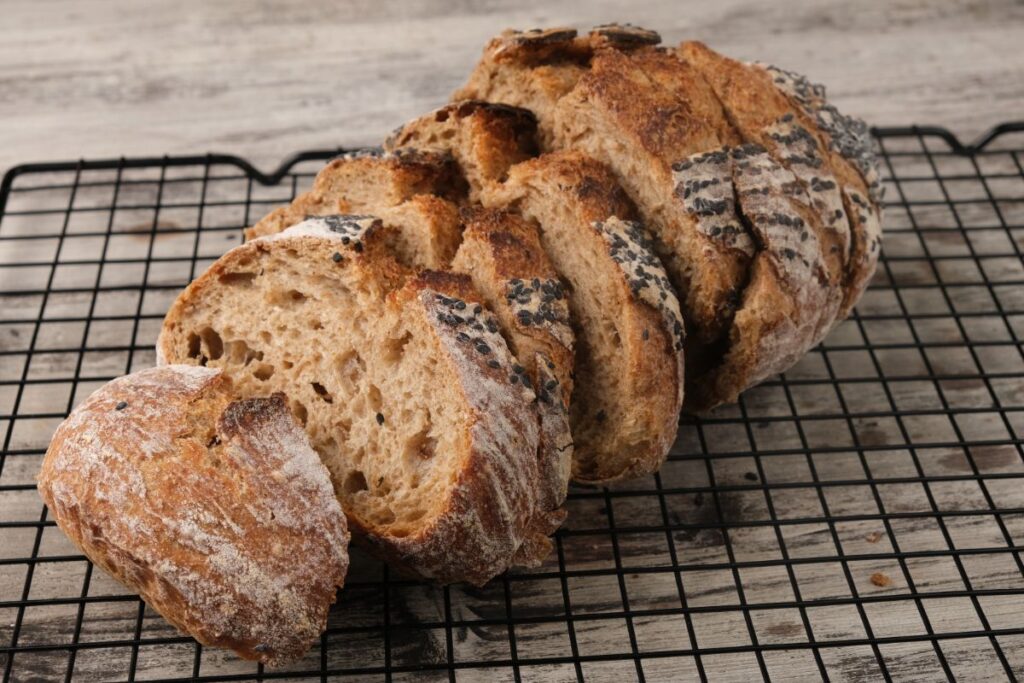 Today we are going to talk about the best bread cooling racks, so if you're on the market looking for one, stick with us for a while longer.
Best Bread Cooling Racks

Betty Crocker Cooling Rack, 3-Tier
The first item on today's menu is Betty Crocker's 3-tier Cooling Rack. This model is perfectly suited for all kinds of baked goodies; it is comprised of three equally sized 'stories' and it features a sturdy, durable base.
First and foremost, the dimensions of Betty Crocker's rack measure 13.5 inches by 12 inches by 12.5 inches; the stackable design offers plenty of space while having a small footprint ensures that you will be able to save quite a bit of counter space.
This rack rocks a non-stick coating that significantly simplifies the cleanup process, although it also reduces the overall longevity of the mesh wires. Speaking of which, the Betty Crocker's three-story rack rocks a wire mesh grid that can support heavier foods quite easily. It's pretty sturdy, and even though it costs a couple of extra bucks it packs a massive value for the buck.
Pros:
Three-story design
Non-stick coating simplifies the cleanup process
Decently large with a small footprint
Robust and durable construction
Cons:

Ultra Cuisine Stainless Steel Wire cooling rack
Next up is Ultra Cuisine's stainless steel cooling rack; one of the best things about this model, as well as the reason why it's positioned so highly in our review is the fact that you'll be able to choose between a myriad of size variants, ranging from miniature racks that are only 8.5 inches long and 12.5 inches wide to hugest ones that are nearly twice as large.
The dimensions are the only differences between these versions, though; what they all have in common is a remarkably sturdy wire grid made of heavy-duty stainless steel that are capable of enduring even the strongest temperatures and rough use. 
The only thing that you might not like about Ultra Cuisine's stainless steel cooling rack is that it's slightly pricier than average; other than that, you get to pick the size, and there's no reason to fret about durability as the steel wires are as robust as they can be.
Pros:
Available in numerous size options
Made with exceptionally strong heavy-duty stainless steel
Can endure temperatures up to 575 F
Tremendous value for the buck
Cons:
Slightly more expensive than average for a single rack pack

Kitchenatics Commercial Grade Stainless Steel Roasting and Cooling Rack
Our following pick is Kitchenatics Commercial grade roasting and cooling rack; this is a single-rack piece that features premium welding and ultra-sturdy construction comprised of professional-grade and rust-resistant stainless steel material. It also rocks arced support bars that offer optimal air circulation at all times.
The dimensions of this cooling rack measure 10 inches in length by 15 inches in width by 1 inch in width; it's completely free of chemicals and even though it's not layered with a non-stick coating, it's much safer to use than models that are supplied with such features.
Kitchenatics roasting and cooling rack can endure temperatures up to 575 F, just like our previous pick, which makes it perfect for use with pretty much any oven.
Pros:
Heavy-duty stainless steel construction
Anti-rusting properties
Premium welding and arced bar supports
Suitable for use at temperatures up to 575 F
Cons:
A bit too wide for conventional ovens

Tebery 4-Pack Cooling Racks Baking Rack
The first bundle in our review is Tebery's 4-pack cooling rack. Just like the title suggests, this is a package of four identical stainless-steel cooling and baking racks; each rack features dimensions that measure 16 inches by 10 inches by 0.75 inches.
The grid pattern of these cooling racks is remarkably narrow, which makes it perfect for baked foods that have a particularly crumbling texture. Furthermore, Tebery's cooling racks are all layered with a non-stick coating that allows for substantially simpler cleaning.
Obviously, the biggest benefit this bundle has to offer is the fact that there are four racks in it; this is extremely handy if you're frequently baking larger quantities of food.
Pros:
Bundle comprised of four stainless steel large-sized cooling racks
Perfectly angled for optimal air circulation
Very easy to clean and maintain
Cons:
The non-stick coating slightly diminishes the overall longevity of the racks

Hiware 2-Pack Cooling Racks for Baking
Next up is Hiware's 2-pack cooling racks; this package is perfect for housewives and home chefs that are feeding larger families, but it's also great for smaller bakeries. The racks are pretty large, as their dimensions measure 11.8 inches by 16.5 inches, and they can fit perfectly well in traditional 13 inch by 18 inch half-sheets, such as Wilton's or NordicWare ovens.
The tight-grid design prevents weaker baked foods from falling through while the angled bar supports provide enough leverage for excellent breathability and air circulation. Hiware's cooling racks are built with premium quality stainless steel, and they do not feature any kind of chemicals or oily coatings that would interfere with the food's taste or healthiness.
Pros:
Pack of two top-quality cooling and backing racks 
Features exceptionally durable stainless steel construction
Tight-grid design prevents weaker foods from crumbling through
Cons:
Slightly harder to clean than average
Huge footprint

OXO Good Grips Non-Stick Pro Cooling Rack
OXO is one of the major brands in the kitchen appliance and accessories branch, and here we have their Good Grips non-stick Pro cooling rack. It's sized just about right, and it rocks a sturdy, durable construction that features PFOA-free materials.
Even though it can't endure extreme temperatures (it's usable up to approximately 450 degrees Fahrenheit), it's perfect for most home baking applications. It offers a tight wire design along with optimal airflow and simple maintenance as the main benefits, although it's also available at a very approachable price. 
You will be able to choose between varieties of size options; the standard cooling rack features dimensions that measure11.5 inches by 18.5 inches by 1.5 inches. It's slightly thicker than average, and this goes to show just how robust it is.
Pros:
Thick, premium welding 
Superior durability and sturdiness
Large-sized cooling rack
Tightwire design
Cons:
A bit heavier than average

Spring Chef Oven Safe Heavy Duty Stainless Steel Baking Rack
People who are on a bit tighter budget but still want to get the most value for their buck should check out Spring Chef's oven-safe heavy-duty baking rack. It's available in 8.5 by 12, 10 by 15 and 12 by 17 inch size options, all of which feature top-quality stainless-steel construction. 
Apart from being readily available in multiple size options, this bread cooling rack boasts rusting-resistant and warp-defying properties that heavily influence its overall longevity. It features an ultra-tight wire grid that is capable of holding weaker baked foods easily and reliably.
Pros:
Available in several size options
Made of high-quality stainless steel material
Tightwire grid 
Decently affordable
Cons:
Checkered Chef Cooling Rack
Checkered Chef's cooling rack is the first budget model in our review; it's slightly smaller in comparison to standard cooling racks, as its dimensions measure 17 inches by 12 inches, and it is designed to fit in most conventional 18-inch by 13-inch half-sheet pans.
It's made of robust stainless steel and sports a special cross bar support that eliminates wobbling and drastically reduces the time required for the rack to warp. If you're cooking for a bigger family, a bundle of two Checkered Chef racks is available as well with the same dimensions and properties.
Pros:
Built to last
Chemical-free components
Made of high-quality stainless steel
Resistant to rusting and warping
Cons:

Wilton Industries Mega Cooling Rack
Wilton Industries mega cooling rack is one of the cheapest high-quality bread cooling rack models in our review. It packs a non-stick coating that makes the cleaning process much easier, and it sports heavy-duty stainless and rusting-free construction, just like most of its pricier counterparts.
The dimensions of this rack measure 16 inches by 10.03 inches by 0.82 inches, and it's surprisingly light with only 8 ounces of weight.
The biggest benefit that this model has to offer is reliability atop of its affordability; it's substantially sturdier than most budget cooling racks, and it offers premium performance for the buck.
Pros:
Surprisingly durable considering the cost
Available at a very approachable price
Lightweight construction
Cons:
A tad smaller than an average cooling rack

Fox Run 4698 Stackable Cooling Rack Set 3-Piece
Let's wrap it up with Fox Run's stackable 3-piece cooling rack. This is one of the most affordable multi-racks that the market has to offer, yet it's still much more durable than most models in this price point category.
Each rack sports dimensions that measure 9.75 inches by 13.75 inches by 3.25 inches and each is made of exceptionally durable chrome material. Although chrome is less durable than stainless steel, this material is substantially easier to clean, despite the fact that it does not feature a non-stick coating.
Pros:
Made of lightweight chrome material
Bundle of three stackable cooling racks
Exceptionally affordable
Cons:
Slightly flimsier than average
Bread Cooling Racks Buying Guide
Cooling racks are built in a pretty much universal way, so there aren't too many things you should keep an eye out open for.
The most important factor you should consider is the size, obviously; different ovens can accommodate different racks, so this is the most important factor that overshadows both durability and price as it determines the overall functionality of the rack model in question.
Speaking of which, robustness is the second most important factor. Cooling racks are usually made of stainless steel materials; steel is robust and rigid, which is what makes it so great for this particular situation. Cheaper budget racks are often made of chrome, which is lighter but much flimsier.
Price is a big factor as it usually dictates the spendable budget. However, one of the best things about bread cooling racks is that most of them fall into the category of under $40. Regardless, there's still enough room to differentiate quality models from flimsy, budget ones.
Another important factor is whether the rack comes as a standalone model or if it comes in a bundle. Several-story racks are generally better if you are baking larger quantities of bread; if you're baking only once in a while, single-story standalone racks will do the job just fine.
Lastly, it's up to you to determine whether you wish to sacrifice a portion of the rack's longevity for the sake of easier maintenance; non-stick coats typically make racks much easier to clean, although they lower the overall durability of the model. Budget racks with non-stick coated surfaces are sometimes unhealthy as they feature harmful chemicals.
Frequently Asked Questions
What is a cooling rack?
Cooling rack is a piece of cookware that elevates baked goods for better air ventilation, preventing foods from becoming spongy and mushy.
Can cooling racks be used for baking?
Only models that can endure extreme temperatures (above 300 C) can be used for baking; most cooling racks are not supposed to be used this way.
Are cooling racks useful for foods other than bread?
Any kind of baked goods can be used with cooling and baking racks, although you should keep in mind how much they weigh before putting them on.