Bread making is an art that requires a few reliable accessories that are essentials and the proofing basket, also called the banneton, is one of them.
If you are new to the world of baking, especially of bread baking, you might not be familiar with what proofing or a proofing basket is, so let's start with that.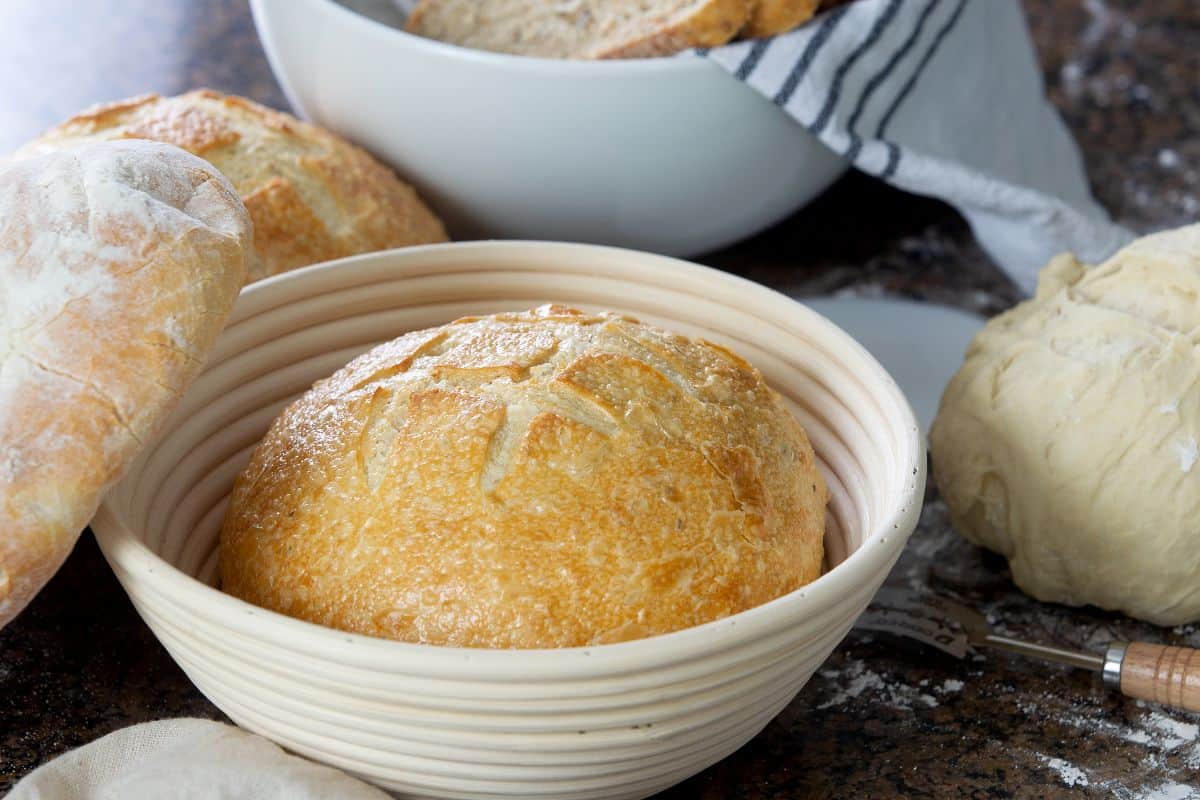 Once the bread dough is kneaded, it must be 'put to grow' (proofing) in a warm place while waiting to put it in the oven. Taking the shaped dough out of the container it is proofed in it's always tricky: if the dough gets stuck even a little, that's a disaster waiting to happen. In order to limit this risk, the best solution is to proof your dough in a proofing basket.
The proofing basket is a specially designed basket covered with a linen cloth that you need to flour copiously beforehand. The linen-cotton canvas does not absorb water from the dough, that's why it's important not to just use a regular basket with a regular towel.
Best Proofing Basket

WERTIOO Bread Proofing Basket
Coming in the perfect size for baking boule bread, the 9 inch banneton proofing basket from WERTIOO comes with a bread lame, dough scraper and a linen cloth for professional home baking.
The basket is made from rattan, which is 100% natural, free from dye and chemicals. The basket is easily cleaned by taking the linen cloth out and washing it separately. You can even put it in the washing machine.
Remember to dry the basket as well as the linen cloth after washing in order to avoid molding.
When you are not using it for proofing, you can take the linen cloth off and use it as a regular basket, for serving your freshly baked bread or even fruits or vegetables.

Bread Bosses 9 Inch Bread Banneton
Second on our list is another 9'' proofing basket specially designed for boule bread that comes with the necessary accessories: sourdough lame, bread scraper and, of course, the linen cloth.
The basket holds 1.5 pounds of dough and it works well with any recipe involving flour, water, salt and yeast – from no knead breads, gluten free recipes to tartine country and all kinds of artisanal breads.
You can safely proof your bread overnight in the fridge by covering the basket tightly with the cover bag that comes with it
The basket is made out of natural rattan, which is the primary material used in proofing baskets, due to the fact that it's proven to wicker moisture away from the surface, causing the dough to release nicely without sticking. You can even proof your dough by flouring the basket itself without using a linen cloth.

Proofing Set by Kook
The proofing set by Kook comes with two rattan banneton baskets, two basket covers, a metal and a plastic scraper, scoring lame with five blades and in an oval shape. It is, therefore, safe to say it comes with everything you need to get you started!
This is the first product on our list that comes in a different shape, which is oval. The oval proofing basket is the perfect fit for loaves, sandwich bread and french bread, but is not a great fit for boule bread, for which you will need a round proofing basket.
The two baskets hold up to 2lbs of dough each and are 9.8-inch, which is the standard size for a loaf of sourdough bread.

Oval Bread Banneton Proofing Basket, SUGUS HOUSE
Another oval shaped proofing basket on our list is the banneton from Sugus House. This one comes in three different sizes, starting from 10 inch and up to 16.5 inch.
Keep in mind that this proofing basket comes on its own without any additional accessories, so you will have to order them separately if you don't already own a set.
The Sugus banneton is handmade of high quality natural rattan, is ECO friendly and it overall looks beautiful, like an item you purchased from a craft fair. It's a delicate basket with firm texture and beautiful horizontal lines and when you're not using it to proof dough, you can use it to hold fruits, vegetables or simply use it as a decorative handicraft.

Bread Proofing Basket Set, TNELTUEB
Who said you can't have the best of both worlds? This bread proofing basket set from TNELTUEB comes with two bannetons: one oval, one round. In addition to that, it also comes with a set of accessories: bread lame, dough scraper and linen liner, which is more than enough to get you started!
I think this is a great choice for beginners, because when you're just getting started you're experimenting with different kinds of breads in different shapes. As you will become more experienced, you will probably have a preferred shape of bread and will invest in more dedicated bannetons.
The 9.6 inch oval bread basket and 10 inch size round bread basket hold up to 2 pounds of dough each. The linen is washable and you can take it off and just throw it in the washing machine. Make sure to always keep the basket and the linen dry after cleaning in order to avoid molding.

9 Inch Bread Banneton Proofing Basket, Criss Elite
Let's face it, successfully shaping bread is not the easiest thing in the world, especially if you're just getting started, so boule breads will be your friend for a long time, since they allow for more creative errors, let's say.
If you've decided that round bannetons are your thing, then this set from Criss Elite makes the perfect gift for yourself or for a loved one. Besides coming with all the accessories to get you started (a classy looking bread lame, a plastic scraper and 5x blades), this set also comes with an instruction leaflet including bread recipes!
We think that the booklet is a nice touch, especially if you are just getting started and still discovering the amazing things you can do with all the accessories the set comes with (such as scoring your bread, for example!)

Artizanka Bread Banneton Proofing Basket
The Artizanka proofing baskets are made to make your bread stand out! If you're thinking about investing in bannetons and bread accessories, then it means you're pretty serious about baking bread, so sooner rather than later you'll become interested in scoring your bread and drawing different patterns on it!
The truth is, it takes a lot of practice to become comfortable enough to score you bread, let alone draw cool patterns on it! But don't get discouraged, Artizanka already thought of that and that's why this starter kit includes two removable patterns! All you have to do in order to have beautifully patterned bread is to place the wood pattern at the bottom of the proofing basket before placing the dough.
The starter kit comes with two round proofing baskets, plastic dough bench scraper, cloth liner and the removable wooden patterns. Keep in mind that it does not come with a lame!

10 Inch Banneton Bread Proofing Basket, Valuri Creations Store
This is the perfect baker's gift basket because it includes all the tools needed to get started with baking your own bread. And when we say all the tools, we mean it! This set includes an accessory that neither products mentioned on our list had, which is the silicone baking mat. It also comes with 16 baking stencils for creatively designing your doughs, but the silicone baking mat is far more important.
The stainless steel scraper is also marked, making it easy to know the measurements of the dough you're cutting. We love that Valuri Creations thought of such small details that, in our opinion, make a huge difference, especially if you're just getting started.
The basket itself is 10 inches and round shaped and holds up to two pounds of dough.

Mini 5 Inch Round Brotform Banneton Proofing Basket
Perhaps not a very popular choice and the last on our list are the mini proofing baskets. Instead of the usual 9 or 10 inches sized baskets, these come in a smaller size of 5 inches and are perfect for experimenting with different types of bread.
One advantage of smaller breads is that you can bake two at the same time! This set also comes with a brush that you can use for cleaning the basket or for egg washing the dough.

Best Proofing Basket Buying Guide
Even though choosing a proofing basket for your new baking adventures might not seem like such a difficult task, there are some things you should take into consideration before making your first purchase, such as shape, size and material.
Shape
Proofing baskets come in three shapes: round, oval and rectangular. On our list, we only talked about the first two, that's because rectangular bannetons are not very popular. A rectangular proofing basket looks almost similar to an oval banneton, so that's why you very rarely see a banneton advertised as "rectangular".
Round shaped proofing baskets are perfect for boule breads while oval shaped are usually used for loaves, sandwich bread and french bread.
Before purchasing your first proofing basket, think about what kind of bread you plan on baking.
Size
Some of the most common sizes of a proofing basket are between 8 and 10 inch round, with 9 being the most popular as you probably noticed in our list as well. These baskets can accommodate roughly one and two pound loaves, respectively. When in doubt, always go for a larger basket than you think you need, otherwise you run the risk of your dough spilling out over the top as it expands.
Material
The most popular proofing basket material is cane, which is a part of the rattan plan. All of the products on our list are made of it and you will rarely see bannetons made out of other materials.
However, you can also find wood pulp baskets, even plastic baskets, but we strongly recommend opting for cane, which is proven to wicker moisture away from the surface, causing the dough to release without sticking.
The accessories
Another thing to look for when thinking about purchasing a proofing basket are the accessories that come with it. If you're just getting started with bread baking, it's probably a good choice to pick a product that comes with extra accessories, sort of a "starter kit". This way, you make sure you have all the necessary tools before starting without the headache of figuring out what other tools you need on your own.
Once you make your first purchase, you will probably won't need another set of accessories for a while and you can start looking for individual bannetons.

Frequently Asked Questions
How to use a banneton proofing basket?
Using a proofing basket for the first time is fairly easy. The first thing you need to do is flour the basket or the linen cloth (if using any) in order to make sure the dough won't stick. Then, gently put the smooth side of the dough downward into the basket and gently press it to be flat with your hand. Then you will leave the dough to proof until it is ready to be taken into the oven.
How to clean and maintain a proofing basket?
Cleaning and maintaining your proofing basket is easy. If using a linen cloth, you can simply take it off and wash it in the washing machine as normal. The basket itself can be washed with a damp cloth with a little detergent. When you are not using your proofing basket, store it in a ventilated and dry spot in order to avoid molding.
What shape and size should I buy?
It depends on what kind of bread you're planning to bake. If you are planning on baking boule bread, then a round shaped proofing basket is necessary. From there, think about the actual size of the bread, but there are some pretty standard sizes that work with most of the recipes. Any size between 8 inches and 10 is going to be a good fit.
Can I use a metal basket as a proofing basket?
The short answer is, yes. You can use a metal basket or other kinds of baskets as a proofing basket, but you will need to use a floured linen towel in order to avoid the dough sticking. Keep in mind that you might not get the same results and you might encounter difficulties transferring the dough to the oven once it's done proofing.