Are you just getting started with baking and every recipe online recommends using a Dutch oven for your bread, but you're confused about what a Dutch oven is? Or perhaps you are an experienced baker looking to treat yourself with a brand new Dutch oven? Then you've come to the right place!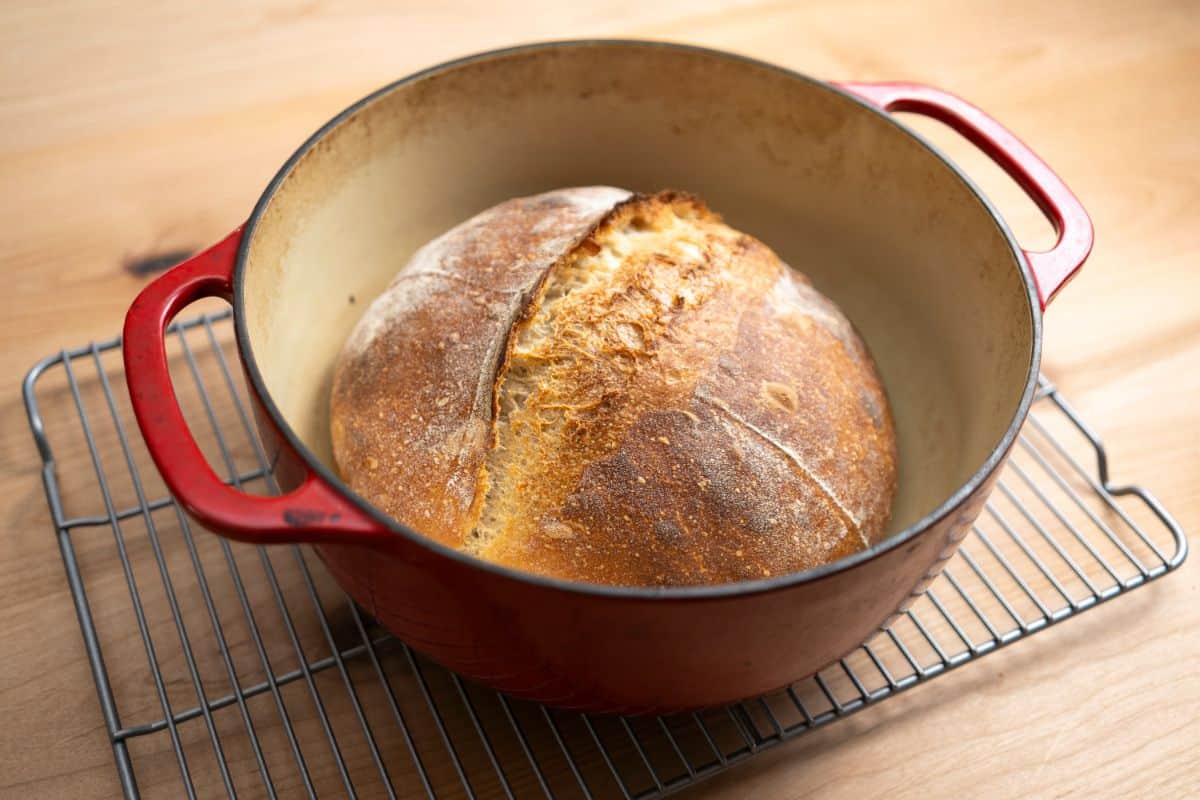 Here, we love Dutch ovens of all types and encourage everyone to purchase one. Once you start cooking in a Dutch oven, you will never go back. Besides being the best cookware to bake bread in, there are so many different types of dishes you can make, like soups, stews and casseroles, all with amazing sauces.
Choose a durable and aesthetically-pleasing Dutch oven from our selection and start creating amazing dishes your family and friends will love. At the end of the article, you will find a detailed buying guide that will guide you through everything you need to know about your new Dutch oven.
Best Dutch Oven for Bread

Lodge 6 Quart Enameled Cast Iron Dutch Oven
Cook like a pro with this Lodge 6 Quart Enameled Cast Iron. This cast iron Dutch oven is covered with a hard enamel which makes cleaning and maintaining easy. The heat distributes itself quickly and evenly which is very important when it comes to baking bread.
And when you're not making bread, you can use the Dutch oven to recreate the delicious meals that your mom and grandma used to make. You can prepare the meal the night before and store it in the refrigerator, then cook it on the stove or in the oven before bringing it to the table. The classic design means you won't have to transfer food to a serving dish, just bring it to the table, remove the lid and enjoy a hot delicious meal.
Lodge is known to make very versatile and affordable Dutch ovens and cast irons, so you can choose between plenty of colors and different sizes.

Cuisinart Chef's Classic Enameled Cast Iron 7 Quart
The best part of this Dutch oven is its simplicity. Made of cast iron with a tough enamel coating that heats up quickly and retains heat evenly, Cuisinart is no stranger when it comes to quality cookware.
The 7 quart Dutch oven comes with wide handles for easy transport and with a tight fitting lid that will make sure to give you the best results in the oven.
When you're done cooking, cleanup is super easy since this Dutch oven is dishwasher safe. Available in classic colors and enough sizes for large and small families, it also makes a perfect gift for the foodie in your life.

Le Creuset Enameled Cast Iron
Probably the most expensive choice on our list, but we just had to mention it, is the Le Creuset Enameled Cast Iron. Le Creuset has been on the market since 1925 and it mostly stayed on top ever since. Everyone knows what to expect when it comes to their cookware, and that is exceptional lifetime quality.
Colorful, long-lasting exterior enamel that resist chipping and cracking and a large composite knob that withstands temperatures up to 500F, this Dutch oven will last you a lifetime.
The superior heat distribution and retention creates the perfect environment for baking bread, as well as plenty of slow cooking dishes such as soups and stews. The fact that you can easily switch between the stove and the oven makes it a great choice for searing meat as well.
So if you've got some money to spend and you want to go with the creme de la creme, this is definitely the best Dutch oven on the market and will probably be the most solid choice for another few years as well.

AmazonBasics Enameled Cast Iron Dutch Oven
AmazonBasics it's one of those brands that's not necessarily known for their high quality cookware in particular, but it's also very affordable and still a good choice. As you will read later in our Buying Guide, most of the Dutch ovens, especially cast iron ones will do a great job, despite the brand.
This model comes in a size of 7.3-quart and it's perfect for cooking and baking in the oven up to 400 degrees. This is 100 degrees lower than the Creuset, for example and it's a good detail to keep in mind.
With two side handles, a fitted lid and coated in enamel, we consider it a safe and affordable choice especially if you're just getting started with bread baking and are looking for a Dutch oven especially for this task.

Crock Pot Artisan Round Enameled Cast Iron Dutch Oven
Crock Pot is usually known for its amazing slow cookers, but you shouldn't be surprised to find out they also specialized in cast iron and Dutch ovens too. Coming in plenty of colors, shapes, and sizes, the Crock Pot Dutch oven is another great choice that comes at an affordable price.
One detail that caught our attention is the large handles that make it easy and safe to carry around. A Dutch oven is very heavy and usually very hot when you're just taking it out of the oven, so handles are definitely a must, and Crock Pot made sure to nail this detail.
Their Artisan series also features an elegant design and a lot of people commented on how beautiful the colors of the pots were once they arrived.

Cast Iron Cookware 5-Pc Set, Cuisinel
We love cookware sets and we're sure you do too. This classy cast iron set from Cuisinel features a 5-quart Dutch oven, two cast iron skillets (10'' and 12''), a pan rack/organizer, 2 hot handle holders and a pan scraper. That's basically 6 products in one set, if you ask me.
The cast-iron pans, as well as the Dutch oven, come pre-seasoned so you can start using them as soon as they arrive. Keep in mind that unlike the other products on our list, this Dutch oven is not coated in enamel.
This means that you will need to take better care when cleaning it (NOT dishwasher safe!) and storing it. You will read more about it later in our buying guide.

Lodge 5 Quart Cast Iron Dutch Oven (Pre-Seasoned)
Another Lodge product on our list, but this 5 quart cast iron Dutch oven is not enameled coated and it comes pre-seasoned. If you're new to the world of Dutch ovens, it's important to keep in mind that everytime you hear that a cast iron or Dutch oven is pre-seasoned, it usually means it's not coated in enamel and that it needs special care.
Some people claim that seasoned cast irons are better than enameled coated once, but in my experience the results are pretty similar and it's mostly a matter of preference.

Best Dutch Oven for Bread Buying Guide
Brand
When looking for a Dutch oven, you might want to look for brands known for their production of exceptional cookware. Of course, with Dutch ovens, especially cast iron ones, you can afford to buy an unbranded one.
However, if you are unsure of what to look for, it is often better and safer to stick with a tried and trusted trademark. Some of the brands also feature the name of a celebrity chef who actually uses that particular brand, which is an indication that the product is worth buying.
Reviews
Customer experience is always worth checking out when looking at a particular product and that's why reviews are a good place to start when buying a cookware like a Dutch oven. We checked multiple reviews in order to see which products were the most favorable, but we also believe that you can learn a lot about a product by checking the average and negative reviews.
Price
Fortunately, Dutch ovens usually don't fall under huge price tags. However, some are obviously more expensive than others, take Creuset, for example. The Dutch ovens in our selection range from economy models to high-end models. The good news is that even low-end Dutch ovens will perform great and last you a long time.
Quality
It is often difficult to choose a cookware among the countless choices available on the shelves and online. However, a good quality Dutch oven should last you a lifetime. If you used to spend a lot of time with your grandparents as a kid, you probably remember the old Dutch oven on the stove and you probably noticed that they still own it and use it even now. A good quality Dutch oven is usually made of durable materials that will stand the test of time and become an important part of your kitchen.
Features to look for in a Dutch Oven for Bread
Materials
One of the most important things to look out for when you're shopping for a new dutch oven is the material it's made of. The beauty of a Dutch oven is that it retains heat evenly, the main characteristic that makes it great for baking bread in it, and that you can cook slow dishes in it without any difficulty. What this means is that a good Dutch oven should be made of materials that are good at retaining and distributing heat. Some of the best materials used in the production of Dutch ovens are:
Cast iron: it's probably the most durable material and it has been used in cookware for centuries. Cast iron is relatively inexpensive and can last a lifetime, sometimes longer. One important thing to remember with cast iron is that it needs to be seasoned before it can be used. Before seasoning a cast iron pot, you must wash it and then dry it well. Afterwards, apply a thin layer of vegetable oil or shortening to the Dutch oven before you put it in the oven or on the stove. Remember that you will have to season it each time you're using it. It might look like a headache to maintain a cast iron, but the truth is, it's worth it.
Enameled Cast iron: As the name suggests, an enameled cast iron Dutch oven is made of cast iron with an enamel coating. Usually, this material is more expensive than cast iron alone, but keep in mind that an enamel coated Dutch oven does not require seasoning, which makes it easier to use, especially if you're just getting started with baking bread. It is just as sturdy and heavy as a regular cast iron Dutch oven, however, it is known that the enamel can crack, which might compromise the quality of your Dutch oven.
Ceramic: Dutch ovens made of ceramic are not very popular, nor very good for baking bread in our opinion. They can be used in the same way as a regular cast iron Dutch oven, however keep in mind that ceramic cracks and breaks quite easily. It will work just fine if you're planning on using it mostly on the stove for cooking soups or stews, though.
Coating
Nowadays, many types of cooking utensils are coated with enamel. This has been proven to be particularly beneficial for certain types of metals because the enamel prevents toxins from interfering with the food. When it comes to enameled cast iron Dutch ovens, this coating provides an easy to clean surface on the inside and outside of the pot. The main advantage of choosing a coated Dutch oven is that you don't need to season the pot before using it. It's also easier to clean and maintain so you can store your Dutch oven anywhere in the kitchen. With cast iron Dutch ovens, you have to be more careful.
Handles
Dutch ovens can be very heavy, especially cast iron ones. This means that you will need sturdy handles to take your Dutch oven out of the oven onto the table. Some Dutch ovens come with sturdy handles that can easily be grabbed with pot holders, while others have looped handles that are very easy to grip. Some also come with no handles, but we do not usually recommend those.
Lid
Having a Dutch oven with a lid is very important if you plan on baking bread in it. After all, the main advantage of a Dutch oven is cooking food in a closed environment in order to retain all the nutrients and flavor of the dishes you make. Look for a tight-fitting lid on top of the Dutch oven, making sure that it has a handle of its own as well, so you can be able to remove it mid-baking. The lid handle can be made of any type of metal as they do not come into contact with food, but make sure that it is safe to place in the oven.
Frequently Asked Questions
Why should I bake bread in a Dutch oven?
Baking bread in a covered Dutch oven retains moisture in the dough during baking, allowing the bread to vaporize during the first part of baking. This keeps the rind softer for longer and encourages higher magnification.
What is the best Dutch oven for baking bread?
The best Dutch oven for baking bread should be anywhere between 5 and 7 quart and it should be enamelled. This is the same size you will use for soups and stews, so the pan will be borth its weight in gold in the kitchen!
Can you bake bread without a Dutch oven?
Yes, you can bake bread without a Dutch oven. Simply shape your dough and place it on a lined baking sheet. You could place a pot of hot water in the bottom of the oven in order to compensate for the steam action of the Dutch oven.