A healthy diet typically consists of grains. The U.S. Department of Agriculture recommends six to eight ounces for men each day and five to six ounces for women.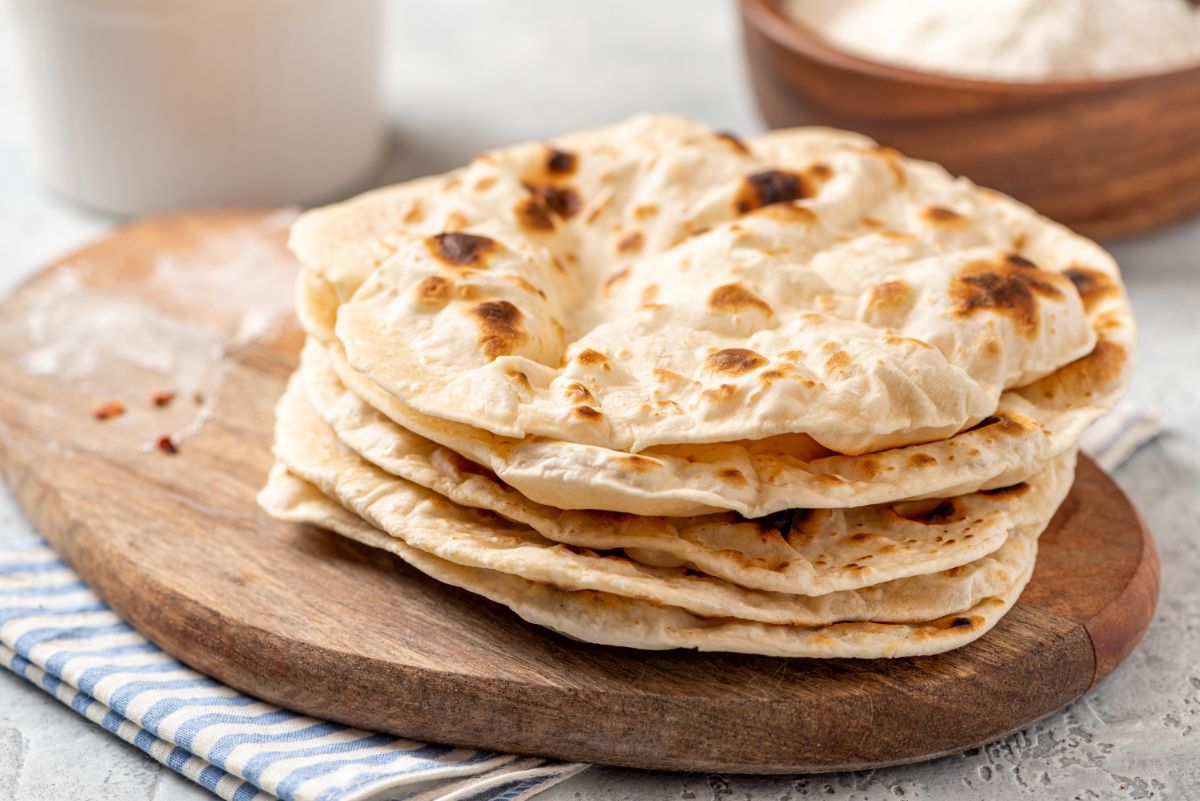 Flatbreads and regular bread contribute to these goals. The nutritional value for each of these bread dramatically depends on the recipe you are using. By consuming either whole-wheat pita flatbread or a whole-wheat slice of bread will ensure you are adding nutrition to your diet.
So is flatbread healthier than regular bread? Flatbread can be just as healthier and nutritious as regular bread. Flatbread is considered an alternative to yeast-raised bread and some diets accommodate a flatbread better than regular bread.
Planning will allow you to fit it into any well-balanced, low-calorie eating diet.
*This article may contain affiliate links. As an Amazon Associate, I earn from qualifying purchases. Please take that into account.
BEST TOOLS FOR MAKING BREAD AT HOME (Links to Amazon below)
Basic baking equipment:
Extra (nice to have):
👉Learn how to make bread and pizza with this awesome book.

Nutritional Comparision of Flatbread Versus Regular Bread
There are similar calories in flatbread and regular bread. If you have a large pita, you will be receiving about 170 calories. Two slices of regular commercial bread in the whole wheat variety will give you about 161 calories.
These bread both get their energy from carbohydrates. A full serving of whole-wheat pita flatbread increases your carbs by 35, and a slice of whole wheat regular bread will provide you with 27grams of carbs.
Both the whole-wheat flatbread and the regular whole-wheat bread have a small amount of protein. The flatbread provides approximately six grams, while the whole-wheat bread has about eight grams of protein. These bread are both low in fat with either one giving you around two grams of fat per serving.
You will find more fiber in the whole-wheat pita at a little over four grams per serving, while the whole-wheat bread will provide only a little over three grams per slice.
You will benefit from more fiber intake with the flatbread in the area of fiber content. A whole-wheat flatbread will provide men with 19% of their daily recommended needs and women with 12% of their needs.
Vitamin Comparision of Flatbread Versus Regular Bread
Flatbreads and regular bread (whole wheat variety) will provide you with the right amount of B-complex vitamins. This family of vitamins includes niacin and folic acid. These vitamins support healthy blood circulation, nourish your skin, and maintain your metabolism.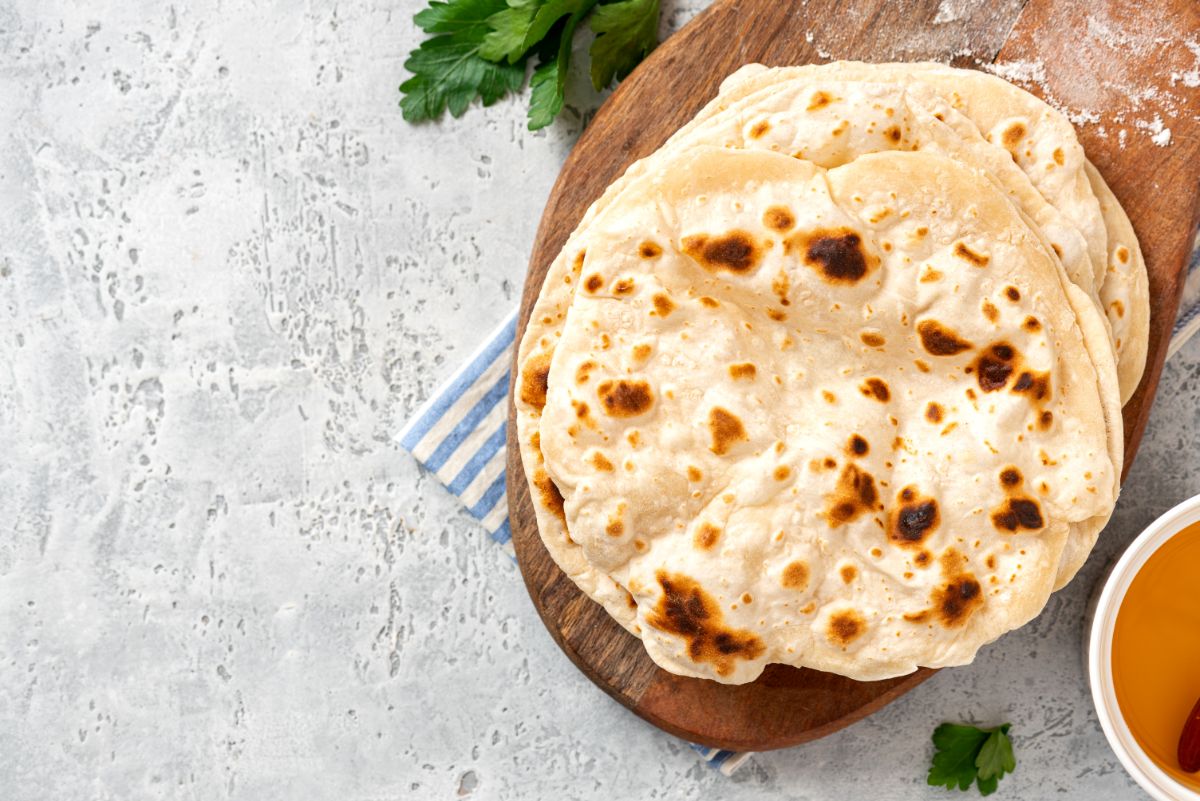 The whole-wheat pita, as well as the whole-wheat bread, are a good source of vitamin B-1, vitamin B-6, and pantothenic acid.
You will find more niacin in the whole-wheat bread than in the flatbread as the bread has more than 2 milligrams in each serving, while the flatbread has only a little over 1 milligram.
This difference does not mean that one choice is better as you will still add to your daily requirements for niacin, which is 16 milligrams for men and 14 for women.
Mineral Comparision of Flatbreads Versus Regular Bread
You will receive a contribution to your daily intake of recommended mineral intake with either the flatbread or regular bread. A whole-wheat serving of bread provides a little over 60% of your recommended manganese intake at 1.4 milligrams.
The pita will give you 1.1 milligrams, which is a bit lower. The flatbread; however, will provide you with more selenium. Manganese and selenium promote your healthy enzyme function. These minerals also protect your cells from damage with their antioxidant capacity.
Precautions When Choosing Either Flatbread or Regular Bread
Whether you decide to go with a regular loaf of bread or flatbread, check the nutrition labels of both packages. You want to choose a variety that is high in fiber but is low in sodium.
Bread varieties can contain a high amount of sodium, which is not what everyone thinks of when they think about choosing their bread.
A whole-wheat flatbread can contain more than 280 milligrams of sodium, which is 12% of your daily sodium limit, while a serving of whole-wheat bread can contain more than 290 milligrams.
Types of Flatbread
You can make a flatbread at home, or buy the commercial brands if you choose. When you make your bread at home, you can control the ingredients as well as the serving amounts.
If you are following a strict diet, it may be to your advantage to prepare your own flatbread at home. You will want to watch your ingredient list with your recipe and compare the nutrition facts with this method.
A piece of naan flatbread using refined white flour could consume up to 350 calories with about 12 grams of fat. If you went with roti, you could have a serving with only 100 calories and 2 grams of fat.
The best flatbread for you nutrition-wise is made from whole grains as these have less added fats or sugar. Whole grain will also have a higher content of fiber, which is needed to prevent obesity. Eating whole grain flatbread can also decrease your risk of heart disease, constipation, high cholesterol, and diabetes.
Depending on the type of flatbread you choose will also alter your nutritional values.
The U.S. Department of Agriculture states a serving of flatbread made with refined white flour will give a little over 160 calories, more than 5 grams of protein, 1 gram of fat, a bit more than 30 grams of carbohydrates, and more than 1 gram of fiber.
These amounts are compared to a serving of whole wheat flatbread. This form of flatbread has about the same calories and fat content but provides more protein at more than 6 grams and more fiber at a little over 4 grams.
Flatbreads and Weight Loss
When you are trying to lose weight, it will depend on more than just which type of bread you eat. A body has to lose or burn around 3,500 calories to lose one pound. You have to consistently burn more calories than you consume to see any weight loss and to maintain the loss of those pounds.
The number of calories you eat plays a more significant role than where those calories come from when looking at weight loss.
To take pounds off safely and reliably; it is recommended by the National Institute of Health to increase your level of physical activity and eat a daily balance of low-calorie products including vegetables, fruits, lean proteins as well as grains.