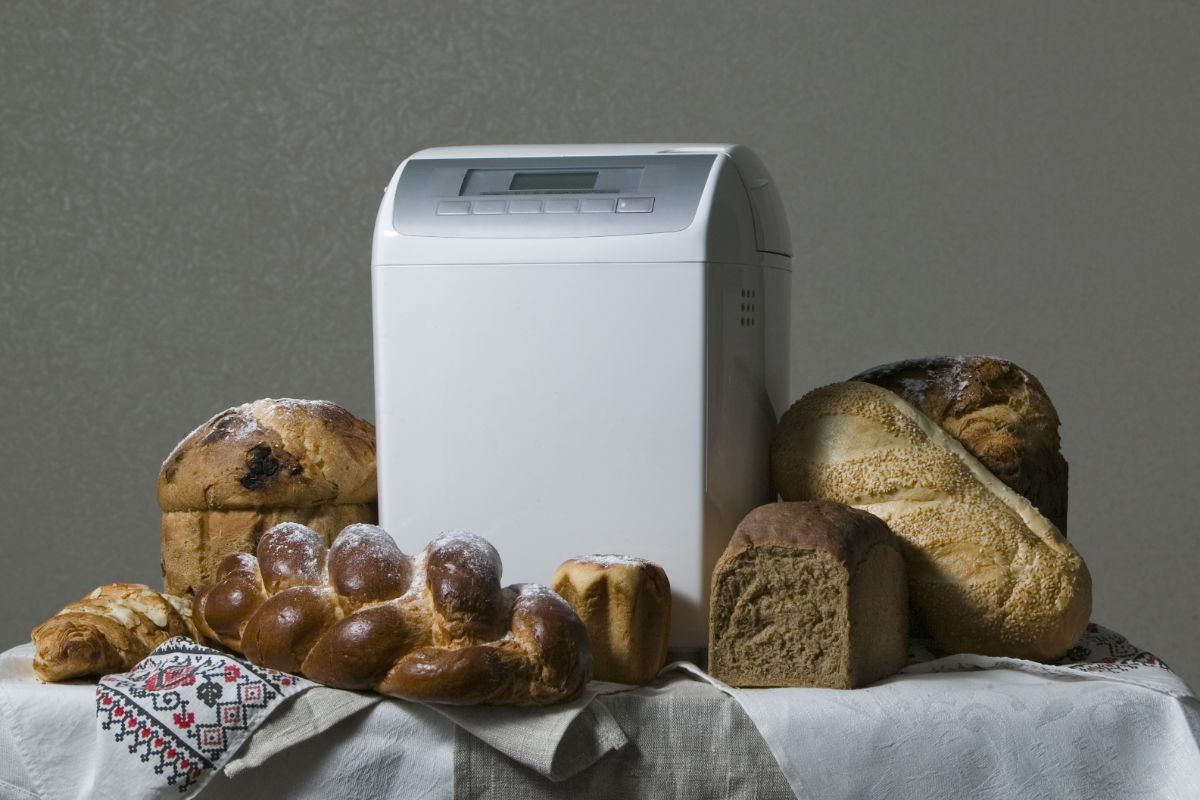 Bread machines give home bakers a chance to produce fresh loaves right in the comforts of their homes by simply pushing a button.
Bread makers eliminate the need for kneading so you can get things done in a short span of time.
Nothing is as enticing as the smell of freshly baked bread loaf.
However, if you are put off by the idea of the kneading and rising cycle, a bread machine is more than enough to change your mind.
Today, you can choose from an array of bread makers in the market that can help you produce the tastiest and freshest loafs.
However, the West Bend 47413 is a 3 pound bread machine you can consider if you want big bread for your big family.
Large Bread Loaf Sizes
The main feature of 47413 is that this can produce three larger sizes of bread at 2, 2.5, and 3 pounds.
This is a great option for larger families that consume bread on a regular basis. It is also perfect for people who love to host parties and events.
A loaf of bread can easily disappear into thin air if you have a big family.
If you want to use a bread machine for baking bread for several people, then, you will need a bread machine that can handle a large as well as extra large loaf bread size.
This is exactly what West Bend 47413 can do.

Special Bread Settings to Create Special Loaf
There are a total of 12 digital settings that you can use and choose from that including Basic, French, Wheat, Gluten-free, Custom, Dough, and Sweet.
The custom setting is a great feature for those bakers who are already familiar with baking using a bread maker.
These settings allow you to completely customize everything for you to come up with the perfect and best-tasting loaf of bread you have always wanted.
You can also choose your to crust with the medium, dark, or light crust options.
There is also a delay cycle that lets you come home or wake up to fresh bread. You can program it to as much as 13 hours.

Features and Specs
From a company that started the concept of automating freshly baked bread at home back in the 1980s, the bread makers from West Bend are ideal partners for both novice and accomplished bread smiths.
With the 47413, you simply need to prepare all of your favorite ingredients and this bread machine will do the job for you.
The machine can make three different sizes of loaf at 2, 2.5, and 3-pound batches.
Other features of this bread machine include 3 crust control levels at medium, dark, and light, 12 digital settings, and 13 hour delay timer.
This also comes with two kneading blades, nonstick measuring cup, spoon, and pan, and a knead blade removal tool.
Its dual knead blades offer thorough kneading of dough for a higher rise and lighter taste.
If you have special dietary requirements and you need to eat only gluten-free foods, this bread maker will still let you enjoy the freshest loaves without any worries.
Aside from gluten-free, the instruction manual also includes a lot of delicious recipes such as wheat bread, garlic bread, pasta and bagel dough, and low carb.
A rare thing among bread machines, the 47413 can make loaves in the traditional rectangular shape and this is a great option for those who want to stick to a gluten-free diet.
As mentioned earlier, this features a selection of 12 digital settings that include Basic, French, Wheat, Dough, Sweet, Custom, and Gluten-free, as well as a selection of three crust shades and loaf sizes.
Its custom setting is perfect for bakers who already have an experience in baking using a bread machine as this lets them completely customise settings for the perfect bread loaf each and every time.
Another pretty cool feature of this bread maker is that it makes use of two mixing paddles for blending everything together.
It helps guarantee that all the ingredients have been evenly mixed without flour clumps anywhere in the dough.
This also gives your bread a lighter texture and higher rise. Its non-stick pan helps make it easy to remove the finished product, not to mention that washing up also becomes light work.
A measuring spoon and cup and a knead blade removal tool are also included for added convenience and value.
It has an easy to read LCD display and its push button controls are also simple and easy to operate.
While the larger loaf options are ideal for feeding larger families or a crowd, the delayed start cycle will let you set and forget for freshly baked loaf that starts up to 13 hours later.
Customer/User Impression
Go directly to Amazon.com and read real customers reviews.
One customer has been using West Bend bread machines for years and after her old one has broken down, she found the 47413.
At first, she thought that it might create loaves that are too big since it makes 2, 2.5, and 3 pound loaves.
However, she loved that it just makes the right large sizes perfect for her needs.
Another user appreciates that it doesn't just make good bread for at the same time, it also has a quiet operation.
The user has previously used another model from West Bend but she stated that she liked the 47413 better.
She just noted that this doesn't come with an interior light and that it isn't stated anywhere if this has a pre-heat. She also added that she likes the medium crust although there is a need to use the light crust setting in order to achieve it with the machine.
Conclusion
Bread making fans were sad when West Bend decided to discontinue one of their models that happened to be among the few bread makers that could produce 2.5 pound loaves.
However, in 2018, the company introduced the West Bend 47413 as a replacement.
This new machine can make 2-pound, 2.5-pound, and 3-pound loaf.
The good news is that it produces traditional loaves instead of the oddly-shaped ones.
If you are looking for a large bread maker, this one is something you can consider.