The beauty and efficiency of a sourdough starter lie with the kind of container you put into practice. An excellent jar should guarantee the needed comfort when making your dough. It should go ahead and provide elements of cleanliness with dire visibility for added comfort.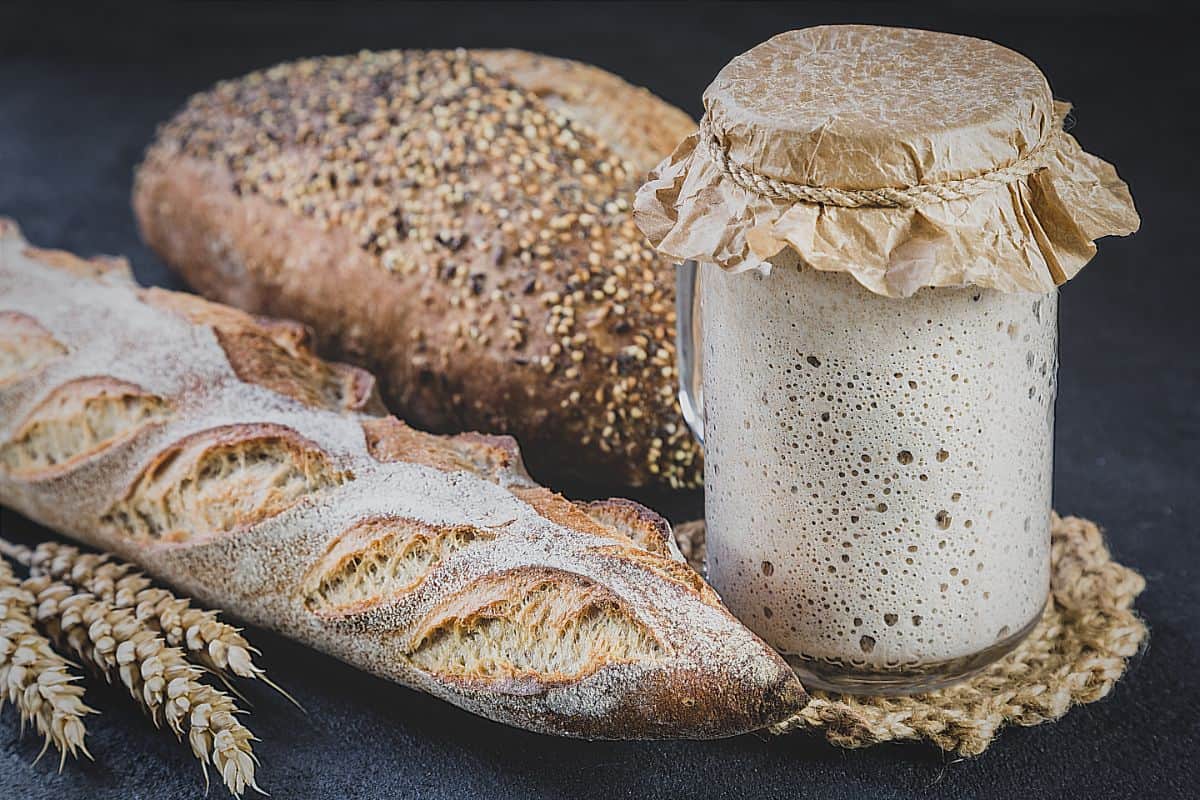 Each starter container—be it glass, plastic or stoneware—is unique. However, there is a jar that is so common among bakers for its simplicity and specialty.
Today, we are going to walk you through all the options (based on materiality) when choosing your container. We are also going to thin our review to the best starter container among the available options that you can start with.
*This article may contain affiliate links. As an Amazon Associate I earn from qualifying purchases. Please take that into account.
Glass containers
*Amazon Affiliate Link
Glass containers offer a cutting edge visual experience when it comes to storing your sourdough starter. They allow you to see through their walls as the dough swells and gets ready. This is what I recommend and what most of the bakers are using.
Popular models of glass jars that you can choose from include mason jars, canning jars, latch jars and jam jars. All these models come in different sizes. You will automatically find one that suits all your preferences.
Pros
Ease of clean
Few containers match the glass variants when it comes to ease of cleaning. With a glass jar, you are pretty much assured of no leaching during storage. The surface of the glass is not sticky hence rendering the final product easy to lift outside the jar. Additionally, the latest models of glass jars are dishwasher safe. They will save you the hustle in rubbing your jars manually.
Safety
Glass jars are safer than plastic counterparts are. Neither do they absorb flavors or scent nor react with any chemical ingredients. The surface of the glass is non-porous and free from any kind of leakage that may result as the mixture bubbles to form a sourdough.
Cons
Fragility
The main downside of glass jars is their fragility. A glass jar can easily break with the slightest of all pressures. You need to be keen enough to minimize occurrences of mishandling where necessary.
However, this is a tall order more so when you have children as occupants in your house. Also, as the dough expands, it applies pressure on the surface of your container. When the size of the jar is not adequate, it can easily burst or crack.
Weight
Glass jars, together with the lid, weighs more as compared to the plastic counterparts. Therefore, they are only ideal for storage of the dough, but not transportation.
However, this should not be a downside when you understand your jar's guidelines of use.
Stoneware containers
*Amazon Affiliate Link
Stoneware jars are made with a special clay fired at very high temperatures. They are even more efficient when compared to plastic variants.
Pros
They are sturdy
Stonewares are not only inert but also hard and sturdy. This feature makes these crocks a good option when it comes to durability. The surface of stoneware crocks can easily withstand the pressure that comes with swelling of the sourdough. Their chip-resistant property makes them ideal for passing to the next generation.
Naturally stick-resistant
Just like their glass counterparts, stoneware crocks feature stick-resistant surfaces. They are an ideal option when looking for an antique that requires no application of any form of oil to remove your dough off the jar. Consequently, the jars do not accumulate dirt. You can clean them effortlessly by applying water to the surface and wiping with clothing material.
Visual appearance
Stoneware rocks feature a rustic design with smooth surfacing inside. They exude an excellent visual appearance that adds to their overall advantages. The best thing is that such visual appearance is not short-lived like in glass variants.
Cons
Hefty weight
Stoneware crocks are too much weight as compared to glass and plastic materials. Therefore, they can best be used only for the storage of dough but not carrying the already prepared dough.
Otherwise, they can also scratch your countertop when you don't handle them with sheer caution.
Plastic starter containers
*Amazon Affiliate Link
Plastic containers are an excellent choice whenever you want something with good value for money. Popular containers come in different shades and sizes to match your personal preferences. Modern containers come with materials that are 100% BPA free. This is mainly to prevent leaking of the chemical elements that make up the plastic. So, you don't need to worry about your health.
Pros
Durability
Plastics are highly durable. With proper maintenance, these are the variants to gift to your kids. You can easily toss your plastic container from a distance and still pick it up in a good shape and design.
You can also place anything above the plastic container when baking without compromising its longevity. For a more productive life, do not place them at the bottom of your dishwasher since they can easily melt.
Cost-efficiency
Plastic starter containers are cheaper when compared to other variants out there. They are produced in large quantity hence rendering the overall cost of the antiques very low. Additionally, plastic products are replaced at a very low cost.
Cons
Environmental impacts
Plastic materials come with a wide range of effects on the environment. Though, depending on the municipalities, you can collect them for recycling, not so many people are environmentally conscious enough to do this.
Absorption of flavor
When used for a long time, plastic products absorb the tastes and smell of sourdough. When you use additional additives on the bread, your starter container may end up absorbing those added smell hence impairing the flavors of your next baked goods.
Conclusion
We all have different tastes and preferences to cater for. So, there is no one do-it-all jar that will satisfy all the needs of ago. The trick is; test it, approve it, and finally use it.
However, glass jars are the most preferable. They are also the most common. So, it will not do you any harm to have a glass jar as your primary sourdough starter storage container. This one here is cool actually, it is a kit that contains the jar, a whisk and a sourdough starter pack.