A baking stone is generally used for baking pizza or bread and is constructed of a large, thick piece of stoneware.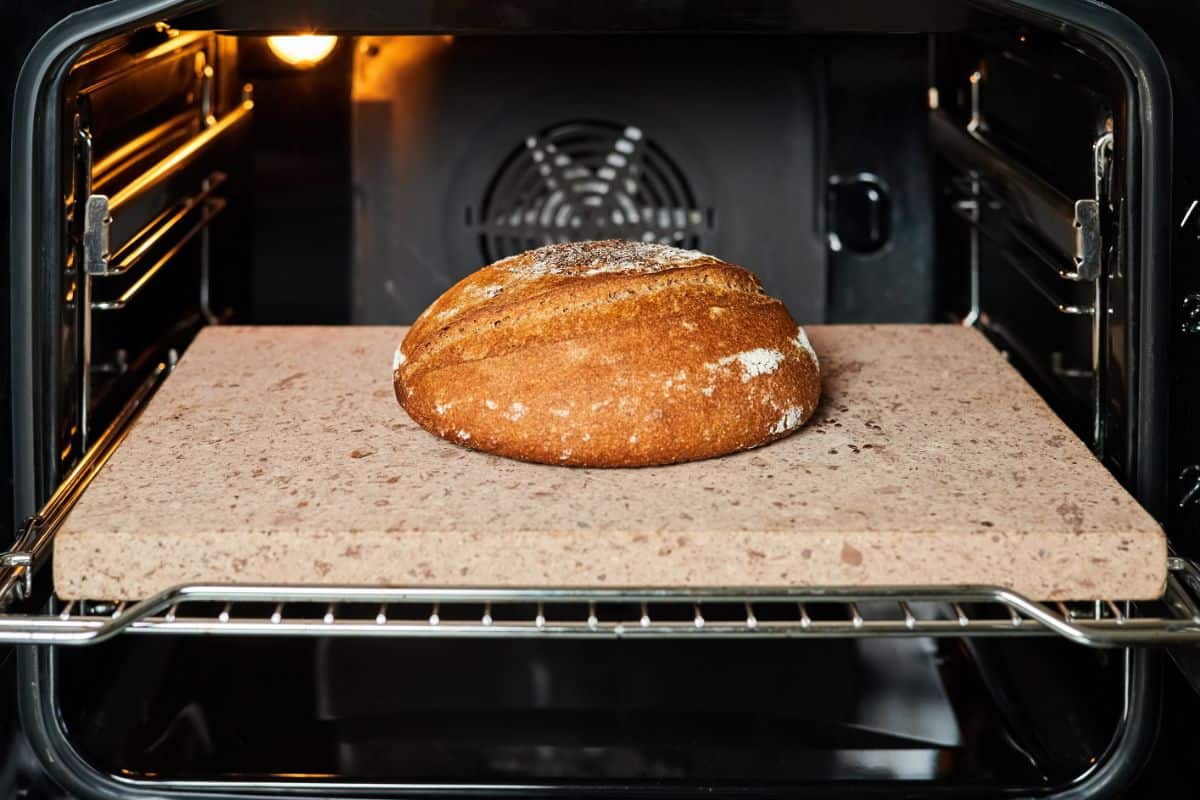 Pizza is the favorite for these stones, so most people refer to them as "pizza stones"; however, they work just as great for your bread making.
🍕 DID YOU KNOW: Norwegians are eating the most pizza. Per capita they are eating about eleven pizzas each year. Read more here.
5 Best Baking Stones and Pizza Stones for Bread Baking
*This post contains affiliate links to Amazon. As an Amazon Associate, I earn from qualifying purchases.
These are some of the great stones on the market you may want to use for your bread:
1. Old Stone Oven Rectangular Pizza Stone
This stone will produce restaurant-quality bread and pizza and is able to bake up multi-layered crunchy and chewy crusts. The stone absorbs heat and transfers it evenly across the stone for a perfect bake.
The stone itself is non-cracking, durable, and crafted from a blend of lead-free clays. The cordierite clay allows the stone to heat quickly and evenly, to give you a brown, golden crust on every bite.
It works great to warm pastries and bread and will even cook vegetables for you after the bread has baked.
PROS:
The pros of using the Old Stone Oven Rectangular Pizza Stone include it is engineered with a Heat Core to eliminate soggy centers and is able to be used in the oven and on the grill.
CONS:
The cons for this piece include foods do not come off as easily as advertised as some foods stick to the surface, and some consumers have experienced smoke from the stone when it heats.
BUY IT: Old Stone Oven Rectangular Pizza Stone
---
2. Unicook Heavy Duty Baking Stone
CHECK THE PRICE
This pizza stone is an excellent choice for cooking fresh or frozen pizzas and also works wonderfully for baking bread and cookies. It has a thickness of ⅝ inches and weighs 6.6 pounds.
The stone distributes heat evenly, which provides for optimal cooking and is much more efficient than metal pans. The stone draws out moisture from your dough to give you crispy crusts and avoids sogginess you can experience with metal pans.
PROS:
The pros of using the Unicook Heavy Duty Ceramic Pizza Grilling Stone include it has a temperature gauge that a lot of bakers have indicated fixed their baking problems. Some refer to this product as the 'secret stone' to making wonderful home-baked bread, and it is constructed of FDA approved Cordierite stone.
CONS:
There have been a few complaints that the stone gives off a bad smell when first used, and it emitted a bit too much smoke when placed in the oven.
BUY IT: Unicook Heavy Duty Baking Stone
---
3. Baking Steel – Ultra Conductive Pizza Stone
CHECK THE PRICE
It is made from Ultra-Conductive steel, making it unbreakable. This version of the pizza stone will bake your bread and pizza twenty times faster than the average pizza stone. You will find this stone doubles as a stovetop griddle when you aren't using it for baking incredible bread.
PROS:
The pros of using the Original Ultra Conductive Pizza Stone include it is a more conductive cooking surface than stone as it stores eighteen times more energy, and it will cook faster and more evenly at lower temperatures.
CONS:
One of the cons for this stone is that it weighs more than some stones making it hard to manage, and it will rust if not cared for properly.
BUY IT: Baking Steel – Ultra Conductive Pizza Stone
---
4. Heritage Black Ceramic Pizza Stone
CHECK THE PRICE
Heritage ceramic stone is an odorless, smokeless piece that will help you bake great bread. It is guaranteed to last a lifetime without cracking and will not stain from grease or burn your crust.
This stone washes up incredibly well and remains in a like-new condition.
PROS:
Pros of using the Heritage Black Ceramic Pizza Stone include it contains no lead or cadmium and can withstand temperatures up to 450.
CONS:
Cons of this product include some have experienced a bad smell when heated, and cleaning instructions state you cannot use soap, which some bakers feel makes a used baking device clean.
BUY IT: Heritage Black Ceramic Pizza Stone
---
5. ROCKSHEAT Pizza Stone Baking & Grilling Stone
CHECK THE PRICE
This stone will allow you to create fantastic bread and pizza in the comfort of your home. It evenly distributes heat and will give your bread a uniformly browned crust.
PROS:
The pros of the Pizza Stone Baking and Grilling Stone for Oven, Grill, and BBQ are its innovative double-faced built-in handles for convenient handling of the stone, and it contains no harmful substances or odors.
CONS:
The cons for this pizza stone include it does emit a smell when baking, which smells like chemicals, and it does not clean as smoothly as indicated.
BUY IT: ROCKSHEAT Pizza Stone Baking & Grilling Stone
---
What Is A Baking Stone for Bread?
A baking stone for bread is a thick piece of stoneware generally used in baking pizzas and bread. These stones are popular in bread baking as they improve the crust.
The stone absorbs heat and retains it and then transfers that heat onto the bottom of your bread, giving you a much more beautiful crust. The stones are heated, and you then place your bread directly on its surface, so your bread never starts out on a cold surface like when using baking sheets.
Using one for your bread baking allows the bread to bake at a more even temperature and gives you a more beautiful crust, especially with artisan-type bread.
Another plus to using the baking stone is it will keep your oven at much evener temperature and compensate for some of the heat that escapes when you open the door to check on your bread's progress.
Baking Stone Versus Pizza Stone – Are They the Same?
A baking stone is made of stone or ceramic and considered a portable cooking surface for baking. You place your food directly on the stone's surface either after it has been heated, or while it is still cool.
These stones are used as cookie sheets but are able to absorb moisture from your food or bread product to give you a much crispier crust.
The pizza stone was designed to cook a pizza in a way that would mimic the effect gotten from cooking a pizza in a masonry oven. The porous surface of the stone absorbs moisture, so you are given a crispier crust.
The pizza stone, however, is not limited to just baking pizza. It can also be used to bake Pita bread, crackers, bread, muffins, potato chips, quesadillas, cookies, and more. It is what you would refer to in the kitchen as a unitasker.
According to Wikipedia: "A pizza stone is a baking stone designed for cooking pizza."
The two stones are one and the same. The difference in the two comes from how they are labeled at the sale, or what the baker refers to them in a name.
There are varieties of stones on the market being made from different materials, and some are glazed, while others are unglazed, but they will all bake you a nice loaf of bread or a crispy pizza.
How and Why To Use a Baking Stone For Bread
Even though there is a lot of high-tech pieces of equipment out on the market for kitchens, the best tool for baking bread is still the low-tech, flat, baking stone. This ceramic tile made from natural clay replicates the brick floor of a traditional baker's oven.
There are three main benefits of using the baking stone for your bread baking:
Bread is a leavened baking good and needs an initial push of heat to help it rise properly. The baking stone provides your bread that hot surface and direct thrust of heat that your heated oven air can't give it.
The porous surface draws moisture from your dough to give you a more definitive tasty and crisp crust. While the stone is absorbing the moisture, it is also dispersing it as steam to promote a lighter top crust.
It gives a consistent source of radiant heat. There are no fluctuations or hot spots in your oven or during the baking process.
It heats up slowly and will cool down just as slow. To get the best results from your stone, you should put it in a cold oven, select your temperature, and allow thirty to forty minutes for the stone to thoroughly heat before you bake on it.
WARNING: Don't put a cold stone in a hot oven because it can crack.
The thicker stone you have chosen, the longer it will take to heat up.
What Size and Shape of Baking Stone to Use for Bread
When choosing a baking stone for your bread baking, you will need to know the size of your oven. You will want to make sure the stone fits into your oven and has enough space around it to allow for air circulation.
Measure both the width and depth of your oven before selecting one. A standard-sized oven will allow for a baking stone of 16 inches by 14 inches.
If you are looking to bake your bread or pizza evenly with a crispy crust, you will want a thicker baking stone.
Choose one that is ¾ inches to 1 inch thick, as the thicker stone will absorb heat better and will also distribute the heat more evenly, so the results of your baking are more uniform.
You can find these stones in round, rectangular, and square shapes. The rectangular-shaped ones will allow you more surface area and work great for baking bread as it uses more space.
If you are planning to use the baking stone for pizza only, then the round or square-shaped will work well for you.
Types of Baking Stones
The baking stone is going to make your bread baking more like the bakery-style bread we all love. The results of using one will give you the delicious artisan bread and closely resemble those that come from the brick oven.
There are different materials used to make them, including tile, firebrick, clay, marble, and even steel or cast iron.
Ceramic
It is a classic material that delivers a crispy crust when it absorbs moisture during baking.
These do have to be handled with care as they can easily break or crack.
Cordierite
It is a bit more expensive than the ceramic, but is more durable and can handle extreme temperatures well. It also handles changes in temperatures well as it can go from high temperatures to low temperatures without the risk of breaking.
Cast iron
This type heats fast and can be easier to clean than ceramic or cordierite material. Another benefit with the cast iron choice is they usually come with handles to make it safer to handle.
Steel
This is the newest form of baking stones, and while it does not distribute heat as evenly as ceramic or cordierite, it can reach higher temperatures.
The steel ones will require a bit more maintenance as it needs to be seasoned to prevent it from rusting.
There are also other considerations to make when selecting a baking stone for bread:
Those made from natural materials can either be glazed or unglazed.
Stones made from cordierite, stone, clay, or ceramic will have this option but are often offered as unglazed, so they are able to take in moisture and provide a more even heat.
The glazed stones are considered micro-glazed as they contain fissures or fine cracks to allow for some moisture to penetrate. Choosing between these two options is a personal choice.
Final Words on Baking Stones for Bread Baking
Be wary of which baking or pizza stone you choose as some on the market are offered as oven-to-table stones, but are highly glazed.
Some are also advertised as dishwasher safe, and these models are little more than pizza pans made to look like baking stone.
TIP: When I bake pizza or bread I always put a parchment paper on my pizza stone. It will clean easier.
Your best choice will be one made of natural materials that are able to absorb moisture from your bread.
When you choose the single piece baking stone versus the baking tiles, you will have no shifting or moving while your bread bakes, and some even have legs on the bottom so you can remove it from the oven easier.
Also, beware of how thin a baking stone you choose, as the thinner the stone, the easier it will break or crack.
There are many options and choices to make when selecting a stone for bread.
The one thing that is definite though is whichever one you choose, you are going to bake a beautiful loaf of bread.