Are you always struggling to use scales that do not work? Or do you want to have a scale yet you do not know what to buy?
Well, no matter what your concern is, you can save time and money by choosing MyWeigh KD8000 as your professional baker's scale.
If you like baking and you always get poor results like texture inconsistency, it could make a difference if you will weigh your ingredients using a reliable scale.
The best thing about MyWeigh KD8000 is that it comes with removable protective LCD display cover that helps protect against weighing messes including raw dough, spills, candle-making, recipes, and much more.
If you are in a hurry and you don't want to read the extensive review below then go and click the button below. It will show you the best offer on Amazon.com
Baker's Math or Percentage Weighing Function
Not all bakers scales in its class could match up to the features and reputation of this gadget.
The largest change of this scale is its new Baker's Math or Percentage weighing function, which has been beneficial for all bakers to weigh ingredients in proportion to their primary ingredient like flour.
This amazing feature is what bakers prefer for the reason that it gets rid of the messy math that comes with weighing in cups, teaspoons, and so on.
Instead, you will only deal with the percentage. Measuring in this manner enables you to make as much or as little as you like easier.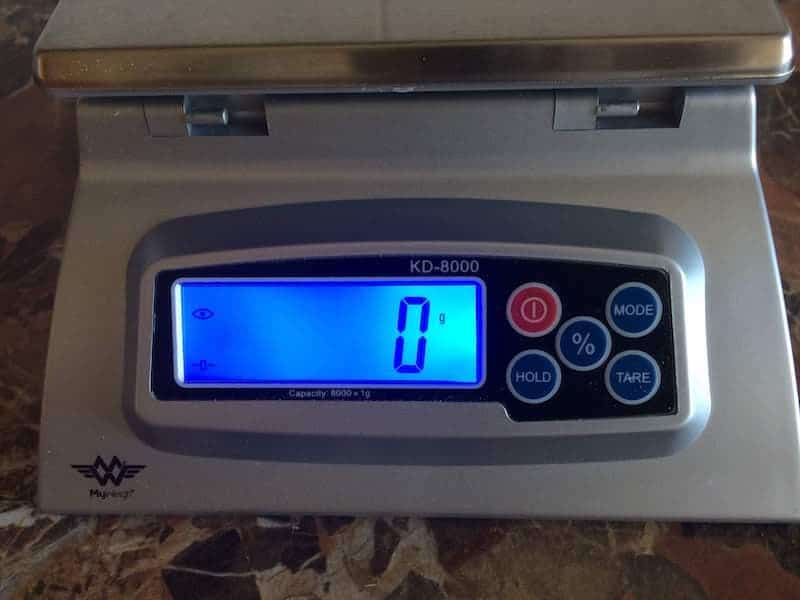 This is why the product is a must-have for all professional or aspiring bakers.

Improved Weighing Capacity
The scale takes pride in having an improved weighing capacity. Some features of this unit include the standard LCD covers that are removable and designed to protect buttons from flour.
There are three disposable soft covers and a hardcover. The removable, strong stainless steel platform, programmable auto on and off feature, precise readability, adjustable backlight feature, easy to read backlight LCD display, and so much more.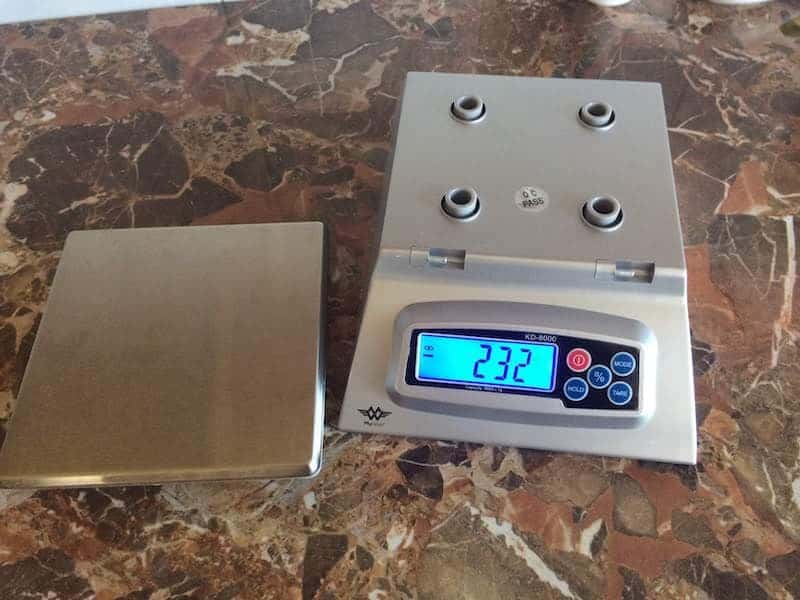 So, expect that you will get the best value of your investment once you have chosen this awesome appliance for your needs.
Features
It has other features that make it set apart from other scales for professional bakers.
If you want to know why it is recommended by many bakers, here are some of the features you may enjoy once you start using it:
AC Adapter
If you had to rush to the stores to purchase double A batteries in the middle of weighing your ingredients, you won't have this issue with this scale.
All you need to do is to connect its AC adapter and enjoy weighing anytime you want to.
Compact Size
It is true that it is much heavier than the majority of the scales in the market, yet it's more compact.
You can store it easily in any kitchen cabinet, even in cabinet split in 2 horizontal halves.
It isn't what you could do with bigger and bulky scales.
Percentage Feature
Customization for auto shut off, AC adapter, and percentage feature.
This digital scale is different from some scales on a lot of levels. It enables you to use percentage feature when measuring salt, grains, and other similar ingredients.
Display Always Visible
Not only bigger digits on the display are visible always even when the light turns off, yet its position makes it possible for you to look at the display always, though the big bowl and tray are placed on its platform.
Auto-Shut Off Customization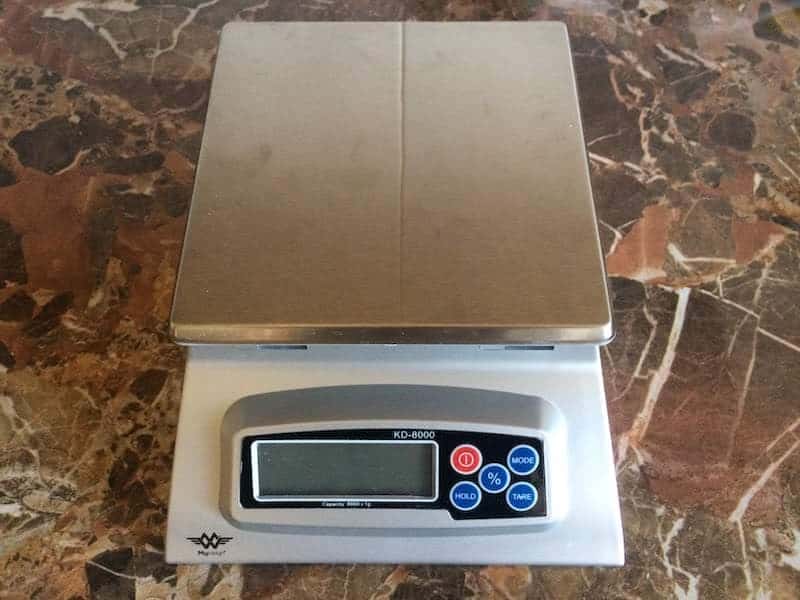 Scales that you know try particular tricks for retaining battery life. Either display goes from plain to no light or shuts off automatically.
But, with this scale, you can just turn off the auto-function and take time as you need to remove or add ingredients.
Check the video below if you want to learn how to use the bakers % function:
Specifications
| | |
| --- | --- |
| Power | 3 AA batteries or AC adapter |
| Display | Blue, Backlit LCD |
| Scale Size | 9.8″ x 8″ x 3.8″ |
| Platform Size | 6.8″ x 6.8″ |
| Weighing Modes | 5 |
| Tare Feature | YES |
| Calibration Feature | YES |
| Hold Feature | YES |
| Count Feature | No |
KD-8000 Weighing Modes
| | |
| --- | --- |
| MODE | CAPACITY |
| Kilograms | 8.000 kg |
| Grams | 8000 g |
| Pounds | 17.620 lb |
| Ounces | 281.90 oz |
MyWeigh KD-8000 Kitchen Scale User Manual
I recommend you to take a look at the KD-8000 User Manual(digital pdf format) if you want to learn more about this scale or if you are looking for more in-depth technical information, everything you need to know is there.
Below you will find all MyWeigh contact details if you have any problem with it:
Customer/User Impression
One of the things that users choose this scale is it's digital. This digital scale is very accurate and can quickly switch between grams, ounces or pounds.
It is also effortless to read. There is no guessing if needles are pointing to ten ounces or twelve ounces.
If you have come a long way for your first scale, you will find this scale the best. It doesn't have beeps. It does not even need batteries to operate.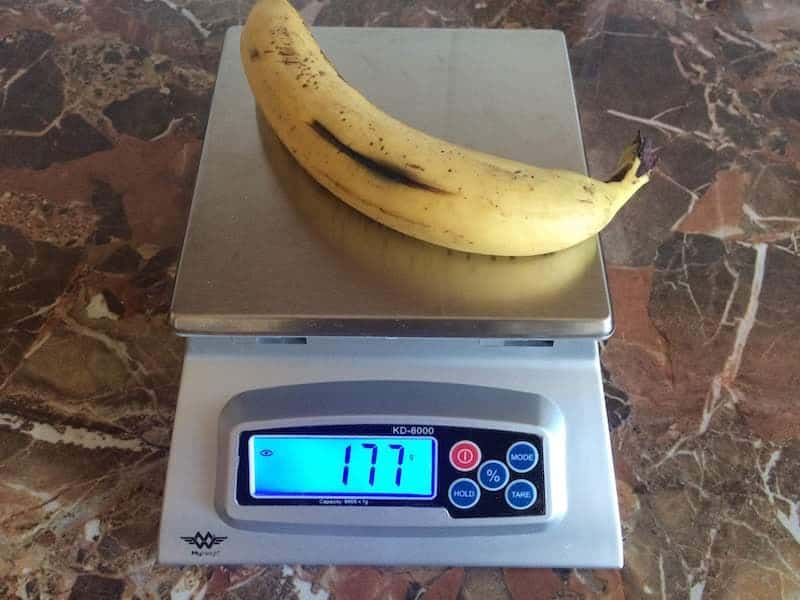 Other than that, it has no flashing lights. Although it isn't what others have expected, it does its job properly.
Another customer loves how the scale performs. It can weigh in pounds, ounces, and grams.
Even if you often use grams, there are times that some units of weight may come in handy. Majority of digital scales enable you to toggle between different units of measurement.
However, this scale works flawlessly and it's perfect for professional bakers and amateurs alike.
With this, you do not need to worry about the hard-to-turn or hard-to-access knobs to zero.
Although it isn't as thin as your notebook and it does require a dedicated place in your cupboard for storage, it does not take up the entire room or space as some big mechanical scales do.
Its dimensions are just right for your kitchen or baking room. So, there is nothing you should worry about the storage if you are using this scale.
All you need is to have a proper storage for it so this could last longer than your previous scales.
Wrap It Up
Regardless if you have a big patisserie chain or you like to be the best baker in your home, the significance of weighing every ingredient can't be underestimated and typically marks the difference between culinary mishap and resounding success.
The accurate baking scale also helps ensure consistency that is important whenever you are following complicated recipes and producing some baked products for commercial purposes.
All in all, MyWeigh KD8000 is a perfect bakers scale. It addresses the basic problems and can surely be a vital investment to enjoy the great baking experience.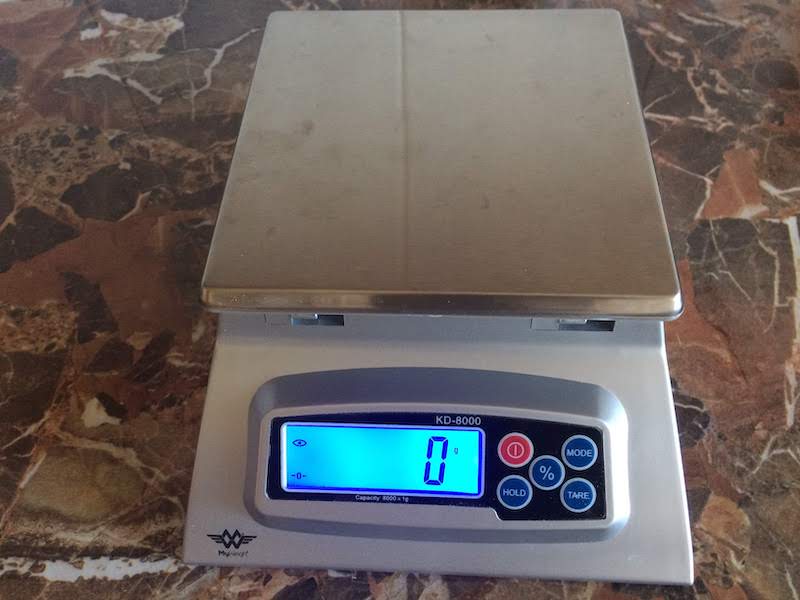 I have this nice scale for some months now and I'm extremely satisfied. Go and check it out on Amazon and if you are not pleased with it please come back and comment here. Cheers!