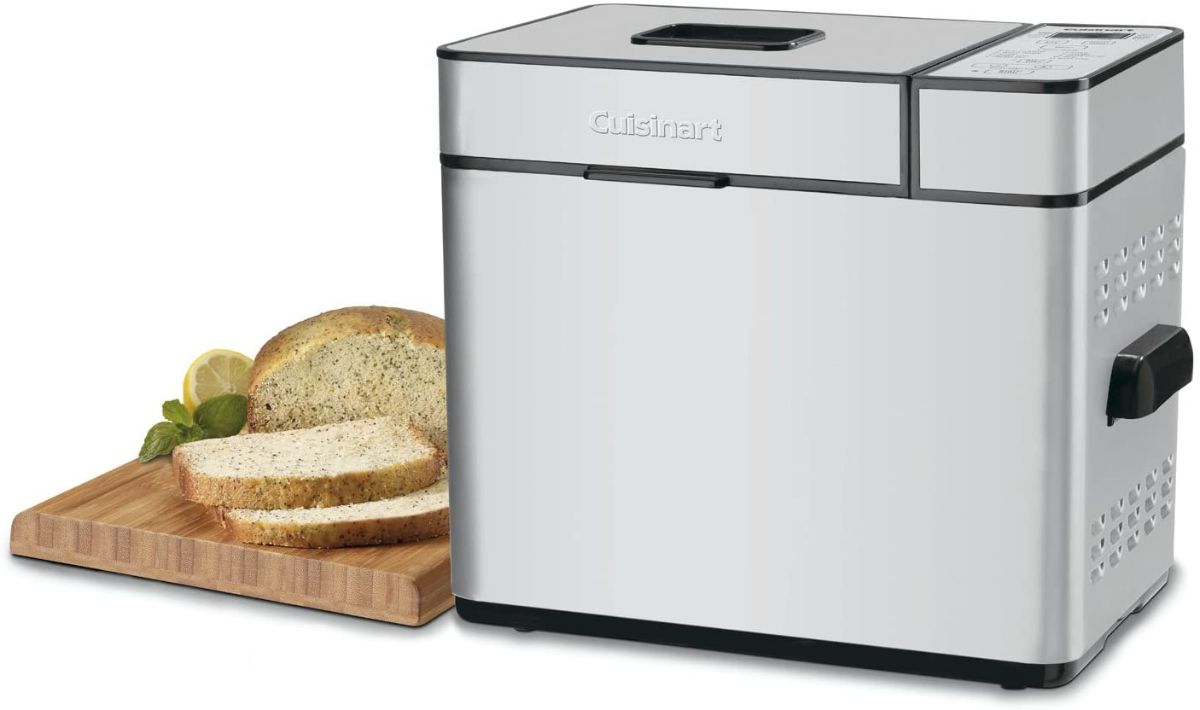 Nothing beats the comfort of waking up every morning with the smell of freshly baked bread in the air.
But, even if you wish to add a breadmaker to your kitchen, the last thing you want is to stretch your budget.
So the question is, can you still get a quality and reliable machine that will not burn a big hole in your pocket? The answer is a big yes, all made possible by the latest technological advancements.
If you want to score the best budget breadmaker, the Cuisinart CBK-100 is an affordable bread machine that can cut down the effort, time, and investment you need for your home to be filled with sumptuous bread.
With its rapid setting and impressive control panel, bread making is just made even better.
Impressive Control Panel
This budget breadmaker comes with a control panel featuring an LCD screen and buttons for choosing the crust size, load size, rapid bake, menu program stop/start button, and delay start timer.
There are 12 menu options which include white/bake, Italian/French, whole wheat, sweet, gluten-free, packet mix, cake, dough, pasta dough, jam, bake only, and rapid bake.
Rapid Bake Setting
There is a rapid bake menu option in this breadmaker that features its own button.
However, it is important to remember that while this is named as such, this setting is not for quick bread baking when your guests are already waiting at the table.
Instead, this can be used for bread recipes that use rapid rise yeast and not standard yeast.
When you use the rapid bake, the crust color and loaf size have already been set by default at a medium crust color for a loaf of 1.5 pounds.
Features
Easy to Use and Intuitive Touchpad Control Panel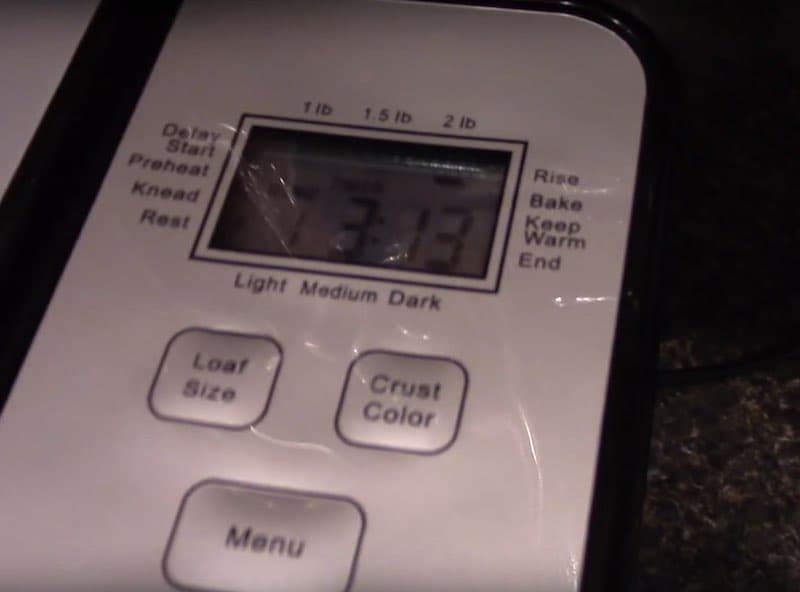 This product comes with 12 pre-programmed settings as mentioned earlier.
This also features a timer to let you pre-set the baking cycle for as much as 13 hours ahead of time if you wish to wake up every morning with sweet bread waiting for you or come home to a freshly baked loaf.
This flexible setting option is usually seen on pricier and higher-end bread machines.
This means that you can accommodate most bread types you wish to make with no need to spend that much.
100% Whole Wheat and Gluten-Free Settings
It is quite a surprise to see 100% whole wheat and gluten-free settings on such a budget machine.
These options are once again typically available on more expensive machines.
What is more exciting is that many reviews state that these settings really work well with 100% whole wheat and gluten-free recipes.
Pre-set Beep Reminders
Similar to most bread machines, there are times when you need to add some ingredients during the process of rising and kneading.
It includes adding nuts and fruits or sometimes, yeast, seeds, or herbs are also added as toppings or ingredients.
The beeps of the machine have been preprogrammed to serve as a reminder.
Kneading Paddle
The kneading paddle and loaf pan are both non-stick. Its coating has been labeled as Silverstone, a Teflon-based non-stick coating line. Its single paddle also works well for kneading.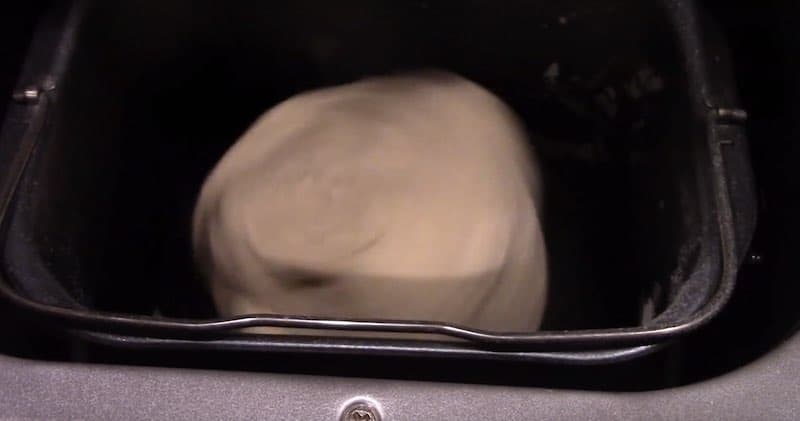 Viewing Window in the Lid
This budget breadmaker from Cuisinart also features a viewing window in its lid that is big enough to let you observe the process of bread-making in every step.
This can then help you check the status of the loaf once the reminder beeps for you to add an ingredient or check if the top is already brown enough as you want it.
Recipe Book Complete with Recipes for 12 Bread Settings
A lot of people will also appreciate the recipes that are included in the breadmaker's recipe book.
You can try these recipes for yourself or you can also tweak them as you please.
Many users have tried the recipes in the book and were quite satisfied with the results they got.
Specifications
| | |
| --- | --- |
| Dimensions | 18 x 12.25 x 15 in |
| Weight | 22.00lb |
| Capacity | 2 LB loaf |
Cuisinart CBK-100 Bread Machine User Manual
You can always take a look at the Cuisinart CBK-100 Bread Maker User Manual(pdf format)if you want to learn more about this device or if you are looking for more in-depth technical information.
Check the recipe booklet that will allow you to make some fancy bread in no time.
If you have any problem with your machine I will leave you Cuisinart's contact numbers and the email addresses:
Email address:
customerservice@cuisinart.com
Phone:
1-800-726-0190
Customer/User Impression
As expected of any budget machine, this breadmaker from Cuisinart has been receiving positive reviews from many users.
Many love this breadmaker as it lets them prepare their bread loaves easily and conveniently.
There are also those who purchased the machine because of the reviews they read online and the recommendations they got from their friends.
They appreciate that the product is really great in spite of its affordable price. The recipes included are all easy to follow, not to mention that the bread made are all outstanding.
There are also users who even brought the machine with them when they visited their relatives during the holidays.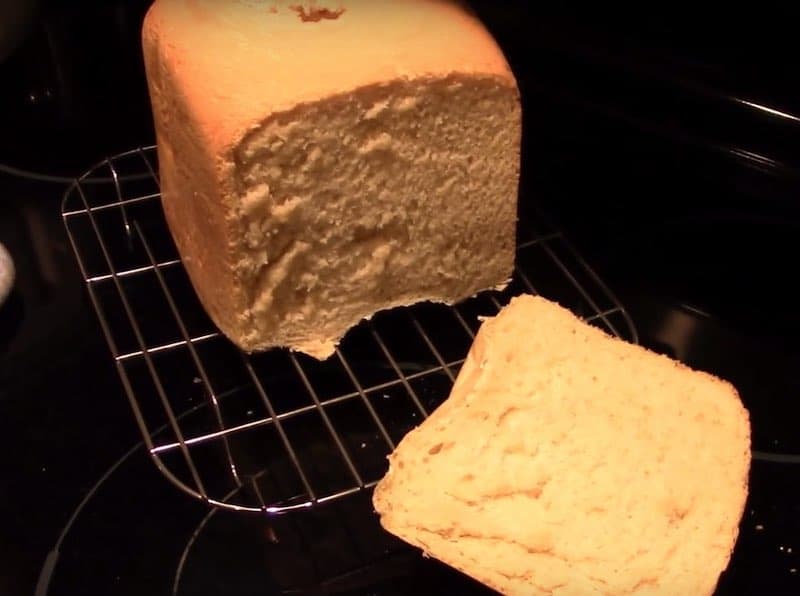 Its performance amazed their relatives that some of them even decided to get a unit for themselves.
Even though it is cheap, users are glad that it still got most of the functions you can expect from a higher-end and more expensive machines.
If you want to read more real user reviews then go here.
Conclusion
Cuisinart CBK-100 is a shiny budget bread maker that is very popular among those who want to enjoy freshly made bread despite their tight budget.
Its 100% whole wheat and gluten-free settings also made it in demand among gluten-free bakers.
Those who don't have gluten sensitivity will also find that the machine also features the basic bread programs they will need to prepare delicious loaves of bread at home.
Its features include:
3 crust color options
12 menu options
3 loaf sizes at 2, 1.5, and 1 pound
Delayed start timer for as much as 13 hours
Bake-only option
Includes a recipe booklet, measuring cup, and measuring spoon
Power failure backup system for as much as 15 minutes
Removable lid with viewing window
Preheat function on some bread programs
Non-stick kneading paddle and bread pan that is both detachable for easy cleaning
Stay-cool handles on its side to avoid burning your hands
Now that you have learned about the features and benefits of this budget breadmaker, make sure you get your own today at Amazon.