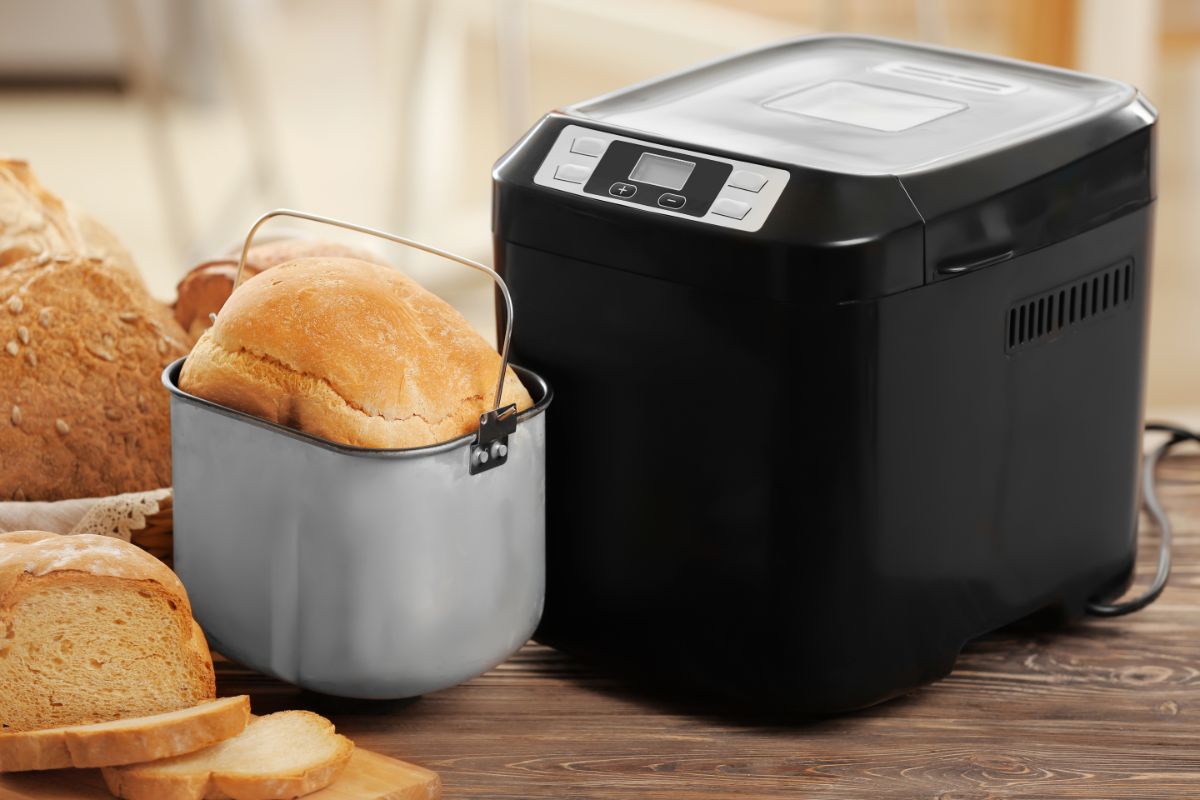 As more and more people started to realize the exciting benefits of eating organic and fresh food together with the common downsides of processed food, homemade food is now a popular trend.
Being one of the world's most consumed foods, bread has gained lots of attention over the past few years. This paved way for the rise of breadmakers.
If you are looking for the best inexpensive bread maker, then Hamilton Beach 29882 is one product you can consider.
With its 12 settings across cycles and its simple design, you can be sure that this can perform well and give you more than your money's worth.
12 Settings Across Cycles
Just like most bread machines, this unit features a variety of settings.
This product comes with 12 settings that will let you bake most types of bread.
This also has a special gluten-free setting although it is important to know that the success of using this setting greatly depends on your ability to mix all the right ingredients.
This can handle whole grains as well yet the recipes seem to indicate a number of grain flours like whole wheat instead of 100% whole wheat.
Check the video below and see how easy it is to make bread with this breadmaker.
Simple Design
This is automatic bread maker boasts of simplistic design, with its outer shell made from plastic. The manufacturer has designed this bread machine in either white or black with rubber feet and a silver base.
Its interior baking pan is made from metal and features a carrying handle that you can use when you remove the bread from the machine.
Its control panel has been conveniently laid out on the top of the unit side by side with the small viewing window.
Features
Nonstick Bread Pan
This machine is equipped with a bread pan with a nonstick coating to give you the assurance that your bread will never stick to it.
Cleaning the pan is also easy but you have to be careful that you don't scratch it during the process. This bread is also wider than it is deep.
This then produces a rectangular and tall loaf that definitely looks like any bread machine loaf.
To put the bread pan inside the bread maker, just twist and lock it in a clockwise direction. You can remove and unlock this when you twist the pan in a counterclockwise direction.
Kneading Paddles
This bread machine has a single kneading paddle that you can use as well as a spare kneading paddle that you can safely keep for future use.
This only means that you will have a replacement kneading paddle ready if ever something happens to the other one. It is always great to have an extra paddle during emergency situations.
Bread Machine Buttons
There is a cycle button that can be used to choose any of the preprogrammed cycles. These options include French, Basic, Quick, Gluten-Free, Sweet, 2.0lb Express, 1.5lb Express, Jam, Dough, Whole Grain, Cake, and Bake.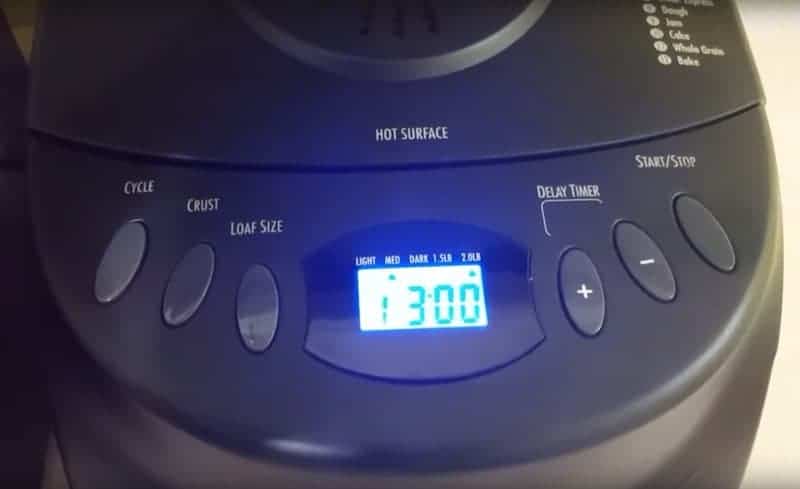 Just press the button for crust color to select a dark, medium, or light crust shade. This is not available for other cycles such as on bake, cake, and whole-grain cycle.
Obviously, you don't need a good crust on the jam or dough cycle.
Its loaf size button provides only two options for size, either 2 pounds or 1.5 pounds.
You cannot change the size in the following cycles: 1.5lb Express, Quick, 2lb Express, Bake, Cake, Jam, and Dough.
Its delay timer delays the start of the bread program. This cannot be used together with the jam cooking cycle or the express cycles.
Make sure that you don't use a recipe that needs dairy or other types of ingredients that may spoil if you leave it in the bread pan for long hours.
There is a small display screen that shows the cycle number, the remaining time in the cycle, and the small black triangles below the corresponding loaf size and crust color.
You can simply press the start or stop button to start the bread maker once you have finished choosing the loaf size, crust color, and cycle.
This will beep one time, time will flash on the display, and this will continue making whatever you wish it to make.
When you made some mistakes with the selection, just press then hold the start or stop button for 2 seconds and the current cycle will be canceled.
Customer/User Impression
Customers who have purchased this inexpensive bread maker are saying all kinds of good things about it.
To be more specific, most of the reviews emphasize the ease of using the machine.
It makes this breadmaker perfect for those who are just starting with their bread baking journey and for older users who no longer want to be bothered with pressing numerous buttons.
Most of the buyers are also very impressed with the unit's performance together with the fact that this lets you prepare many different kinds of bread which including gluten-free ones.
But of course, the most impressive thing about this is none other than its price.
Its inexpensive price tag only means that consumers will not have high expectations from the purchase but they will be pleasantly surprised by its offered quality… (READ MORE)
Conclusion
Hamilton Beach 29882 is no doubt a fantastic option for those who are on a tight budget.
It is very possible that you will be surprised by the exceptional quality it can offer despite its inexpensive price.
It is easy to see that this product has several great features not to mention that this is also very easy to use.
One of the key benefits of this bread maker is its ease of use. It is made possible by the LCD screen as well as the clear and easy-to-follow button layout.
In spite of being an inexpensive bread maker, the product can still let you prepare different kinds of bread. You will never get bored or tired of your freshly baked bread whether it is gluten-free or French.
An important part of the process of bread baking is dough mixing. With this unit, you will be surprised at how good it can knead for its price.
Make sure you consider checking this product on Amazon if you want to save money and still get a good quality product!