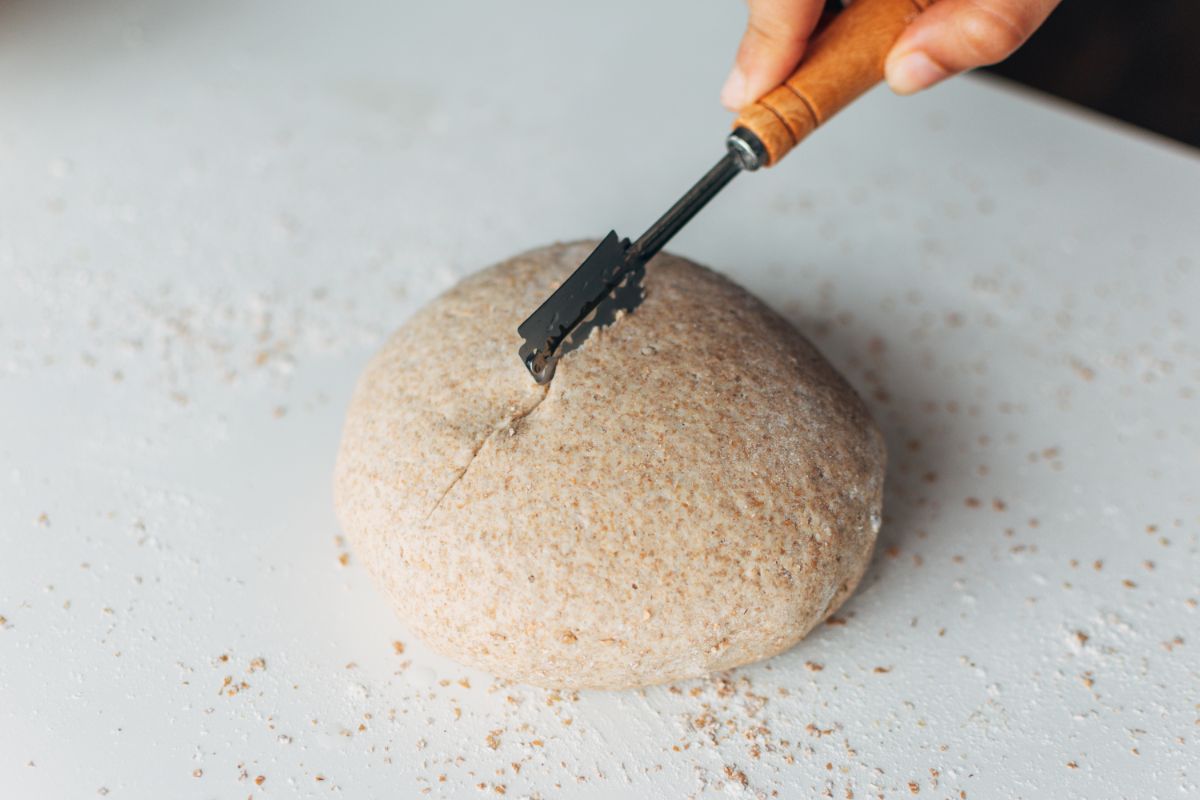 Bread scoring refers to the artfully slashing or cutting off the top of bread loaves before baking them.
Scoring the loaf will form weak spots on the surface so that the loaf surface will not crack and burst during baking.
Bread scoring is composed of several patterns, angles, and cuts, each of which affects the type of crust formation and expansion.
It can also give the bread a touch of a decorative element. There is the bread that can be easily identified through their one of a kind patterns.
Quick Comparison Chart
*This post contains affiliate links to Amazon. As an Amazon Associate, I earn from qualifying purchases.
| Name | Price |
| --- | --- |
| O'Delice Bakery Stainless Steel | TOP PICK |
| Breadtopia Lame | BUDGET PICK |
| Mure & Peyrot – Bordelaise Model | CHECK PRICE |
| SAINT GERMAIN – Premium Wooden Lame | CHECK PRICE |
| Mure & Peyrot – Adour Model | CHECK PRICE |
| Baker of Seville – Artisan Lame | CHECK PRICE |
| DiBread Scoring Lame | CHECK PRICE |
6 Best Dough Scoring Tools That You Can Use To Make The Perfect Loaf
If you are looking for some of the best bread scoring knives or lames, there are several options that you can consider:
O'Delice Bakery Stainless Steel Bread Lame
Scoring will never be an issue with this particular product. Developed by French bakers, in a country where bread is treated as a delicacy, you can be sure that this steel tool will deliver as expected.
The blade is made out of stainless steel of the highest quality. So, you will be able to score numerous loaves of bread until it will begin to show any signs of fatigue. It is worth knowing that the package comes with additional blades, in case you need replacement. 10 of them are available, to be more precise.
Until you will manage to use each and every blade in the package, you can easily store them safely in the handmade bag, out of linen, which will prevent them from getting scratched or damaged. As you can see, for a good while from now, you won't have to worry about replacement blades.
Why choose this particular tool? There are high chances you will love the results it delivers. It feels firm when you grip it with your hands and is easy to handle so that you can perform the desired movements with minimum effort. The shape and design of the tool, which are unique features that you will hardly find in any other item of the kind, will help you achieve the desired patterns each time.
Due to the fact that we are talking about a stainless steel tool, the product is extremely easy to clean after each use. All you have to do is wash it with warm water and wipe it dry. It will look brand new every time you will need it. Stainless steel is extremely durable to extended wear and tear, to corrosion, and rust, so you don't have to worry about all of these.
If you look for an item that looks simple and was built to deliver professional results, this particular instrument may be just what you need.
Click here for more pictures, reviews, and current pricing.
---
Breadtopia Lame
CHECK THE PRICE ON AMAZON
If you are looking for an improved version of the bread-making tool, Breadtopia Lame is for you.
Its stainless steel holder comes with a wider tip for a more secure hold on blades and it also comes with a storage box for safekeeping and five double edge razor blades.
Breadtopia is rated number one by many experts because it offers a great balance of function and form. Its handle is easy to grip, which enables accurate cutting and steady control.
Setting up the tool is quick and easy. There are instructions included.
Used for cutting bread dough to control the loaf's expansion as it bakes, this bread scoring knife can be an important tool for bread bakers.
A good time to score loaves is after it has done proofing and is ready to be placed in the oven.
Holding it firmly as well as slicing quickly in the loaf as needed enables controlled expansion of dough as it rises and provides a professional look.
Click here for more pictures, reviews, and current pricing.
---
Mure & Peyrot –
Bordelaise
Model
CHECK THE PRICE ON AMAZON
In case you are looking for a high-quality tool, one that is made in France is just what you need. And the best part is that it won't cost you a fortune either. It is very easy to enjoy your preferred way of making bread when you have all the adequate tools for it. As every bread-making specialist would know, a bread scoring instrument is one of these tools.
The manufacturer of this product, Mure & Peyrot, is originally from France. Considering that bread is made in a variety of ways over there and there are special shops that sell only bread varieties only, a slashing knife from France is definitely something you should consider.
Does it feel weird to score your bread with a scoring knife? You should not worry about a thing, as the product is made entirely out of materials that are safe for being used for food preparation. Also, to make sure that nothing contaminates the blade or the handle, the product comes with a special protective case for both.
Besides the protective case, you will also receive no less than 10 blades for replacement. This way, you will be able to use the product for a very long time. It is worth knowing that all the replacement blades are also made by Mure & Peyrot. With this particular product, quality is available at all times and at an affordable price.
Changing the blade is a simple and safe operation, so the risk of getting injured is almost nonexistent. You will just have to pinch and release, and your scoring knife will be equipped with a brand new blade when you need it. Considering that in the EU this product is graded for commercial use, you probably won't be disappointed if you choose it.
Click here for more pictures, reviews and current pricing.
---
SAINT GERMAIN – Premium Bread Lame
SAINT GERMAIN boasts of premium quality crafted handle made from wood featuring the best quality stainless steel stick for attaching replaceable blades.
This tool has been built to last as evident in its meticulous craftsmanship.
It has a beautiful design for holding the lame it firmly right in place combined with a comfortable handle to ensure that you get only the most excellent results.
Bread makers will also love the fact that it comes with replaceable handles.
You can easily replace the blades with the 6 standard razor blades that are included in the package.
Safe storage of the dough scoring tool is also possible as this has an authentic handmade protective leather cover for you to store it away properly after you finished using it.
The maker also backs this tool with a top performance guarantee.
They assure you that it can perform really well to let you bake the most beautiful bread.
If ever your expectations were not met, you can return it and request a full refund.
People who have purchased this, love the fact that this is a well-built and beautiful product that feels and looks like a premium item.
But, what is most important is that this works great. They claim that this utensil makes it very easy for them to make smooth cuts with the blade staying firmly in place.
They say that this is not the case with flimsy lames made from plastic. The nice leather pouch for safely storing it away is also a wonderful bonus.
Some beginners in bread-making even say that this tool made their bread-making life easier.
Click here for more pictures, reviews, and current pricing.
---
Mure & Peyrot – Adour Model
CHECK THE PRICE ON AMAZON
It isn't just a blade on the stick because every Mure & Peyrot Adour model is made with a secure locking mechanism that prevents accidental blade discharge while cutting.
It also comes with a matching beautiful cover for easy and safe storage.
Mure & Peyrot was established in the year 1904 and is considered the leader for industrial blades and knives in France.
The slashing knife of Mure & Peyrot is designed with food-safe components, trusted by countless professional bakers across the world, and certified in the EU for use in commercial bakeries.
There is no hyper-marketing and gimmick with this tool because it is only manufactured and designed by experts for baking professionals out there.
There are many reasons why Mure & Peyrot products are unique. It follows three pillars of standards to produce professional-grade and high-quality items.
One of these pillars is safety. Slashing knives aren't a fancy gadget and the most essential aspect of good cutting is safety.
In spite of its low manufacturing cost and simplicity, the manufacturer doesn't make and market stick tension mount cutting blades.
It uses the blade's tension to mount itself to the metal strip without an external locking mechanism to secure the blade.
Every model of Mure & Peyrot comes with a locking mechanism, made to prevent blades from wobbling or accidental blade discharge while scoring.
The second pillar of Mure & Peyrot is accuracy. For them, it's hard, if not impossible to reach various kinds of cuts without a good and sharp tool.
For instance, a curved-mount blade and straight-mount blade frequently result in several peels and look.
The last pillar of Mure & Peyrot is sharpness. They have been creating blades and knives for more than a century. Their replacement blades are made of high-quality stainless steel, made in France.
Click here for more pictures, reviews, and current pricing.
---
Baker of Seville – Artisan Bread Lame
CHECK THE PRICE ON AMAZON
The life of a bread maker will never be complete without a scoring instrument.
Baker of Seville can be used for slashing dough before baking to get an amazing oven spring and for the loaves to sport a professional and beautiful look.
This features nonslip and secure blades that are the secret to creating stunning loaves. As you probably know, lames with unsecured blades will never make a nice and clean cut.
It is important to be confident when you score and prepare the dough for baking. This is a reliable stainless steel dough cutting tool which can help you solve this issue.
Sharp and fresh blades are also essential for you to make clean cuts in the dough.
It offers a safe and quick blade replacement as it only takes a simple thumbscrew.
You don't need any detailed instructions to do it. It is also equally easy to flip over or rotate the blade to use every blade. It also features standard blades with a double edge.
While this one is still new in the market and it doesn't have as many reviews as others, you can be sure that it is a good tool worthy to add to your baking arsenal.
It has been made by a baker for the bakers. It is high quality and premium tool that should be included on all lists of bread-making supplies.
It can also be a perfect gift for yourself or for a professional baker you know. What's more, you also get a real bonus with the inclusion of a safe storage case.
Click here for more pictures, reviews, and current pricing.
---
DiBread Bread Scoring Lame
CHECK THE PRICE ON AMAZON
This bread slashing knife is another premium tool that features a stainless steel bar, a wooden handle design, and sharp razor blades that will never get dull.
DiBread can help you become a baking artist with good experience by enabling you to cut cleanly and accurately on every cake.
The best thing about this utensil is that it is easy to clean and use. Its perfect design brings convenience that will help you cut and hold comfortably.
Aside from its detail, you will also find an instruction on how to use it safely. Once you're done, you can keep it secure and hygienic.
It is also the best dough scoring set, which includes a wood handle, blade to supersede, a cotton bag, and a protective leather cover to store it safely after use.
Its high-grade box contains the whole set. At low prices, you may own all products that can be a great gift for the cake artisans.
You must keep it in good condition. Its manufacturer continues to research and improve the product's quality to serve consumers the best way.
The product is preserved well with the protective holster as well as the cotton dough scoring set.
Click here for more pictures, reviews, and current pricing.
---
What is Bread Scoring
Bread loaves are often scored before they are put inside the oven.
Professional bakers use a special tool for bread scoring. This is called a lame, pronounced as Lahm which means blade in French.
What Does Score Mean in Baking?
Were you always amazed at what a particular loaf of bread looks like? Well, the pattern appearing on the bread's crust was made with the help of scoring techniques.
The loaf of bread was scored or cut, to be more precise, before placing the dough in the oven. This way, taking advantage of the dough's softness, lines and shapes can be made on the surface of the bread.
So, this procedure takes place once the dough is sufficiently kneaded, as it must keep its shape right. This will prevent the blade from getting sticky and will allow the cuts to stay in place.
Thus, when the dough is introduced in the oven, at high temperatures, it will begin to bake with the scoring signs on its surface.
While it makes seem more an aesthetic matter, it is also done to prevent the loaf from cracking in its weak spots, during the baking process.
What Happens If You Don't Score The Bread
It is not mandatory to score your loaf of bread, but if you don't do it, you should not expect to take a perfectly shaped loaf of bread out of the oven.
As the bread bakes, it also continues to grow to a certain level. The pressure that is created inside the loaf of bread, as it bakes, will lead to cracks in all the wrong places.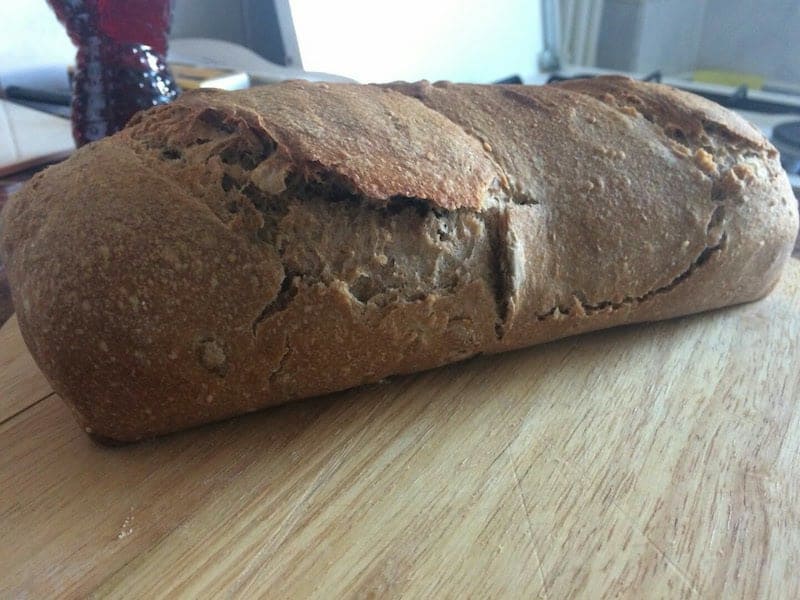 For example, without scoring, your loaf of bread could develop a sort of cracked cap. This means that a crack on the side may appear on the upper half of the bread, where the dough was weaker or had breaches in its surface.
But, it can also crack in other ways as well, like on the sides, or develop an uneven shape.
Believe it or not, the way you score a loaf of bread also counts. Considering that scoring will prevent the bread from cracking in the dough's weak spots, the way you choose to score your bread will direct it how to grow while baking.
In the first stage of baking, the bread will continue to grow, as the temperature inside the oven favors this aspect.
Your scoring method will dictate how the bread will grow and in which direction during this particular stage. Besides this, slashing can, of course, create a pleasant aspect on the bread's crust in the end.
How To Score Bread?
As mentioned earlier, it is important how you choose to score your bread. When you're up to bread scoring, you need to be firm, decided, and move fast.
If you are new to bread scoring, you may want to take some time to practice the movements before you actually score your bread. Exercise movements that are smooth yet firm, and fast.
If you are too slow when scoring bread, the dough will stick to the scoring knife or the cut won't be adequate, so the final effect won't be the desired one and the scoring won't do its job right.
Begin by visualizing the moves and then proceed to physically execute them. There is no exact recipe for a perfectly scored bread.
You will have to practice and practice until you manage to do it perfectly. Still, there are some aspects you need to have in mind when scoring bread.
When To Score Bread?
You will need to score your loaf of bread before placing it in the oven at all times. Scoring is not possible when the bread is already baked.
Also, in order to do the scoring process right, the dough will have to be properly prepared. This means that a sufficient amount of kneading is required. A dough that has a uniform and firm shape are easier to score than an unfinished dough.
While most bread dough types are scored before being placed in the oven, there are certain varieties, like the French rye bread, which are scored right after the shaping process is over.
But, the rule of thumb is that as long as the loaf of bread is scored before being placed in the oven, everything will be fine.
If you forgot scoring the bread before placing it in the oven, avoid taking it out, as you will stop the so-called "oven spring" by taking it out to cooler temperatures. In this case, you will have to go with whatever shape your bread will get.
How Deep Should You Score Bread?
The type and consistency of the dough will dictate the depth of the cuts. Thus, dough that is stickier will require shallower cuts, while solid and drier dough will need deeper cuts.
However, make sure your cuts are between ½ and ¼ inches deep only. If you go deeper the bread may get too deformed and if they are too shallow, the scoring will be ineffective.
Don't worry if your first scored loaves of bread will not look like the ones in the pictures. It is normal for this kind of thing to take time and practice.
Also, you will need proper tools as well. A scoring knife or lame would be much more appropriate than a regular knife. The blade will have to be very sharp and fine at the same time in order to produce adequate scoring, without affecting the shape of the bread.
So, if you really want to have a properly scored bread, invest in a scoring knife or lame first, as it is easier to achieve the desired results this way.
Conclusion
Bread can be scored with curved or straight razor blades, either held in hand or mounted on handles. Scoring can be done with some straight, sharp blades.
Other bakers prefer using serrated blades. Straight blades are preferred for some methods of cutting the dough.
Straight-bladed knives are ideal for slashing perpendicular to the surface of the loaf.
This kind of cut is used for round bread. For other kinds of cutting, curved blades work better.
Curved ones are used for long bread that is scored with cuts that are parallel to the loaf's long axis.
Frequently Asked Questions (FAQ)
Q: What is a lame knife?
A: A lame is a double-sided sharp blade used to score (also called slashing) the bread loaves before baking.
Q: How deep should you score bread?
A: Score your bread somewhere between 1 inch and ½ inch deep at a 30 to 40-degree angle.
Q: What happens if you don't score bread?
A: If the dough is not scored it can crack in the oven in random places because the air is trying to get out. Scoring can ensure that you won't get large pockets of air inside your bread.